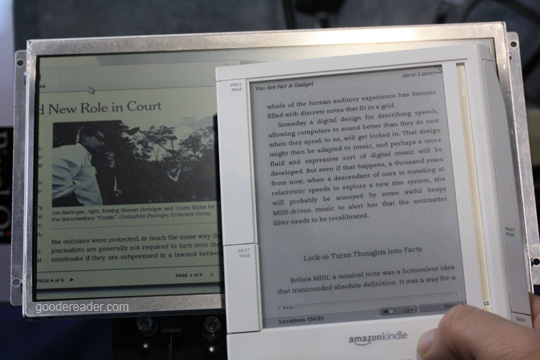 Squirreled away in hidden meeting rooms contained the executive layer of Pixel QI! It contained a very small meeting space that normally contained sales meetings between Pixel QI and companies looking to employ this new screen technology in tablets, laptops and computers. Someones cancellation was our good luck, as we got a first hand look at some of the new technology being employed in 5 inch, and 7 inch tablet devices. We even got a sweet comparison between the Amazon Kindle's e-Ink and Pixel QI, to give a sense on how the resolution differs between the two units.
John Ryan, Chief Operating Officer of Pixel QI was gracious enough to give us a comprehensive overview of their humble origins in providing hardware for the "one laptop per child program." The main premise was to provide a low cost unit that had high battery life, and functioned well in direct sunlight. He then showed us a few laptops that ran a Freescale CPU with a 3 cell battery that boasted a 10 hour battery. We saw some prototypes for a new 10.1 inch Tablet called "Accusee" that featured a Intel Atom N450 processor and a resolution of 1024X600. It had a sweet capacitive screen that came with a stylus and an ambient sensor that automatically switched to Pixel QI mode from normal LCD mode depending on your environmental light. The comparison John drew was using a cell phone at night in your room, and how it would illuminate the entire room when you used it. This new tablet took advantage of the darkness in the room and made sure the content on the screen would not be blinding.
Pixel QI and e-Ink technology are seen to be in strong competition with each other, while e-ink has been around for a bit longer then the new technology has, when we saw the side by side comparison with a new prototype new e-reader screen we really saw the difference and can see a strong future with e-readers utilizing QI screens. For example, one of the big reasons why we do not see video on e-readers is because of the redraw rate. This is quite evident in lower quality electronic readers that have a high degree of waiting time when you turn pages, activate menu functions or surf the internet. Each page you turn or new feature you load prompts the e-ink based device to redraw every line on the surface area. Pixel QI, because it is TFT-LCD based, but provides 16 shades of gray scale when switched into low back-lite mode. This is a tremendous advantage to Pixel QI that it basically emulates e-ink in terms of a weak LCD glare you receive and a super high degree of contrast on the text. Combined with the fact that you can play high resolution video while in the gray scale mode on the Pixel QI screen, we see a future where e-reader companies switch to this technology.
When we saw the side by side comparison of the Amazon Kindle and Pixel QI technology side by side, the differences where almost indistinguishable, and the text resolution actually had a higher degree of contrast on the Pixel QI prototype then the Kindle.
We ended the showcase looking at a few single pane screen prototypes, a 10.1 inch screen and a 5 inch screen that were less then 2mm thick, and provided such a high degree of color and contrast we envisioned this technology being used in smaller pocket sized tablets and smart phones. Make sure to check out our video of the comparisons and pictures of the technology below.
[cincopa AsEAhYqjtm6R]

Michael Kozlowski has been writing about audiobooks and e-readers for the past twelve years. His articles have been picked up by major and local news sources and websites such as the CBC, CNET, Engadget, Huffington Post and the New York Times. He Lives in Vancouver, British Columbia, Canada.