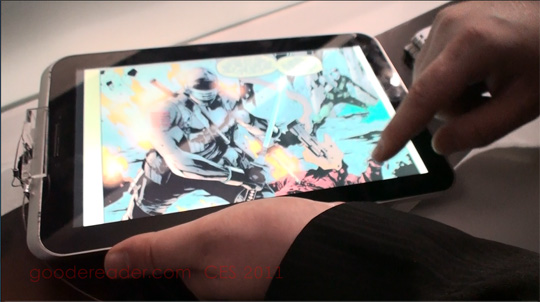 The Sharp Galapagos Tablets were on display at the CES show, and yes its the same versions that were released in Japan a few months ago. These two tablets were named after the Galapagos islands where Sir Charles Darwin first developed his theory of evolution. Considering how this theory changed the modern world, can this new technology from Sharp live up to their name?
Sharp showed off a 5.5 inch tablet and a 10.8 one at their booth which boasted 16:9 aspect ratio and wireless internet access! The internet access is used to access Sharps own ebook store, where newspapers, books, audio and video content is delivered via their cloud based service. One of the more interesting features is how subscriptions to comics, magazines and newspapers is delivered. When you sign up for access and are out of a wireless zone, once you enter a zone again it will automatically send you the new issues without any prompting. The one draw back is that the unit uses Sharps own proprietary XMDF book format, which eliminates side loading of content that you have may have downloaded from the internet or bought from other stores.
Although the tablets are full color and novels do look good on it, Comics and Magazines did not look so good. We found many bugs and errors when trying to even turn the page on these types of media, but turning books was very fluid and responsive.
Both of the tablets run the Linux based operating system, which hurts the ability for developers to make custom content for it, since most of the current generation of tablet computers are all running Google Android.
According to Sharps keynote press conference they said the technology will undergo revisions in order to successfully penetrate the US market, but failed to mention what adjustments to the current tablet lineup will occur. They did mention that the operating system may change, as well as internet connectivity features and even the content distribution system. Considering the current models are more suited to Japan, in terms of all of the books and newspapers are only in Japanese. You would figure that in order for Sharp to succeed in the tablet space that would have to form strategic partnerships for content distribution.
If they try and go it on their own, they will face stuff competition from Barnes and Noble, Amazon, Kobo and the Sony bookstore, which have years of content on their side, as well as a loyal customer base. In order for Sharp to be competitive in North America they will HAVE to increase page turn speeds, form partnerships with existing book stores, open up more ebook formats to be read (think ePub and PDF)
The technology we played with for around 10 minutes was tremendously bare-bones, with no support for internet media content such as Flash, Air, Java and so on, which provided a tremendous lackluster web browsing experience.
Can Sharp claw its way up the evolutionary ladder and metamorphose into a more superior life-form? We might have to wait until the second quarter of 2011 to find out if Sharp will evolve and adapt to a new environment or will go the path of the Dodo bird and face extinction.
Michael Kozlowski is the Editor in Chief of Good e-Reader. He has been writing about audiobooks and e-readers for the past ten years. His articles have been picked up by major and local news sources and websites such as the CBC, CNET, Engadget, Huffington Post and the New York Times.