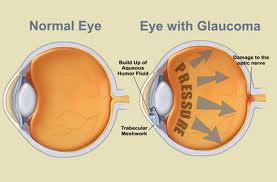 That's the question asked in a new study, "Difficulty with Out-loud and Silent Reading in Glaucoma", published in Investigative Ophthalmology & Visual Science. According to the press release, adults who have glaucoma read more slowly when reading silently for a long period of time and are more likely to have their reading speed decrease over time. Their reading comprehension suffers, as well.
The study's author, Pradeep Ramulu, MD, speculates that "If the optimal [text/lighting configuration] for reading in the context of glaucoma could be determined, it would be easy to create an application to present text in this manner as part of a commercial device, such as an iPad or Kindle". The press release is here.
In other health-related news, researchers at Georgia Tech are trying to open the world of tablets to children with limited mobility. They have developed a wireless input device that uses a sensor system to translate physical movements into the fine-motor gestures necessary to control a tablet. A child can wear the device around their forearm or put it on the arm of a wheelchair and hit or swipe the sensors with their fist. This is converted to different touch-commands on the tablet. This would be benefit those children (and adults) who have cerebral palsy, traumatic brain injury, spina bifida, and muscular dystrophy, for example. The press release and a further description of their work is here.
Paul Biba is a retired corporate international lawyer who has worked in 53 countries. Since he is a very fast reader he came to ebooks out of self-defense in order to avoid carrying a suitcase of books on his travels around the world. An early ebook adopter, he has read on Palms, Pocket PCs and practically every device that has been out there. After being a frequent contributor to TeleRead.com, the oldest ebook/epublishing blog on the net, Paul became TeleRead's Editor-in-Chief, a position he recently resigned. Send Paul an email to paulkbiba@gmail.com