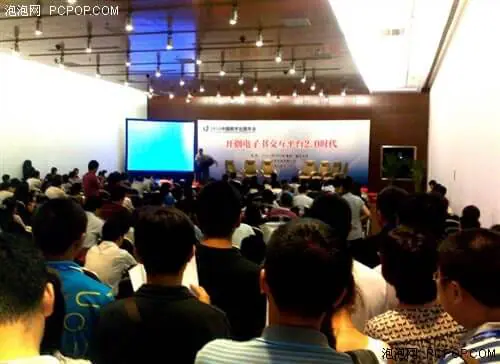 Amazon first threw a spotlight on China's ebook future with the creation of the Amazon.cn site, with rumors that a Kindle was being developed for the Chinese market. Those unconfirmed rumors have had a lot of people wondering if the Chinese appetite for ebooks can sustain the development of a fifth Kindle store, the first of its kind for Amazon outside the U.S. and Europe.
However, as more information about e-reading in China comes to light, that possibility looks even more likely. Last Friday, Alison Flood at The Guardian posted an article about the popularity of digital publishing sites in China, especially ones that allow authors to post original works for free and to have reader ratings rank their titles accordingly.
According to Flood's article, self-publishing websites are driving about 40% of all internet traffic in mainland China each month and the popularity of serial fiction may have a lot to do with it. One format that is garnering a lot of traffic from authors and readers alike is the sites that allow authors to post sections of their works for readers to enjoy free of charge, but with the traffic and reader reviews authors can be elevated to VIP status which charges readers to enjoy more of their works.
One platform, Shanda Literature, has enjoyed such success among Chinese authors and readers that it is in the process of working towards foreign expansion, specifically in the U.S. The plan is to bring English translations of popular Chinese works, as well as open up the market to Asian authors. Shanda's business model offers the first half of any given work for free, and a fee is charged to read the remainder. That fee is then shared with the author who posted the work. To date, Shanda claims to have three million original titles in its catalog, all uploaded by their authors. Shanda's reasons for expanding to the U.S. first cited the widely accepted market for ebooks in this country, as opposed to locations where ebooks are still a niche item.
Whether or not the freemium model will work with ebooks like it has with music and movies remains to be seen, especially given the access American readers have to platforms such as Amazon's Kindle Store, Barnes&Noble's PubIt! titles, and Smashwords. Given that there is no shortage of free and inexpensive author-published ebooks, a pay-to-read model, while in some ways a novelty, may be more than readers are willing to accept.
Mercy Pilkington is a Senior Editor for Good e-Reader. She is also the CEO and founder of a hybrid publishing and consulting company.