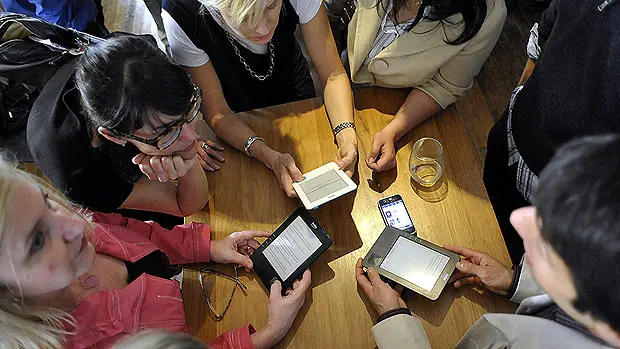 Christian fiction and religious ebooks are undergoing a quiet resurgence due to the widespread availability of electronic book readers. Though erotica sales have dominated the digital and tangible industries this year, Christian books seem be generating more and more consistent sales.
According to the American Association of Publishers, Christian content is doing quite well. Revenue growth increased by 7% in 2011, which generated almost $1.45 billion — driven largely by sales of e-books. Meanwhile, a separate study dived into the semantics of ebooks. It found that digital content accounted for nearly one-third of all Christian fiction sold in 2011. Bold numbers, but really quite telling because the genre had increased by almost six times from 2010.
Erotica and Christian fiction are strange bedfellows and normally do not have anything in common at all. One of the similarities is the privacy and anonymity factors that drive digital sales and provide a virtual security blanket. When you read ebooks in public, no one knows what type of book you are engaged in. There is no book jacket or cover art that proclaims to the world what you are doing. Digital books remove the embarrassment factor of guilty pleasures or personal choices in reading.
Patchen Barrs, author of The Erotic Engine provided further insight on why erotica and Christian fiction are doing so well in today's digital climate. "Fifty Shades of Grey by E.L. James and religious ones like Heaven is for Real by Todd Burpo are achieving similar success in the ebbook market. Besides death, there are two experiences universal in the human condition: sex and faith. As far back as the 14th Century households had to be wealthy to afford a single book. Often that manuscript was a prayer book with erotic pictures in the margins. They served both body and soul."
The entire Christian fiction and non-fiction industries are changing up their business model and appealing to a new customer, the technology savvy. The Family Christian line of stores in the USA has just released a new tablet that is exclusively geared towards the family and the Christian faith. Many companies have issued Android Apps, such as YouVersion Bible. It currently has over 554,388 reviews and 50,000,000 downloads since it launched.
The Religious and Christian Fiction industry, as a whole, has grown by leaps and bounds since 2009. This year will be a record year of growth due to the sheer amount of stores that deliver digital content. Amazon, Barnes and Noble, Smashwords, and Kobo deliver eBooks on a wider footprint then ever before. For the first time many customers in Canada, UK, Denmark, Netherlands and Japan are enjoying unparallelled access to quality content. Competing eBook stores also do a better job at marketing then the actual publisher does. It is easier than ever before to buy books while on the go via WIFI and not have to advertise to the world the essence of your faith, unless you want to.
Michael Kozlowski has been writing about audiobooks and e-readers for the past twelve years. His articles have been picked up by major and local news sources and websites such as the CBC, CNET, Engadget, Huffington Post and the New York Times. He Lives in Vancouver, British Columbia, Canada.