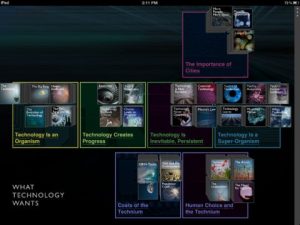 One of the continuing criticisms of ebooks is that they haven't really changed that much from their print counterparts. By digitizing, we haven't really improved upon the concept of words on a page. Citia's new iPad app is hoping to change how the words are actually used.
By adapting non-fiction titles for optimized viewing and information chunking, the app organizes stand-alone pieces of information in a virtual 3D index card system that the users reads through. Information on a particularly useful topic can be saved as the card, emailed, shared via social networking, and more, but more importantly, that particular card and the information contained within it can be set aside for easy retrieval at a later time.
"eBooks haven't actually changed the way we read," said Linda Holliday, Founder and CEO of Citia, in a press release in which she explained that she started the company because our media haven't evolved as quickly as our hardware — or our reading habits. "They're simply digitized versions of the same medium that's been around since Gutenberg. We see this as a moment when reading is truly reinvented for new devices—made smarter, more visual, more social, and more fun. Readers can now find and communicate ideas much more effectively than ever before and book publishers can leverage social media to reach consumers like never before."
So many strides have been made in social reading, but so far it was focused primarily on readers sharing opinions on the words that appeared on their devices rather than on sending each other pieces of easily identifiable information. Citia is designed to enable not just the interaction over the pre-formatted text, but that passing along of specific virtual cards of information.
Citia is already working with large publishing companies to transform non-fiction titles into this format, and its first title, What Technology Wants (Penguin) by Wired cofounder Kevin Kelly, is available in the App store for $9.99.

Mercy Pilkington is a Senior Editor for Good e-Reader. She is also the CEO and founder of a hybrid publishing and consulting company.