Meet Angela Ruiz Robles, the trailblazer behind an early e-reader. Long before Kindles and iPads took over the digital reading scenario, a visionary teacher in a Spanish village was crafting the future of learning tech. Angela, a widowed educator, birthed the Enciclopedia Mecanica in 1948, a device resembling a pale green textbook with a mesmerizing interior. What's even more exciting is that it has a feature that allows reading in darkness, a capability that stacks up well against the front-light technology found in nearly all e-readers today.
Unlike today's sleek gadgets, this invention aimed to alleviate the burden of heavy textbooks for students. As DTNext stated, The Mechanical Encyclopedia featured three horizontal spools holding interchangeable scrolls, each a gateway to knowledge on various subjects. It was a battery-operated marvel, equipped with a lightbulb for nocturnal reading sessions. Angela's goal was simple yet profound: "to get maximum knowledge with minimum effort," as she eloquently put it in 1958.
Her brainchild deemed a "mechanical, electrical, and air pressure procedure for reading books," secured Spanish patent 190,698 in 1949. A prototype assembled in 1962 under Angela's watchful eye, earned another patent, 276,346, at the Ferrol Shipyard.
Fast forward to November 2007, and Amazon unleashes the Kindle, sparking a reading revolution. Yet, Angela's dream faced resistance in her time. Despite her relentless efforts, securing financial backing proved elusive, and her creation remained largely dormant.
Today, the prototype of Angela's Mechanical Encyclopedia stands proudly at the National Museum of Science and Technology in A Coruna, Spain. A poignant reminder of what could have been, Angela Ruiz Robles left an indelible mark. In 1947, she received the Cross of Alfonso X the Wise for her contributions to education, research, and social work. Angela's efforts also fetched her a gold medal at a Spanish inventors' exhibition in 1952.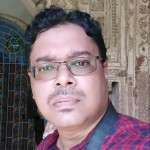 With a keen interest in tech, I make it a point to keep myself updated on the latest developments in technology and gadgets. That includes smartphones or tablet devices but stretches to even AI and self-driven automobiles, the latter being my latest fad.