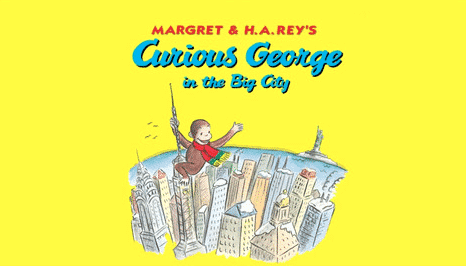 Curious George is a staple of any child's library, and now Houghton Mifflin Harcourt has released the first two titles in the Curious George Multi-Touch Storybook and Activities Series for the iPad. They are Curious George Says Thank You and Curious George in the Big City. The interactive format features embedded tools that allow children to participate in George's adventures. From the press release:
"We wanted to create a digital storybook that didn't distract children from the narrative, but instead allowed them to help the story along by completing activities that are closely tied to the plot," said Cheryl Toto, Senior Vice President of Strategy & Planning. "Whether it's helping George add stickers to his thank-you cards or helping him find his way back to the man with the yellow hat, these widgets bring his adventures to life and pull children directly into the story."
The special features includes slideshows and animation, touch-responsive puzzles, and comprehension activities. Also included are related bonus activities including digital mazes and word puzzles. The books are priced, for a limited time, at $3.99 and two new books will be released every month for the next six months. Curious George was first published by Houghton in 1941 and has sold over 75 million copies.

Paul Biba is a retired corporate international lawyer who has worked in 53 countries. Since he is a very fast reader he came to ebooks out of self-defense in order to avoid carrying a suitcase of books on his travels around the world. An early ebook adopter, he has read on Palms, Pocket PCs and practically every device that has been out there. After being a frequent contributor to TeleRead.com, the oldest ebook/epublishing blog on the net, Paul became TeleRead's Editor-in-Chief, a position he recently resigned. Send Paul an email to paulkbiba@gmail.com