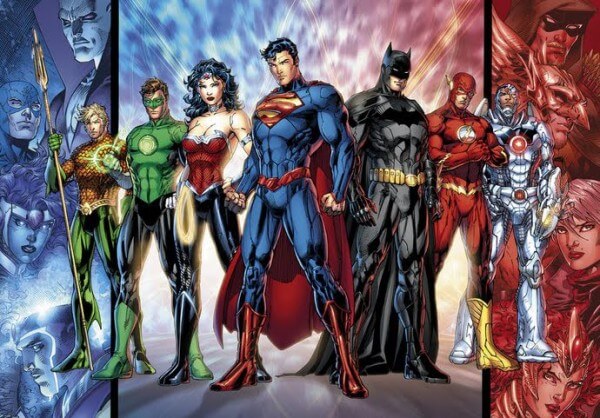 Comic fans will be lining up at Midtown Comics in New York City's Times Square on August 31st—many of them in costume—for the midnight launch of the New 52, the fresh start of nearly the entire line of DC Universe super hero titles. The revamped favorites include new plot lines, fresh characterizations, and of course, updated wardrobes for the heroes and villains alike (spoiler alert: Superman will NOT be wearing his undergarments outside of his clothes). The New 52 will begin with Justice League #1, the DC Comic's opener for Superman, Batman, Wonder Woman, Green Lantern, and more. Thirteen issues a week from various DC genres will be released through the end of September.
The real news associated with the iconic relaunch of the entire series is that the comic books will be available on tablet PC for the first time with the new digital day-and-date, meaning the tablet version of a comic will release on the same day as the hard copy version. Until now, comics from major distributors and publishers have been made available for iPads and iPhones, but they tended to be more midlist back issues, not current new releases. DC Comics' re-release issues will be available for immediate purchase on iOS and Android devices, as well as through WP7 apps, Comixology, and various sites like the DC Universe Online site.
The move to integrating tablet PC and app users is innovative, but it has been a long time coming. Fans of comics and graphic novels tend to be a more technologically adept consumer niche of society, so it just makes sense that these fans would enjoy reading their favorite story lines on high-tech devices; avid collectors may still choose to purchase hard copy editions of the comics for the intrinsic and investment value of the titles, but now readers will not have to choose which format they prefer. While DC Comics has reinvented and upgraded its characters and story lines over the years to keep up with a changing culture and new generations of reader fans that have come along, the technology behind this re-release will mean greater access for fans of any ilk, no matter the geographical barriers to purchasing the comics on issue day.

Mercy Pilkington is a Senior Editor for Good e-Reader. She is also the CEO and founder of a hybrid publishing and consulting company.