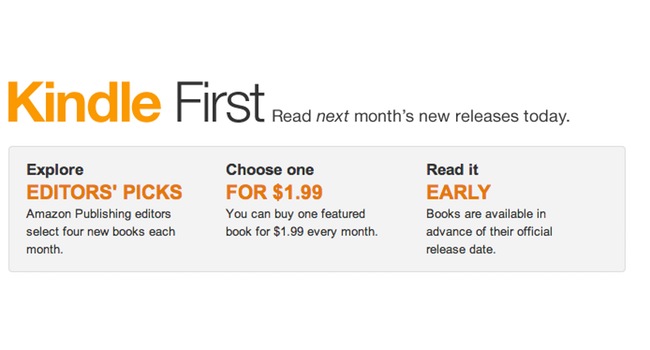 Last month, Amazon's traditional publishing arm and its host of imprints at Amazon Publishing announced a new incentive to get people reading on their Kindles: Kindle First. Each month, the editors at Amazon Publishing will select several titles from a variety of genres to be released a month early to Kindle users and Prime members. While these titles will be pre-released for $1.99–or free, for those Prime members–readers can select only one title each month to have at the steep discount and early date.
Today, Amazon Publishing announced the list of Kindle First titles for December, which include:
• Soy Sauce for Beginners, a beautiful debut novel about family bonds and personal identity by Kristin Chen,
• The Widow File, a political thriller of industrial espionage and military intrigue by SG Redling,
• Sweet Nothings by award-winning romance author Kim Law, which tells the story of a bachelorette baker and the man who convinced her of true love,
• Timebound by Rysa Walker, a fantastical novel about a 16-year-old time traveler that won this year's overall grand prize as the Amazon Breakthrough Novel Award.
Inclusion in this selection may be especially poignant for Rysa Walker, as this year's young adult ABNA winner who eventually won the grand prize as well. Originally a self-published title, Walker didn't think much beyond her indie roots when she entered the contest. As she explained to Good e-Reader at the time of the announcement in June, "I self-published because the traditional publishing industry wasn't working for me. I tried for a year to get attention from an agent and in almost every case I didn't even get an email back from them saying why they weren't interested or even that they'd gotten my email with the attached file."
Are customers really responding to the opportunity to be the first to read a book? Possibly, as last month's Kindle First titles all became number one bestsellers in their respective categories, as well as held spots in the Top Ten for all books. To find out more about Kindle First, click HERE.
Mercy Pilkington is a Senior Editor for Good e-Reader. She is also the CEO and founder of a hybrid publishing and consulting company.