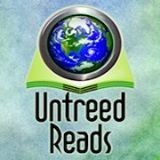 Now that digital publishing has entitled literally anyone to publish a book, publishers are having to come up with creative ways to ensure that their authors' material gets due attention in a quickly overwhelmed marketplace. From early on, publishers like Algonquin looked at bundling, which gave readers both the print edition and the ebook for one purchase price, such as with the Hilary Jordan title When She Woke. Other publishers, like Plume/Penguin, are working with their authors to publish ebook-only novellas to capitalize on readers' interests with a minimal upfront investment while longer new releases are still in production.
This month, digital first publisher Untreed Reads released a title by award-winning singer/songwriter Stewart Francke, What Don't Kill Me Makes Me Strong, a guidebook to survival of sorts based on his own journey through leukemia. While the ebook is available from Untreed's network of more than two hundred ebook retailers in its distribution channels, readers who purchase the book from the Untreed Reads store, thereby providing the maximum amount of royalty for the author and the publisher, as well as bringing consumers to its storefront to discover its catalog of ebooks, will receive additional content for free, this time in the form of Francke's music.
"At Untreed Reads, we recognize that readers have their favorite, go-to retailers when it comes to digital reading," said a spokesperson for the publisher. "We wanted to not only invite readers to experience our online bookstore, but also offer them an added bonus as a way to connect with this author as more than just a writer, but also in his first medium, music."
In addition to Francke's book, readers will receive two song downloads at checkout. The first song, "Summer Soldier (Holla If You Hear Me)" which was recorded with Bruce Springsteen, and the second, "Letter from 10 Green, are both free by entering the coupon code MAKESMESTRONG after adding them to the cart.

Mercy Pilkington is a Senior Editor for Good e-Reader. She is also the CEO and founder of a hybrid publishing and consulting company.