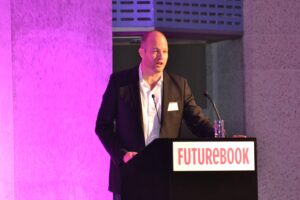 Dominic Rowell, Managing Director Digital of Lonely Planet, gave a dynamic presentation at FutureBook about the business of interactive ebooks. Lonely Planet, started in 1972 and later growing into an entire brand to include an online community, pocket guides, city-by-city guides, and more.
"Travel is a good thing if we can learn to interact with people, share stories, share experiences with people, you do get this sense of making the world a smaller place, a better place," said Rowell in an interview with GoodeReader.
Part of the business model that has helped develop Lonely Planet into a shared experience is the creation of several other aspects of the publisher that helped to develop an online community, even before the concept of social media platforms like Facebook. Thorn Tree, the online destination for Lonely Planet readers to come together to ask questions, share insights, and generally tell their travel stories, affords users the chance to tell other like-minded readers about where they've been.
"Somebody said a while ago, 'If you went to Iran, you wouldn't be shouting to bomb these people.' They become just a geo-located map reference, pinpoints and not people. There's a lot about that that actually motivated the business and I still think editorially it's just a fundamental thing that travel is a great thing. The other thing about travel is the stories, that's the most powerful thing. Every good travel presentation I've heard is about the people."
While specific types of books like travel guides or cookbooks might lend themselves very well to high-resolution digital publication for tablets and smartphones, how does that translate into ebooks as an entire product? With the greater emphasis at this year's FutureBook event on the important of expanding into international markets, and with ebook retail giants like Amazon, Barnes and Noble, and Kobo making headway into bringing ebooks to farther and farther reaches, there has to be a reason for someone to press the buy button on a book written by a Sudanese crime writer or an Indonesian sci fi author. By making these locations even more real in the minds of readers through the variety of interactive experiences, Lonely Planet is effectively ensuring that this focus on international expansion will result in an audience of readers who want to buy the books.
Mercy Pilkington is a Senior Editor for Good e-Reader. She is also the CEO and founder of a hybrid publishing and consulting company.