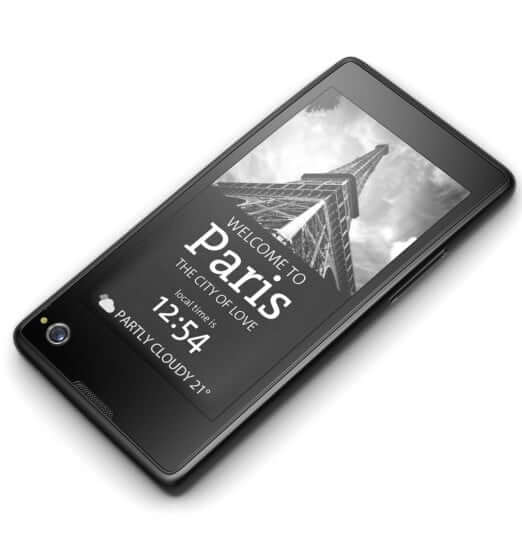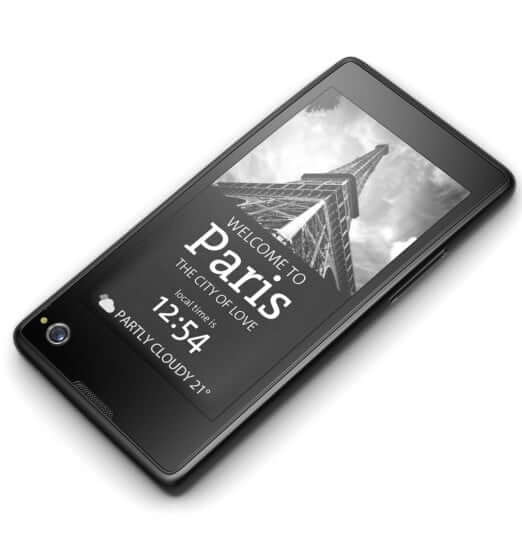 We have never seen smartphones for the mainstream market that offered twin displays, but leave it to the Russian broadband provider Yota to accomplish the feat. The innovation is that this device will feature an E Ink panel beside a standard LCD screen. It still is a work in progress but it really offers a lot of potential.
First off, it's a smartphone running Android Jelly Bean with a 4.3 inch display packing in a respectable 720 x 1,280 pixels. However, things take an exciting turn once you flip the phone over, where you'll find another display of the same 4.3 inch dimensions based on E Ink technology with a resolution of 200 dpi. The design is plain and does not even come with the usual Android buttons as seen on other Jelly Bean based smartphones. Instead, swiping actions along the bezel do the trick. Sure it will take a little getting used to, but it is pretty easy.
Coming back to the E Ink screen, the best thing that can said of it is the battery longevity even while the display is active. You can have your things-to-do list or map displayed on E Ink without having to worry about battery getting drained. The E Ink display isn't as responsive as one would expect, though Yota developers have said they are already on it. Only the bottom part of the E Ink panel is capacitive and does not yet respond to touches for most apps.
As such, the E Ink display is not yet fully functional but can be 'fed' via the front LCD panel. This can be done in two ways. Tapping on a symbol on the front right corner starts an application and what is in front will get displayed on the E Ink screen. A V gesture anywhere on the OS will also have the same result.
Those at Yota have stated their immediate challenge is to make the E Ink panel fully functional while also increasing resolution (to 220 dpi) and contrast. A new case to house the two displays is also in the cards to make the smartphone more contemporary. Meanwhile, catch up with the video below for a live demo of YotaPhone.
Sovan Mandal is the senior tablet and tech corespondent for goodereader.com. He brings a international approach to news that is not just applicable to the North American market, but also Asia, India, Europe and others. Sovy brings his own writing flavor to the website and is interested in Science Fiction, Technology and Writing. Any questions, send an email