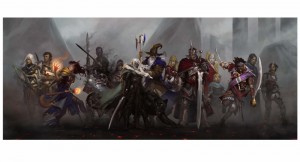 In a bold move towards letting fans write the book, so to speak, Wizards of the Coast announced a six-book series today, with each title penned by a different author, all to develop the Sundering, a year-long story line in which fans of Dungeons & Dragons will play a part in shaping the events.
"We are elated to begin this extremely exciting chapter in the history of D&D," said Nathan Stewart, Dungeons & Dragons Brand Director at Wizards of the Coast, in a press release. "Utilizing great digital entertainment, dramatic story-telling techniques and thrilling and immersive events, The Sundering ushers in a new era for the future of the franchise. We invite and encourage the legions of D&D adventurers to join us on this heroic adventure to change the canon of the Realms."
While players can experience the series in-store through the well-loved tabletop gaming of D&D, a digital tool uniquely suited for this project will capture the players' input, which will in turn be incorporated into the final product. In addition, the first free iOS app for D&D enthusiasts, Arena of War, allows players to connect via the game to do battle against evil. But it is the noveling project that will pique fans' interest in the in between.
"The Sundering kicks off today with the release of The Companions, The Sundering, Book I by New York Times bestselling author R.A. Salvatore. His novel depicts the events of the Sundering as seen through the eyes of the world's most well-known drow ranger, Drizzt Do' Urden. Salvatore's novel is part of collaboration with other New York Times bestselling authors who will each show the changes to the Realms from their heroes' points of view."
The first book will be followed up with future titles from authors Ed Greenwood, Troy Denning, Richard Lee Byers, Paul Kemp, and Erin Evans, with the final title released in spring 2014.

Mercy Pilkington is a Senior Editor for Good e-Reader. She is also the CEO and founder of a hybrid publishing and consulting company.