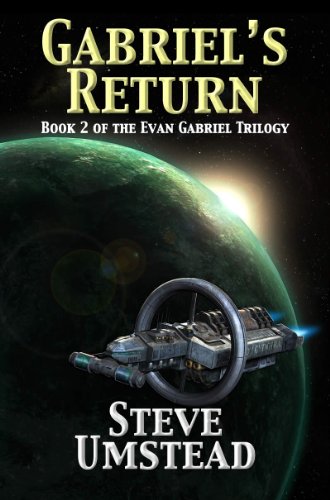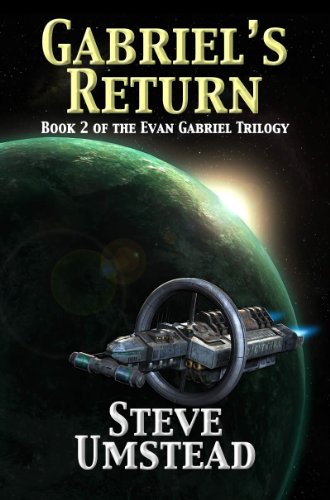 GoodEReader.com's Indie Author Initiative profiled self-published author Steve Umstead earlier this year with his first title, Gabriel's Redemption, in which Commander Gabriel found himself on a perilous space mission made all the more dangerous by inside politics and a serious case of "don't-trust-anybody."
For this week's Ebook of the Week feature, Umstead is giving away copies of the sequel to that fir title, Gabriel's Return. In this installment of what will become a trilogy, Commander Gabriel is again facing an uncertain mission but with a crew of new faces; his success depends on returning to an outer planet and open old wounds of losing his squad.
"Return contains much of the same characters as the first book, but this one deals with more of him on a personal level," said Umstead in an interview yesterday. "They are established on Mars as a security force and they are called off on a last minute mission to a planet that holds a lot of dark memories for him with a new crew. The team must rescue hostages, including the son of a friend. He's facing new situations while battling haunting memories of losing his entire squad in this same locale."
Umstead spoke about the work that goes into plotting a trilogy, even if the original intent was to place all of the characterization and action in one title.
"Book one in the series was actually a NaNoWriMo project last year. I had never written a complete manuscript before, so last year's NaNo helped motivate me to get from start to finish. I was able to create a 70,000 word book, but I realized I didn't get to develop the characters as much as I wanted to in one complete book, so it grew into a trilogy. It gave me a goal of sitting down and writing. It was good for my motivation. I might do something different this year for NaNo, though," he says of stepping away from Gabriel for a while, but still writing in the science fiction genre.
Umstead's Ebook of the Week can be found by clicking here at Smashwords, and readers may enter this code to receive their free copy at checkout: HF87Y The author is also giving away several copies of the first book in series, Gabriel's Redemption, to new subscribers to his blog.
Mercy Pilkington is a Senior Editor for Good e-Reader. She is also the CEO and founder of a hybrid publishing and consulting company.