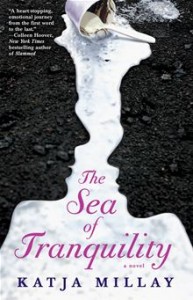 Verdict: 4 Stars
The Sea of Tranquility (Atria) has everything I don't look for in a book. Chapter-by-chapter point of view switches, mysterious story lines that don't become clear until the last page, and characters so full of raw and deep-seated hurts that you feel like an intruder just for reading about them. So it was surprising to even me that this book was a one-sitting read, something that I couldn't put down until I'd made my way to the end to see if these people turn out okay.
Told in alternating viewpoints from the two main characters, Josh and Nastya, the reader is given only partial glimpses at a time of the endurance race the two teenaged protagonists have had to run. Josh, whose entire family has died before the book's opening, and Nastya, whose musical prodigy status was ripped apart by a violent attacker who destroyed her hands and her soul, are left holding the pieces of their former lives and slowly learn to let their other carry a piece of the burden.
In keeping with the fact that Nastya stopped speaking about a year after her attack, the book doles out the details painfully slowly. While that is part of its allure, I was left occasionally feeling like I didn't know enough to keep reading. Fortunately, the writing style was so spot-on that I was easily caught back up by the end of the chapter, only to be left disoriented again and repeat the cycle until the very end of the book.
Millay's book could easily blur the lines between young adult and new adult, and effortlessly crosses back and forth between the two genres. The characters' ages and the high school backdrop speak to younger adults, but the conflicts and plot are not for the fainthearted.
The Sea of Tranquility will be available June 4 from Amazon, Barnes and Noble, Kobo, and more.
Mercy Pilkington is a Senior Editor for Good e-Reader. She is also the CEO and founder of a hybrid publishing and consulting company.