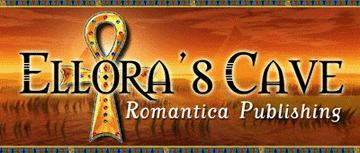 At what was possibly the most interesting booth at the BookExpo exhibit hall, ebook-first erotica imprint Ellora's Cave kept attendees entertained with "The Cavemen," a group of slightly underdressed gentlemen whose images have graced the cover art of some of Ellora's most popular titles. Chief Operating Officer Susan Edwards spoke with GoodEReader about how digital publishing is revolutionizing the writing and the reading of this once-taboo genre.
"Erotica and digital go hand in hand, especially for women. Women don't like going into bookstores and having to buy those books. In the digital age you can buy those books in the privacy of your own home. Nobody has to know what you're reading in the digital age."
While the fans may be reaping the benefits of instant access to ebooks without the hassle and potential embarrassment of shopping in their local brick-and-mortar to get their steamy fix, the authors are the ones truly benefitting from the high volume of titles making their way to market for an audience that cannot get enough of their favorite authors and characters. While many ebook-first and ebook-only publishers like Ellora's or Carina—the digital imprint of romance genre mainstay Harlequin—accept unagented authors' submissions, they are also pushing a higher volume of titles; in the case of Ellora's, they are releasing eight to twelve titles each week and signing authors like Laurann Dohner to 75-book deals.
"The genre is taking off like wildfire. Our hits have increased geometrically, exponentially on our website. There's money to be made, there's reputations to be made. With Fifty Shades of Gray, no one's embarrassed to say they read erotica anymore. We've got authors and readers who've been reading it for many years and now everybody's coming out of the closet. It's just a great time."