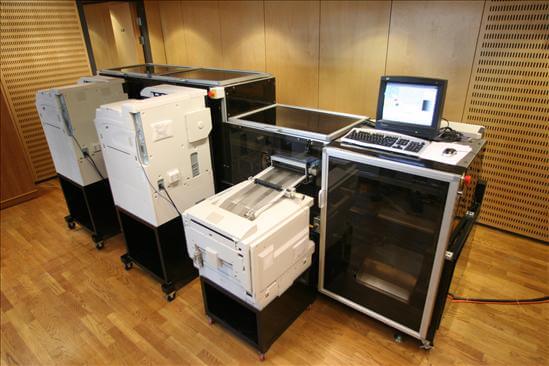 One of the surprises of the panel discussions at today's Digital Book World conference was the amount of talk about print-on-demand, both of its benefits and its drawbacks. While some of the talk was about how not enough emphasis is being put on POD as a viable program option for authors, and more than one industry professional maintained the opinion that print-on-demand will only provide a negligible amount of sales percentage.
In speaking with Karina Mikhli, director of content development for On Demand Books, about the Espresso Book Machine, it became apparent that print-on-demand is actually a misnomer for the model of publishing provided by instant printing kiosks and printers.
"We use digital files, but we're not quite print on demand. We consider ourselves more digital to printed retail. We recently launched HarperCollins' comprehensive backlist program, so this is a virtual inventory which is great for bookstores with limited space. We're doing installations in libraries and university bookstores, as well," said Mikhli.
While a lot of attention has been focused on the capabilities of these user-friendly in-store machines to print books from a virtual catalog, one key function of the machines that has been largely overlooked is the enhancements to library catalogs that are possible thanks to devices like the Espresso Book Machine. Libraries can simply purchase replacements for damaged or lost books, eliminating the delay in ordering new copies; patrons can also opt to purchase books instantly if they wish to forgo the wait time for a book that is currently checked out, leading to increased sales and the development of the library as a point of sale for books.
Mikhli also spoke on the trend of indie bookstores and libraries who are offsetting the costs of the machines and the licenses by developing a self-publishing printing house within the store or location. This has already led to the development of a sense of community surrounding the booksellers, as well as an increased strengthening of the writing community.
The sentiment at the conference towards print-on-demand and digital to printed retail was that this is so far an open-ended development in digital publishing that so far has not reached the limit of its potential for authors, publishers, or readers.
Mercy Pilkington is a Senior Editor for Good e-Reader. She is also the CEO and founder of a hybrid publishing and consulting company.