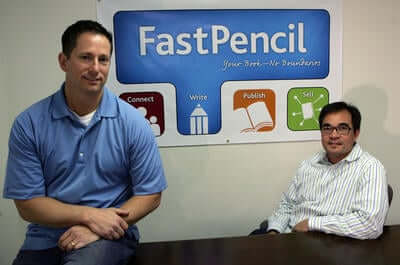 Self-publishing used to be the option of last resort for frustrated authors, but more and more authors are abandoning the frustrations of the traditional publishing industry in favor of the immediacy and creative control of self-publishing. Now that self-publishing and digital publishing have garnered some long overdue respect in the publishing industry, one of the last hurdles for indie authors is getting their print editions in front of browsing consumers in brick and mortar bookstores.
FastPencil, the multilevel ebook distribution platform for both indie and established authors alike, will announce a partnership today with Barnes and Noble that will afford its authors the opportunity to have print editions of their books placed in select B&N physical locations. This will potentially put their titles in front of browsing consumers, as well as provide Barnes and Noble with carefully screened content for its stores.
According to a press release issued by the company, "the highly selective FastPencil PREMIERE line houses élite general interest titles by best-selling, highly-acclaimed authors including Mercer Mayer, Steven Pressfield, J. Kahn, L. Douglas Keeney, Eric Harr, Helen Whitney, Miriam Nelson, Jennifer Ackerman, Peter Ressler, Monika Mitchell, Guy Gilchrist and Angela Sage Larsen. The Wavecrest imprint offers packaged services to authors who are thought leaders with strong community followings."
"It's a lot more effort on our part but we want to make that available for our authors," said FastPencil CEO and co-founder Steve Wilson in an interview with GoodeReader. "For the indie authors it provides an avenue that if they do well selling their books, they have the opportunity to have their books put in front of some of the bigger names in the industry. It could potentially be put in premium placement in stores, which really isn't available from anyone else."
While the PREMIERE and Wavecrest imprints of FastPencil's platform tend to be reserved for more closely vetted books, self-published authors are encouraged to take advantage of the full complement of tools that FastPencil offers. From the most basic of uploading and distribution options all the way up to more involved features like formatting and cover design, authors–and companies that need content conversion and distribution services–can take advantage of tiered levels of support. By tracking the sales data of self-published titles, FastPencil will still have the option of offering the physical store presence to indie authors.
This partnership stands to benefit the authors, of course, by opening the previously closed gate to brick-and-mortar stores; at the same time, many major publishers are stepping back from investing in debut authors. This partnership can mean putting indie authors' books in front of a much larger audience than with ebook distribution alone. However, the reading consumers also stand to benefit greatly because titles placed in Barnes and Noble stores will have been very strategically vetted before the opportunity is given. Both Barnes and Noble and FastPencil have their companies' names at stake and will select books of the highest caliber for physical placement; where taking a risk on a previously unknown author may mean gambling a few dollars on an ebook, there is significantly more money invested in purchasing a print edition, so readers want to know that the book has been carefully screened for quality.
"FastPencil will be in charge of offering the opportunity to place the books in stores," Wilson continued, "although all PREMIERE titles and most Wavecrest authors will be afforded the opportunity. For those self-published authors, we will track the sales of titles to see which books should be scrutinized for going on to the next level."

Mercy Pilkington is a Senior Editor for Good e-Reader. She is also the CEO and founder of a hybrid publishing and consulting company.