Traditional print book covers draw many parallels with billboards and conventional marketing to appeal to casual readers. When you walk into a bookstore and there are thousands of books present, they start to all blur together. Bright colorful images and racy cover art are increasingly becoming more bold to grab people's attention and hopefully prompt an impulse buy. When indie authors self-publish and release digital firsts, how important is cover art? Weighing in on the issue are some of  the top digital publishing companies and best selling authors.
Self-Published authors are often on a shoestring budget, and competing against the big six publishers with really great art is a hard task. Contracting out the cover art, hiring models, and getting the fonts just right is often out of reach for your average indie author. If you are the type of person that loves doing everything yourself, Book Tango has an excellent DIY Cover Art Generator. Using the Online Cover Designer, you'll be able to upload your own original image; plus you'll have access to an ever-growing library of royalty-free images that you can choose from. Once you select your image, you'll be able to place your book's title, subtitle, and author name on your cover. You'll be able to choose from a variety of font, color, and style options to make your text appear however you want. If you're interested in more advanced cover design options, you can elect to purchase the Custom Cover Design.
Many indie authors often shrug off effective cover art, knowing that readers click on hyperlinks in the table of contents to automatically visit chapter one. Really, in the world of Soundcloud where people comment during the music tracks and .99 cent ebook purchases, is cover art relevant?
Kelly Gallagher from Bowker mentioned that "Consumers are still discovering e-books via non digital ways. They even cite seeing a book in store (especially children's an YA) before they buy the digital version. In digital only, consumers still buy on impulse about 30% of the time. Less then print but still important when first impressions count."
According to Bella Andre, author of the New York Times and USA Today bestselling LET ME BE THE ONE (The Sullivans #6) and the upcoming COME A LITTLE BIT CLOSER (The Sullivans #7), due out this winter, "Cover art is one of the most crucial elements for an ebook to first, gain visibility, and second, sell well. Fortunately, with digital publishing you can keep changing and improving on the cover until you get it right. More than once I've changed a cover and literally doubled sales overnight."
"It's key that authors and publishers get their covers right. Cover art is the first thing that a reader sees when browsing a collection digitally and it needs to be thought out in terms of how it looks on a thumbnail in addition to it's full size. Readers do judge a book by its cover, especially in the digital space," says Miral Sattar, founder and CEO of BiblioCrunch.
"Cover art is just as important for digital books as for print books – it is a primary element in attracting the attention of a potential purchaser. The cover needs to be displayed on the etailer sites, just as print books are displayed on bookstore shelves," says Raelene Gorlinsky, publisher, Ellora's Cave Publishing, Inc.
Mark Lefebvre the Director of Self-Publishing and Author Relations at Kobo told Good e-Reader that, "Cover art isn't just necessary, it's critical. And for ebooks it is just as critical, if not more critical than for print books.  And when you think about it, when a customer is browsing a physical book in a retail store, there's more to the cover than just the front cover art look and feel. There's the back, the size and shape of the book, or other physical factors related to the way it is merchandised in a physical space (a wall of the same cover, or creatively stacked with other books) that might affect it catching a customer's eye.
But with digital books, the cover (which becomes the front cover) is even MORE critical, because so much more of the customer's decision to drill deeper and learn more about the book (i.e. read the blurb, check out the rating and reviews, etc) hinges on their initial reaction to the cover. One thing that I believe self-publishing has helped bring to the forefront for digital publishing has to do with flexibility and the awareness of such things as changing pricing and changing covers.  Indie authors were among the first to recognize that if a cover isn't working in terms of drawing their target audience, they can change it.  It's not as if the cover is locked on thousands of pre-printed stock sitting in a warehouse.  You upload a new cover and it's done.  One common sentiment I hear from successful indie authors is that they pay close attention to the cover and will react to market circumstances and situations in order to maximize their chances of a customer doing that deeper drill into browsing their books. And a "better" cover isn't necessarily better art for the cover, which is and will always be subjective, but art that closely matches whatever the target audience is expecting.  Look at the popularity of the look and feel of Fifty Shades of Grey.  Then look at all the other novels written in the same style – Sylvia Day's Bared to You has a similar feel of that photograph of an inanimate object on its own. A potential customer immediately recognizes it.
As a publisher, and one early to capitalize on the eBook market, Harlequin has always known this about covers and matching customer expectations with a consistent look and feel – they package their books and different series of books with a consistent and predicable look and feel.  When you approach a particular brand or line, you know EXACTLY what you're going to get.
All that being said, the old idiom, which people rarely abide by hasn't changed. People do judge an eBook by its digital cover. So it's a worthwhile investment to spend time getting the right one."
It seems ebook cover art is more important then most people realize. Stay tuned for more industry thoughts and perspectives later on in the week.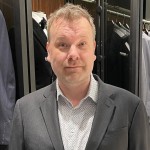 Michael Kozlowski has written about audiobooks and e-readers for the past twelve years. Newspapers and websites such as the CBC, CNET, Engadget, Huffington Post and the New York Times have picked up his articles. He Lives in Vancouver, British Columbia, Canada.