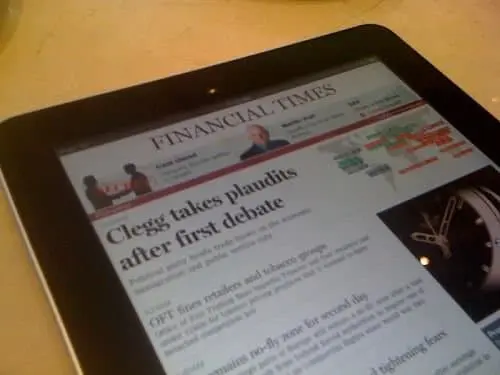 In a major daring step that takes a stab at some mainstays in the digital business, Financial Times pulled its app from iTunes in order to protest the 30% cut and retention of customers' private information. Now, thanks to greater opportunities from the Android market and the development of its own iOS-compatible app that can be accessed through the devices' web browsers, Financial Times is back as an app and is apparently sleeker than ever.
One of the greatest features of the new app version is its offline capability, allowing readers to search the issue even when they are not connected to wi-fi. More importantly for the paper, subscriptions are now sold through the app, not through other parties like Apple's newsstand or Google checkout. That's an important step as more than 15% of new subscriptions are for digital reading on mobile devices, according to an article by Ingrid Lunden of paidContent.org.
Possibly the most intriguing aspect of the app and its subscriptions might have to be the pricing. The app is obviously free to download, by the content is set at a fee. That fee, however, includes the first eight issues of the month for free, then layers of pay for which features the users would like to receive.
As more opportunities for compatibility come about for the devices on the market, reading consumers can expect a shift in accessibility options like the one pulled off by Financial Times. It will be interesting to watch how the success in this case has an impact on other subscription-based digital reading outlets.
Mercy Pilkington is a Senior Editor for Good e-Reader. She is also the CEO and founder of a hybrid publishing and consulting company.