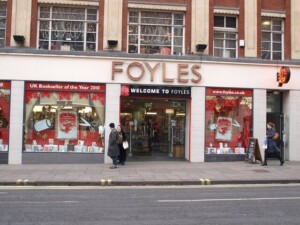 Other booksellers, from the major chain retailers to the small independent shop owners, may feel the desperation of trying to stay open and relevant in the digital reading era, but one bookselling chain has not only stayed in business, but has posted a profit for the year and is looking ahead to a major expansion. Foyles, the UK-based six-store independent seller, received a number of national awards during the year, but finishing the fourth quarter still in the black might be the highest achievement for a book store.
"The retail environment continues to be challenging, a situation exacerbated by the disruption caused by the Tottenham Court Road Underground Station development which, as in previous years, has cost us dearly in lost sales. We will continue to plan events such as the Charing Cross Road Fest which increase footfall significantly," said Sam Husain, Chief Executive of Foyles. "Our focus is now turning to the development of our new flagship store at 107-109 Charing Cross Road, the former St Martin's College building, less than a hundred metres down from the existing store on Charing Cross Road. Progress on the development is on schedule for an opening in spring 2014. Foyles is well known for the knowledge and expertise of its booksellers and I'd like to thank them for their exemplary service, dedication and hard work."
One aspect of Foyles' business model that may have contributed to the successful year is it early recognition that a book seller has to be about more than just books in order to survive in this retail climate. It has enjoyed satisfactory web traffic of both its featured titles and its used books, and hosts a large number of live events at its physical locations throughout the year, including partnering with music promoters to stage live performances at its shops.
Despite its founding in 1903, the shops have worked to stay ahead of the trends in the market, and recently announced at the FutureBook event that it would be building a 40,000 square foot flagship store, even going so far as to invite industry professionals to work with the bookseller in order to make it the most dynamic and book-focused location possible.
Mercy Pilkington is a Senior Editor for Good e-Reader. She is also the CEO and founder of a hybrid publishing and consulting company.