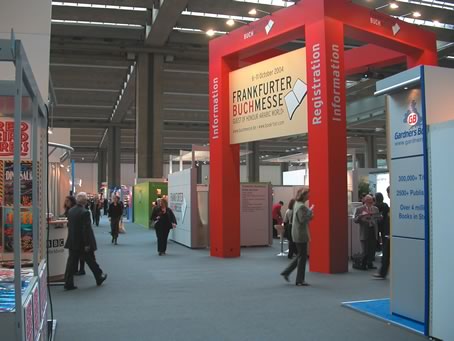 As the countdown to one of the largest and oldest publishing industry events in the world begins, publishing industry professionals are focusing on the Frankfurt Book Fair. One of the more interesting aspects of this year's staging, though, is that an unheard of number of authors appear to be attending what was traditionally considered to be strictly a rights' fair, one of the more exciting but distinctly business-oriented aspects of the publishing industry.
But with the greater focus on including authors and the public this year, what do authors need to know about Frankfurt before booking a very expensive trip? Good e-Reader will be attending this year's event to cover industry news, and spoke to Hannah Johnson, Deputy Publisher at Publishing Perspectives, about what is important for attendees to understand about the event as a whole. Johnson's guide, "Authors Guide to the Frankfurt Book Fair," is available for download HERE.
"The industry is in transition and it's new territory. I think authors are going to Frankfurt more and more to make their own connections in the industry and meet people that they wouldn't otherwise get to meet, especially as authors are taking a little bit more control over their careers."
One key area that authors may be interested in attending for is the foreign rights and translation issues that are handled at Frankfurt, especially if they are far enough along in their careers that selling their foreign rights is crucial. So what kind of author would benefit from the investment involved in going to Frankfurt?
"It depends on what stage they're in in their careers. If you're an established author with a list of books being published, or if you're a little more well-known and have an established readership, I think an event like Frankfurt is a good investment in your career. If you haven't been published yet and you're a brand-new author looking to start your career, there are plenty of other events that are better suited to your needs this year."
Johnson suggests that writers' conferences are a much better investment for authors who are looking to connect with agents and publishers. At an event like Frankfurt, agents are actually quite busy working to sell the rights to books from clients they already have; it's not a safe bet that an author's elevator pitch will be effective at a frantic, high-paced event like this one.
That being said, one option authors are looking at now is incorporating some type of book event into their existing vacation plans. Authors whose focus is a vacation to Germany or New York might plan it in such a way that it includes the ability to spend a day at the book fair or at BookExpo America, for example. But planning a full trip for the specific purpose of attending a publishing event is an investment that only pays off in terms of forging long-term connections in the industry, not in terms of fulfilling immediate agenting or publishing goals.
The fact that Frankfurt is even open to authors and offering industry workshops for digital and self-publishing is still very telling of the direction the industry is taking, namely that authors are being given greater access to choices and control in their careers.
"It's really interesting to watch. It's an exciting time to go to Frankfurt and to work in publishing."
Mercy Pilkington is a Senior Editor for Good e-Reader. She is also the CEO and founder of a hybrid publishing and consulting company.