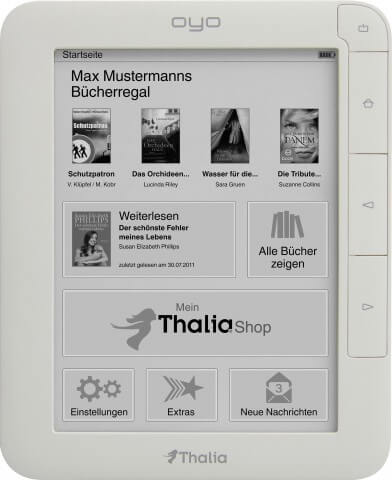 Thalia, a German retail bookstore chain that makes up the books division of parent company Douglas Holding AG, reported a loss of nearly 93million euros for last year, a report that its executives are basically saying is to be expected given the company's focal shift to ebooks. With the launch of the German Kindle store and the availability of Amazon's dedicated e-reader in the country, Thalia has felt the sting of trying to keep up with the competition.
In August last year, GoodEReader.com reported on the bookstore's updated brand-specific e-reader, the Oyo II. Thalia had actually maintained a forward-thinking attitude in adopting digital content, first by working with Sony as early as 2008 to carry its e-reader in stores, then by phasing out that program and developing its own device in 2010.
Since Thalia seems to have a fairly secure foothold in the market with around 300 physical brick-and-mortar retail locations as well as an established online market, not to mention a dedicated e-reader to handle the 300,000 ebook titles in its catalog, why the reported loss?
"We must find the optimum way of integrating our traditional stores with our online shops so that we can leverage the potential of the new megatrend, the e-book," said Douglas CEO Hanning Kreke. Investors have already been prepared for the fact that the company will be forced to front some large expenses in order to shift its retail focus to ebooks in an even larger scale way, although how much of an expense that will be has not been shared with the investors at this time. Fortunately, only one other Douglas division reported a loss this year, with its perfume and cosmetics division continuing to do very well in Europe.
Kreke pointed out that the company needs to take action and incur the additional expense in order to be able to compete with Amazon.de's thriving business in Germany, specifically through what Kreke coined as "operational excellence" both online and in its physical stores. Douglas Holding is preparing to expand its online marketplace by bringing in a new executive position to oversee online retail operations.
Mercy Pilkington is a Senior Editor for Good e-Reader. She is also the CEO and founder of a hybrid publishing and consulting company.