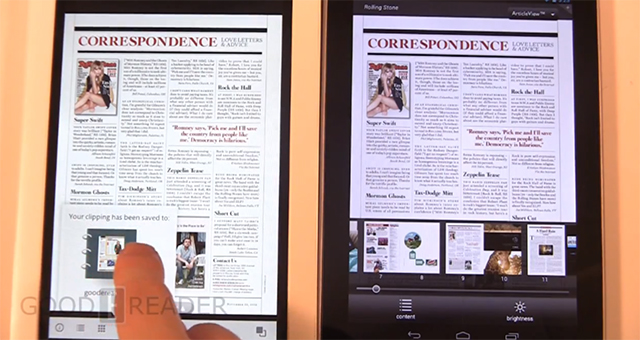 The Google Nexus 7 and Barnes and Noble Nook HD are two devices that most people who want to read ebooks think about buying. You can go with the software agnostic approach of the Nexus, where you have tons of options on who you want to deal with, or you can instead go with the closed ecosystem with Barnes and Noble, whose sole premise is the reading experience. Both bring some interesting hardware and software elements to the table, which should appeal to all digital readers. Today, we compare both of these tablets against each other.
Our video comparison documents how ebooks, magazines, newspapers, comics, and a myriad of other content. We also conduct extensive audio, video, and internet tests, to see how it holds up under real world conditions.
The Barnes and Noble HD lives up to its name with a seven inch IPS capacitive touchscreen display and a resolution of 1440 x 900 pixels. This is the highest resolution tablet the company has ever released. The Nook Tablet had 1024 x 600 and the Nook Color had the exact same. Newspapers, magazines, and videos look way better on this unit than the prior models.
Underneath the hood sits a TI OMAP 4470 1.3GHz dual-core CPU processor and 1GB of RAM. Memory wise, there is a 8 GB and 16 GB models, depending on your needs. Barnes and Noble is fairly consistent with giving customers expandable memory via the Micro SD. You can get it going to almost 64 GB of added storage, which would be perfect for your media.
The Google Nexus 7 features a seven inch capacitive touchscreen display with a resolution of 1280×800. The resolution overall is fairly solid and videos looked a little bit better than the Apple iPad Mini and Kindle Fire HD. One of the strongest elements this tablet has going for it is the processor. It crushes all other e-readers on the market with a Nvidia Tegra 3, quad-core 1.3 GHZ processor. In conjunction with 1 GB of RAM, you can multitask to your heart's content and not experience stuttering while watching videos or turning the pages in ebooks.
Peter Carotenuto is a graduate of the Vancouver Film school and is extensively involved in the local Film Industry. He is an accomplished actor and has been in many of the Vancouver based movies and made for television shows. Peter is the head of the Good e-Reader media division and is responsible for all of our video editing and production. You can e-mail him at peter@shopereaders.com