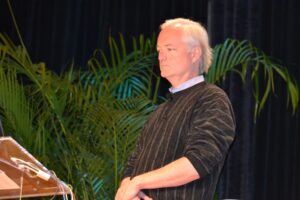 James C
rawford, Director of Engineering for Google Play, stood in for Tom Turvey to unveil some new features of the new platform, especially focusing on the book offerings and capabilities. He began his presentation with some interesting statistics on digital use. To date, one in four US households has a tablet and the majority of digital content purchases are made on a smartphone. There are over 850,000 Android activations a day on the more than 300 million Android-powered devices out there, and there have been more than 15 billion app downloads from over 190 countries so far.
But as for Google Play, with over four million titles it becomes the world's largest ebook store. While the books can be read on devices unilaterally, Google Play books can also be read on web-based devices and computers via the cloud.
"So far, the issues on the web have been the you, the reader, have to be online," explained Crawford. "But in the case of Google Play in the Chrome browser, you can sync your book for offline reading." This feature comes in handy for travel and for areas of low connectivity.
One other key feature for Google Play helps out both the reading consumer and the publishers by helping connect users with books.
"There are a limited number of books that can be shown on a device, but in a bookstore there are thousands of books to browse. The personalized recommendations become really important for our business going forward to understand what we should recommend to each user. It makes use of the few dozen books we can show you at a time."
Interestingly, Crawford cited the millions of free ebooks on Google Play that encourage reading and purchasing of new books, explaining that the free downloads were a tool that helped readers locate titles.
As for the future of Google Play, one of the most exciting enhancements comes from within the book. While most companies can boast of offering highlighting capabilities, annotations, notes, and bookmarks, Google Play ebooks can also offer translation of foreign terms in the audio. Google is also working on embedded audio and video inside the ebooks, as well as a fixed layout ePub format.
Mercy Pilkington is a Senior Editor for Good e-Reader. She is also the CEO and founder of a hybrid publishing and consulting company.