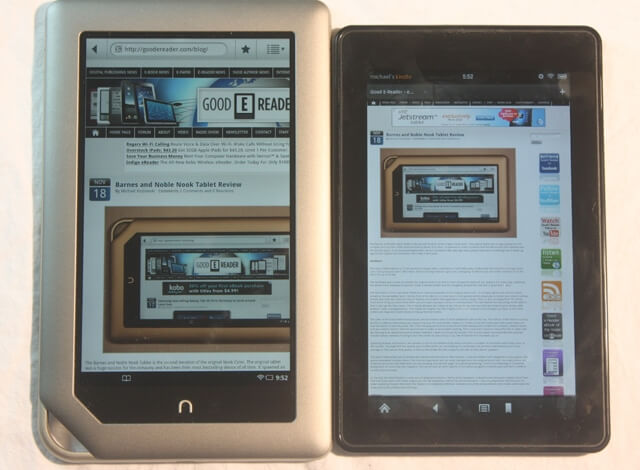 This holiday season set a record for industry wide e-reader sales and many retailers like Amazon saw millions of units sold every week in December. The Barnes and Noble Nook, Kobo Vox and Kindle Fire were just a few of the many devices people received during the holidays. If you have just got an e-reader for the first time or switched brands, you probability have a fair number of questions and concerns. We are going to do our best to help you along your journeys and make sure you have what you need to get the most our of your tech device.
The Kobo Vox
Kobo during the last few months released their first full color touchscreen Android e-reader, called the Vox. It comes bundled with some exciting features such as Reading Life, Kobo Pulse and the main library. Kobo Pulse is a neat feature because you can chat with other people in real time who are reading the same book as you are. This is handy because reading is normally a solitary endeavor and Kobo does a fair job at making it social. Reading Life is one of their key features and gives you the unique ability to earn badges and awards for reading.
The Kobo Vox does not have many bundled applications or features when you take it out of the box for the first time. The kobo.getjar.com default app market is severely lacking in quality content. Many people are baffled on why they cannot find popular games or alternative reading apps like Kindle, or Nook for Android. Check out our Full List of Kobo Vox Apps we developed a few months ago. It has direct download links we store on our very own servers. You can find anything from comic book reading, book apps, many games. You will also like the fact we have the latest update to Adobe Flash, so you can enjoy a full web experience. This is a good starting point to load your Vox up with quality content you can't find anywhere else. If you are using this gadget for the first time, make sure to check out our full review! Also, if you want to learn how to copy your own ebooks you might have downloaded from the internet, or purchased from other bookstores, check out our Video on How to load ebooks on the Kobo Vox.
Many people have problems with their Kobo Vox and constantly tell us how vexed they are with common questions. You can check out our mega thread with millions of comments and visits HERE. It gives you questions and answers to ALL existing Kobo Vox problems.
Barnes and Noble Nook Tablet
The second installment of the Barnes and Noble Nook Color is a resounding success and elaborates on the hardware and ecosystem. This new gadget has dual cores and 16 GB of internal memory to store your data. Hardware wise, it beats every other Android e-reader out there, hands down. It gives you more choices in Magazines, Newspapers, Kids Books and interactive applications then Amazon does. One of the drawbacks is that it does not have a really good App selection. There is only one thousand found in the store and B&N really puts companies under a microscope to approve their apps or games for inclusion. We have compiled an excellent list of Essential Barnes and Noble Nook Tablet Apps, you might want to check it out. It has direct download links to popular apps like Droid Comic Reader, Amazon Kindle App, Overdrive and many more. Make sure to also check out our full Review of the Nook Tablet if you want to see our hands on impressions. If you want to know how to load in ebooks yourself to the Nook Tablet using Calibre, Windows Explorer, Overdrive or Adobe Digital Editions, Click HERE.
Common questions we field about this device, is if it will work outside of the USA. The short answer is yes, but you need to use a real/fake USA based address and your normal credit card and email address. You can access all of their books, magazines, newspapers, apps and video content, like Netflix.
Amazon Kindle Fire
The Kindle Fire was one of the most successful holiday purchases of 2011 and it is within good reason. Amazon does a good job at making an Android tablet, seem like anything but. It gives you tremendous freedom in buying apps, games, books, magazines, videos and many more. It has a robust ecosystem for ebooks and currently has around a million and all are very high quality. Their video service is also fairly solid and their app store trounces Barnes and Noble with a sheer amount of variety and content. They also give away a free app of the day, which is a good reason to keep checking back.
The Kindle Fire hardware wise features dual cores and enough memory to keep you reading for a long time. All purchases of media and content are stored in the Amazon Cloud and you can access them on any PC, Android, or iOS device. Some of the drawbacks include non-expandable memory and no options to download apps from other websites or services. We put together a very comprehensive list of Essential Kindle Fire Apps, check it out. If you are using the Fire for the first time, make sure to check out our Full Kindle Fire Review.
Finally, many people buy an e-reader like the Kindle Fire so you can load in your own books or content you have downloaded from the internet. Check out our full tutorial on how to copy ebooks to your Kindle Fire.
Amazon Kindle Touch
The latest generation e-ink reader from Amazon is fully touchscreen and is simply called the Kindle Touch. This is proving to be the most popular and bestselling Kindle of all time and with good reason. It is dead simple to navigate and covers many different price points with optional 3G and Special Offers. It gives you enough RAM, Storage and CPU to provide a great reading experience. You can easily shop for books, newspapers and magazines in the Amazon Store. All purchases you make are able to be loaded into the companies corresponding applications for Android, iOS, webOS and many more. You can start reading on your Kindle at night and then read it on your PC at work with Kindle For PC, easy.
We recently did a full hands on review of the Kindle Touch if you want to check out what our initial impressions are. We also have a tutorial on how to load ebooks on your Kindle Touch, if you want to learn how to copy books you downloaded from the internet to it. Kindle uses a popular format called MOBI, many books you might download online are in EPUB format. We show you how to convert books from one format to another using Calibre. Check out the full video tutorial HERE.
Barnes and Noble Simple Touch
The Simple Touch Reader by Barnes and Noble is rated as one of the best e-ink readers on the market. It has one of the most responsive touchscreens and the hardware is more stable and robust then 95% of other devices on the market.
Barnes and Noble has an expansive ecosystem and you can easily purchase books, magazines and bestsellers from their store. They have dedicated sections for finding New York Times bestsellers or random finds if you want to browse.
What I like about this reader is the size, it is one of the smallest of the bunch, but packs a six inch screen. Page turns and accessing common tasks are very quick due to the high amount of RAM and processor.
If you just got a Simple Touch and are wondering how to use it, check out our full review. Many people express their concerns that they want to borrow books from the library or that they have downloaded books from the internet and want to learn how to copy them to your reader. Check out our video tutorial on How to Load ebooks on the Barnes and Noble Simple Touch Reader.
Kobo Touch
Kobo joins Barnes and Noble and Amazon with releasing their own touchscreen e-ink based reader. The company had released a few earlier models of the Kobo Reader but many industry tech experts all agreeed that the devices were slow and unresponsive. They really got things right with their Touch Reader and has won the coveted "Editors Pick" by Wired magazine for top e-reader of the year.
The one strong aspect Kobo has a brand has going for it, is the international accesssibility. No matter what country you life in, you can easily buy books, newspapers and magazines. They make it fairly easy to buy anything you want and even makes it social with Reading Life. You can earn awards and achivements for merely reading books and sharing them with your friends.
If you just got a Kobo Touch, check out our full hands on review of it. If you want to learn how to copy your own ebooks you have purchased from other stores or downloaded from the internet, check out our How To load Ebooks on the Kobo Touch video.
Sony PRS-T1
The last device on our list is the new Sony PRS-T1 e-reader which is the only one the company has been selling for 3 or 4 months. It is the most current and cutting edge device they offer and allows you a ton of freedom. First of all, this is a touchscreen edition and gives you the ability to download books from three places. It has built in Overdrive support so you can borrow books from the library and have them wireless delivered to your reader. They also have built in Google Books access, so you can get millions of free and paid books. Finally, Sony has their own store you can shop in, the drawback is prices are higher then average.
Check out our full review of the Sony PRS-T1! If you are the type of person that downloads PDF or eBooks from the internet, you will like our tutorial video on how to load ebooks on the Sony PRS-T1! Finally, if you want to learn how to borrow books from the library, click HERE.

Michael Kozlowski is the Editor in Chief of Good e-Reader. He has been writing about audiobooks and e-readers for the past ten years. His articles have been picked up by major and local news sources and websites such as the CNET, Engadget, Huffington Post and Verge.