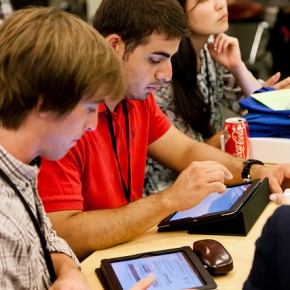 The winning combination in education is to produce high quality, creative material designed to enhance student learning and outcomes, all while meeting the strict guidelines of a budget that would be better suited for a summer camp. One of the initial hopes that the recent growth of digital publishing and device accessibility would create were inexpensive digital textbooks, but that wasn't the case; what many fail to realize is that the high cost of a textbook isn't due to the paper and the ink; it's the team of Ph.D.-level writers who were paid to write the book.
Now, a grassroots effort by a company who is familiar with meeting the classroom and budget needs of public school teachers has led to the development of teacher-created digital textbooks. Essentially based on the same model in which teachers were able to upload and distribute or sell their best lesson plans, digital textbooks from Teacher's Discovery share some of the most innovative concepts among teachers.
"Teacher's Discovery, has launched a new series of HTML5 eTextbooks called "Voces", which means 'voices' in Spanish," explained Erik Schreefel from Teacher's Discovery. "It's a grassroots effort, with each of the eTextbooks being created for teachers, by teachers. Six hundred middle schools and high schools began using our Voces 1st Year Spanish eTextbook during the 60-day beta test where the eTextbooks were priced at around a dollar per student. Traditional eTextbooks are usually upwards of $20 per student, or are included as a companion to tangible textbooks, however, this standard of pricing is crippling schools' ability to have up-to-date materials. Our philosophy is 'eTextbooks for all!' That's why we're pricing our Voces series for around a dollar per student."
Teacher's Discovery began with a 60-day beta test of the project and had 600 middle schools and high schools participate. The first title in the pilot, Voces, is a first-year Spanish book created by teachers in the beta and was used by each of the schools in the program.
Unfortunately for this much-needed measure, there is one more major hurdle to overcome in true digital textbook adoption, and that is the oversight committees at the state and local level who first create a list of "approved" books in each subject area. Programs like this one would allow easy access to tried-and-true supplemental materials, but they may be a long way off in terms of getting the approval from the gatekeepers to digital textbook adoption.
Mercy Pilkington is a Senior Editor for Good e-Reader. She is also the CEO and founder of a hybrid publishing and consulting company.