The first touchscreen e-ink based reader has just been released by Amazon, and it is in direct competition with the Nook Simple Touch and Kobo Touch in the North American Market. The overall design of this latest device is fairly solid and offers many features not found in the other competing devices. How does the screen sensitivity hold up and is it a valid buy?
Hardware
The new Amazon Kindle 6 features a six inch e-ink Pearl display with a resolution of 600×800 Pixels. The same screen technology that the Kindle uses is found in many of the competing devices, such as the Sony PRS-T1, Kobo Touch, and Nook Simple Touch. It packs Freescale 800 MHZ processor under the hood and 256 MB of RAM, which keeps the reader speedy.
Amazon has completely done away with the page turn buttons, which contributes to the overall simplistic design of the hardware. There is merely a new home button on the bottom of the screen which brings you back to your home screen when you press it.
There is 4 GB of internal memory for you to store your media on and the device does not limit your manually loaded content of books and audio like Barnes and Noble does. There is no expandable storage via SD or Micro SD like its competition, but you can store added books in the Amazon Cloud. If you have a copious amount of purchased books you can simply delete them from your device and they are stored on your main account. I found you can access other cloud storage services with the web browser, such as Dropbox, to store extra files.
On the bottom of the Kindle Touch is a Micro USB cable used to charge your reader with your PC or a USB wall charger. Unlike previous models of the Kindle, they do not bundle the charger with purchase of the unit to keep the costs down. There is also a 3.5 mm headphone jack to listen to music and audiobooks, and beside that is the power button.
On the back of the device on a slanted edge are the two stereo speakers, which is refreshing since the Amazon Kindle 4th generation was billed as  budget reader and did not have any audio functionality at all. The sound is very solid and I found it was a significant upgrade from previous iterations of the Kindle. I also loved the fact that the speakers were not on the physical back of the unit where your hands might cover it up. It is in a fine position to always give you a great audio experience.
There are two different variants of this new e-reader: the WIFI and 3G. There is also a small weight and size difference because of the added hardware on the motherboard. The WIFI only weighs 7.5 ounces while the 3G clocks in at 7.8. I found the overall weight was more prominent than other touchscreen devices on the market, but this is due mainly to the addition of the free 3G service Amazon provides and the inclusion of audio. In comparison with the Kindle 4th generation, this one is longer, wider, and heavier. It suffers from the same portability factor, but is the total package in the e-reader world.
I found interacting with the screen via touch to be a simple and robust experience, mainly attributed to the faster processor used compared to its competition. To be honest, I think the Nook Simple Touch has the advantage in the touchscreen department.
In the end, this is a designed piece of hardware that will not limit your audio experience like many of its competition. There is a Kindle Touch to suit all budgets, with the WIFI and 3G versions, and then the advertising support Special Offers Edition. One of the drawbacks of the internet connection is that you can not access the web-browser on 3G and must use WIFI. I was also disappointed to see no software or hardware functionality to switch perspectives to landscape mode. This is the first Kindle that does not allow you to do this.
Software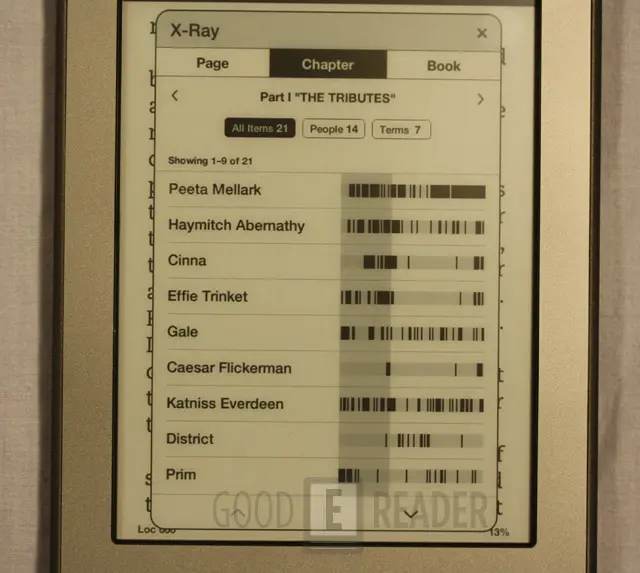 The Amazon Kindle Touch runs on the customized version of Linux that is found in their entire line of readers. The new Kindle experience is very similar to all of its previous models and not much has changed on the software front. The main home-screen has not been updated and pales in comparison to the cool design of the Nook Simple Touch or Kobo Touch with their customized GUI. If you have ever had a Kindle before you will feel right at home. The main difference now is you can swipe left and right to view your content, which makes the entire process a bit faster.
One of the few new features found in the Kindle Touch that are not found in their other e-ink variants is X-Ray. This is a fabulous new addition that taps into crowd sourcing and gives you a massive list of central characters to any given book and how often they are referenced. When you open up a book, such as Suzanne Collins' The Hunger Games, and tap on the X-Ray button, it gives you a massive list of all of the main and tertiary characters in the book. It lists them from most referenced to least and gives you a small graph on how much they are talked about during the book. If you click on a particular character name you are greeted with a small biography of the character and then a chronological listing of a small paragraph of text citing the context in which all of these references were used. Not only can you do this with characters, but also specific events or other tangibles that are mentioned throughout the book.
X-Ray is quintessentially the most unique feature found in any e-reader I have ever reviewed and it really can do a ton of positive things. Normally I sometimes juggle two or three books at once. I may start a book and then come back to it a month later if it's not a provocative read or if a book I have waited a long time to read suddenly comes out. Sometimes when you come back to a read you may forget some of the central characters or even the main plot. With X-Ray, you can instantly become familiar with the main story arc and the important characters. This may also lend assistance to people who belong to bookclubs and give you talking points during the meetings. Finally, this could be tremendously useful in textbooks or other educational material to get almost a "Cliff's Notes" version of the most important content.
Aside from X-Ray, the Touch gives you a very Kindle experience with the audio and internet. All of these features are still listed as "Experimental," which I find hilarious because in reviewing new Kindles for over three years, Amazon has made no headway in releasing this software as a fully featured release. My impression is the company is attempting to port over Silk to its e-reader units, which relies on storing your most visited websites in their massive network of servers to instantly load web-pages. This new web browser experience is found in their Kindle Fire.
Typing on the virtual keyboard is a solid experience and I found it to be one of the most responsive ones found in any e-reader. When you are surfing the internet, the keyboard includes a .com button. This is very useful, and when you are searching your device for books or using internal search the keyboard is always bit different depending on what functions you need to perform. Overall it is a full QWERTY keyboard which is refreshing since I found the virtual keyboard on the 4th generation Kindle to be abysmal.
Reading Experience
Reading on the Kindle Touch really sets the bar on your entire experience and should be used as a case study for new entrants to the market.
The primary formats that the reader is compatible with include PDF, PRC, KF8, and DOC. You can easily purchase books from Amazon and have them instantly synced to your reader or load in your content using 3rd party programs like Calibre.
First lets talk about the PDF experience, since many of our readers always ask us how newspapers, magazines, technical documents, and game manuals look. First, this is no re-flow or any font options to change the physical layout. I was also shocked to not see any way to augment the linespacing or margins to change the layout. One of the main benefits (and something the Nook Simple Touch does not do) is allow you to pinch and zoom any text or images on a PDF document. This process is almost a bit better because you can, on a case by case basis, change your experience and tailor it to your liking. If you zoom in on a complex newspaper, you can read the article and then use your finger to scroll in any direction to continue reading or swipe the screen to move to the next page. I found this methodology of reading PDF files just blew the Kobo Touch and Nook Simple Touch out of the water. The main drawback is that you cannot switch the Kindle Touch into landscape mode, with software acceleration like almost every other Kindle on the market.
Reading normal books proves to be a great experience in the ability to tap on the margins to change the page or even to swipe. Since this new device does not have any manual page turn buttons you need to fully interact with the screen in order to access menus or to change fonts.
In order to change fonts, linespacing, or margins you need to tap on the upper right hand corner where the clock and WIFI symbols are. This will bring up a menu, giving you the option to access X-Ray or change your fonts. One of the shortcomings of the entire Kindle line of e-readers is that it does not give you a wide selection of fonts to select from or allow you to access the publisher defaults. This gives the obvious advantage to the Kobo Touch that allows you 12 different built in font options and the unique ability to load your own in. In retrospect, when you want to change the layout or font size, everything is updated in real time.
When you are physically reading, one of the boons of this e-reader is that the refresh rate applies to every sixth page. This reduces the flickering that many lower quality readers are known for and really irks me. I dig the feature that makes page turns seamless and I can handle the total refresh every six pages.
Like most Kindles you can add notes and highlights to share via Social media specific words or phrases. In order to do this you want to long press on a particular word and then you can select one word or all of the text on the page if you want. If you select a single word, like "Father," it brings up the Oxford American Dictionary and instantly gives you the definition of it. You can also expand it to give you different meanings, pronunciations, and whatever you need. The dictionary loads FAST! This surprised me.
Aside from the standard dictionary lookups, you can highlight specific words and then add a note. When you add a note it adds a little number in the upper right hand corner of the specific word. These notes are stored in the Amazon Cloud and you can access them with the iPad or Android versions. If you are a social person like me, you can select a specific word or phrase and send it to Twitter or Facebook.
People who have large collections of ebooks will be happy to know that you can start your own collections on the Kindle Touch. When you are on the main home area you can access the menu and start a collection. You can name it whatever you want and then if you want to add books to it you can long-press on any book listed on your device and you get a new set of options giving you the ability to add that particular book to your unique folder.
In the end, the Kindle Touch really sets the bar in the overall reading experience. You may not have the ability to load in your own fonts or have a crazy selection of ways to augment your entire experience, but it has enough font sizes to keep people with good or poor vision tailoring it to their particular liking. Page turn speeds are super fast, and taking notes and annotations to store in the cloud is a useful feature
Our Thoughts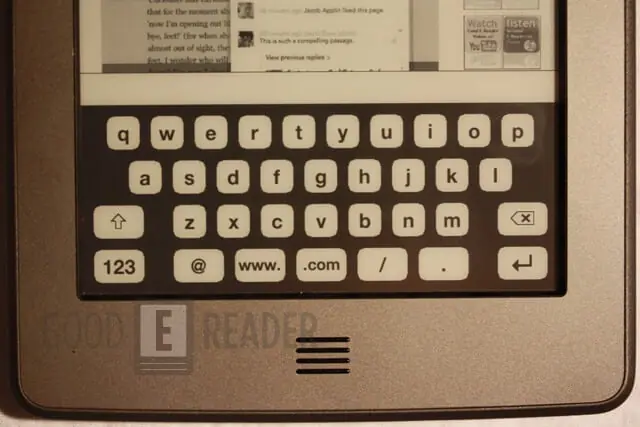 The Kindle Touch instantly won me over because it is the e-reader that does it all! For our review we used the Kindle 3G as a benchmark and in most areas of Vancouver it gave  us a full 5 bars no matter where we were. I dig the fact Amazon is in an unique position to provide free 3G internet access via the SIM card baked into the motherboard. In a feature test, we will attempt a full tear-down of it and try and use the simcard in other devices to see if we can get free data via Amazon.
Seriously, for the price you get a tremendous amount of value with the stereo speakers and audio functionality. Amazon has a huge wellspring of audiobooks and music available in its store and allows you to load in your own tunes from your personal collection.
I feel the Kindle Touch has the best value in the market because the touchscreen is so responsive and the internal hardware overcomes most of their direct competition. I would recommend this to anyone who is comfortable with exclusively dealing with Amazon and does not mind the fact that they cannot shop in other stores. It is a great, responsive piece of hardware that excels in all of the tasks that I would use it for.
Pros
Keyboard is Very Responsive
X-Ray
Pinching and Zooming PDF's
Very Fast
Great Internal Hardware
Amazon Cloud
Collections
Cons
No Landscape Mode
Cannot Access the Internet Exclusively on 3G, You Need WIFI
More Expensive Than Nook Simple Touch or Kobo Touch
Rating: 9/10
[cincopa AMOAYy6miVoH]

Michael Kozlowski has been writing about audiobooks and e-readers for the past twelve years. His articles have been picked up by major and local news sources and websites such as the CBC, CNET, Engadget, Huffington Post and the New York Times. He Lives in Vancouver, British Columbia, Canada.