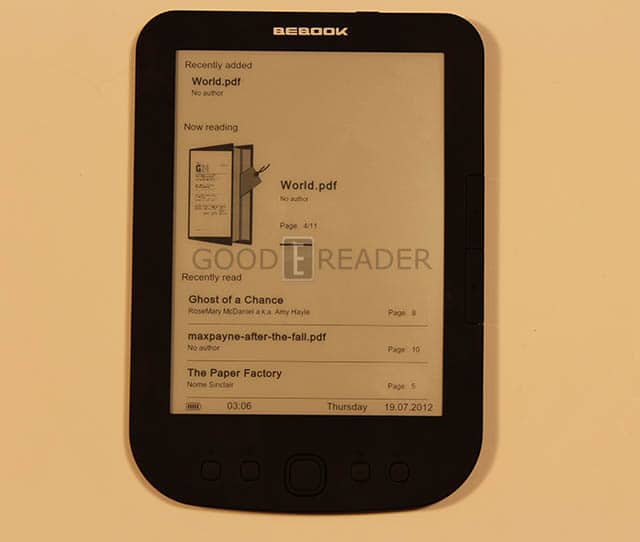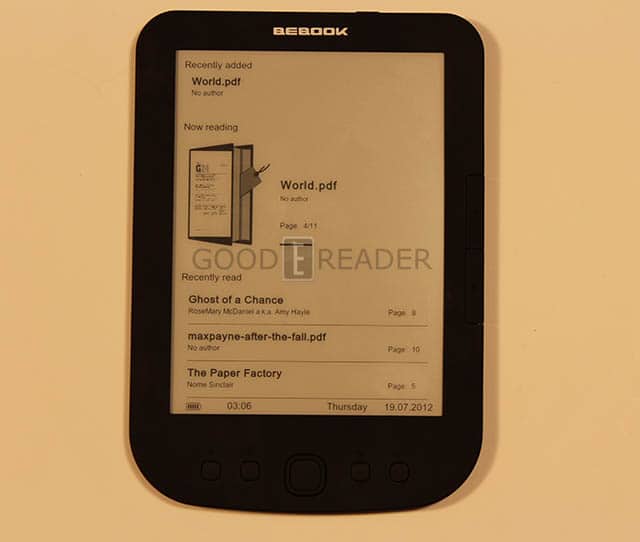 When Endless Ideas went bankrupt in January of this year, the Bas Group took control over the Bebook brand. The Bebook Pure is the first e-reader offering from the company and is poised to take control of the lower end e-reader market. It was designed with the intention of being very user friendly and at a very respectable price point. How does this e-reader match up against the competition and is it a viable investment?

Hardware
The Bebook Pure is a six inch e-reader with a Vizplex e-ink display screen. The resolution is 600×800 and is designed to function in portrait mode for your day to day activities. The e-reader was designed obviously to read in the sun, without detracting from the reading experience. It has 4 GB of internal memory which you can expand up to 32 GB via the MicroSD card.
Bebook is really billing this new device as one of the thinnest and lightest e-readers in the world. It weighs in at only 188 grams and is a breeze to read for long sessions.
The overall design of the Bebook Pure is fairly elegant and designed with a black finish made of hardened rubber. The one thing I really liked was that all four corners of the device are rounded, so they will not dig into your hands. The Pure is perfect for people who like the tactile appeal of physical buttons. There are 5 major buttons on the bottom that access home, settings, back, and a special key to make the keyboard appear/disappear. Interaction with most of your menus and settings is done via the D-Pad, and tapping in the center is the equivalent of your ENTER or OK button. All of these buttons showcase rounded corners too, and unlike the Sony PRS-T2, are perfect for long-term usage.
Many e-readers that hit the market rely on touchscreens that respond to gesture controls or tapping on the corners to turn the pages. The BeBook Pure has two page turn buttons. This may be easier for travelers and commuters because you can easily turn the pages using the same hand as you use to hold the e-reader. I would really recommend this device to people who are in constant motion, due to the weight and ease of use.
Battery life is good for around 12,000 page turns or about two months of constant usage. There is no DC Power Adapter and the unit is charged via the Micro USB adapter. Incidentally, this is also the cable that you use to initiate data transfers of books and other content.
Software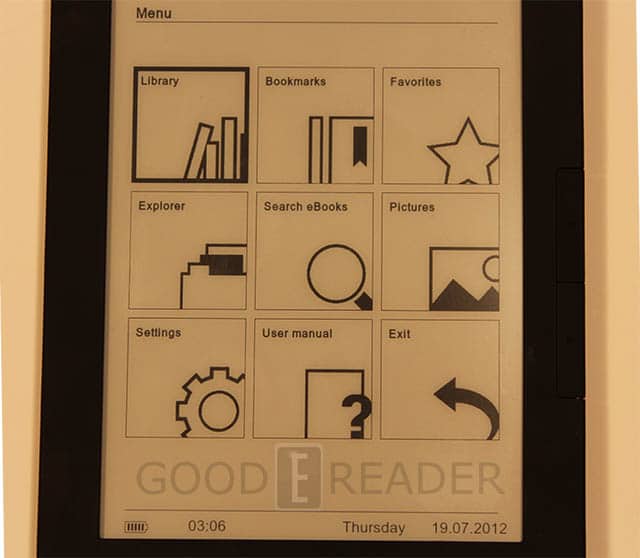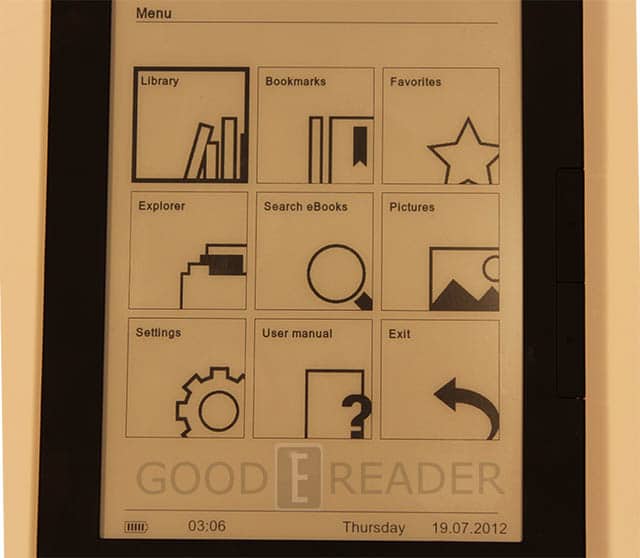 The Bebook Pure uses a Linux based operating system and is quite speedy in accessing your settings and other programs.
Your homescreen is comprised of the most recently added books you have copied over via the USB cable. It also gives you the books you have recently read or are in the process of reading. One of the neat things about this is that it actually tells you what page you are on in each particular book. It also lists the ebook format, such as PDF, ePUB, or TXT.
The main options screen is very minimal, with 9 major options, but each one is very well designed. Each box is very large and should be appealing to people who don't like to squint to see what options they want to select. Each option, such as Library, Boomarks, Favorites, Explorer, Search, Pictures, and Settings, all have great art that really tells you what each section does, without having to read the text. Very intuitive.
Your main library shelf is where all of your books are located and lists the title, author name, and book format. When you hit the settings menu you can sort the books by the ebook cover art. I found doing it this way allowed for more books to populate your main shelf. When you hit the settings menu you are prompted with many options to refine your searches in large ebook collections. Search by author name, recently added, or title. There is no way currently to add collections or specific file directories.
One of the best aspects of this e-reader is how clear and crisp photos look on it. You can load in your own JPEG or GIF files and check them out in the photo gallery. By default, no pictures are bundled on the device, but they should have at least put on a few stock images to showcase how great they look and to give users the complete list of image formats. The website fails to give this kind of critical information.
Overall, the software for the Bebook Pure is geared specifically towards users that are new to e-readers. It doesn't complicate your life by giving you a million different options to confuse you. It is simple and elegant.
Reading Experience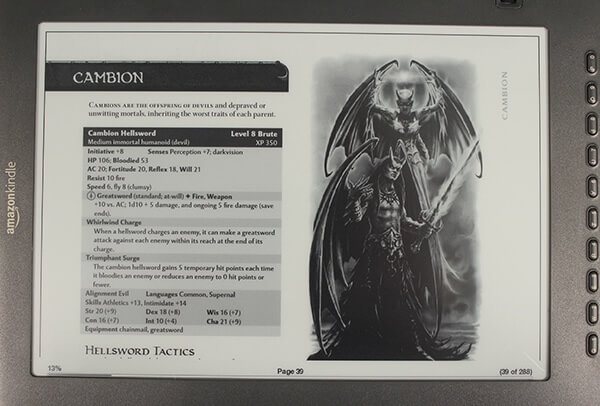 The Bebook Pure is designed to be solely an e-reader without all the frills and gimmicks of other competing devices. It comes with a few free books to get you started but doesn't give you an online bookstore to tap into. This is mainly because this e-reader does not have wireless access. It is in your hands to find ebooks on the internet or purchase them in EPUB format from other bookstores.
The main formats to read on the Pure is EPUB, PDF, and TXT. Many bookstores, such as Barnes and Noble, Kobo, Smashwords, and others, sell them in ePUB. This reader is fully compatible with Adobe Digital Editions, so you can easily transfer your purchased or downloaded books via this free download. We will be making a full video tutorial that teaches you how to do this, so stay tuned to our YouTube Channel.
The reading experience on the Pure is one of the best we have ever seen in the under $100.00 price range. Page turns are super quick and easy to initiate with the manual page turn buttons. If you are left handed, there are options to switch the orientation from landscape to portrait mode in 360 degrees. When you are reading an ebook, there are plenty of options to craft your reading experience. There are seven different font sizes you can choose from to make the text larger or smaller. There is no option to actually change the font type, say from Ariel to Times New Roman. When you change the font, it does not dynamically update, but you have to exit the settings menu to view your new changes. This reader also lets you adjust the margins, a feature severely lacking in many other readers, and gives you three different options.
While reading you can bookmark a specific page and these bookmarks are saved to an independent area on your settings menu. So if you are reading an electronic textbook, you can easily view all of your bookmarks in a singular place for studies. This is also useful for people who belong to a bookclub and want to save specific pages for future reference. There are no note taking or highlight features on this e-reader.
One of the ways this e-reader is superior to most other six inch devices in its class is the way it handles PDF files. I found it gives you the perfect amount of options to find that sweet spot on a comic, newspaper, or complex graphic file. When reading a PDF you have the same font size and margin options that let you get your image orientated right, but it also has a sweet reflow option. If you are reading a complex PDF with both text and pictures you can make it so only the text is flowed properly. This works totally amazing with newspapers but suffers a bit with graphic novels and comics. The larger the PDF file you are importing the longer you have to wait for it to index into the e-reader properly. We tried importing a 20 MB PDF file of the AD&D Dungeons Masters Guide. When we copied it over from our company PC to our Pure, it almost took 15 minutes for it to compile into the device properly. So make sure to have some patience if you are copying over a large amount of PDF documents that are larger then 5 MB in size.
Our Thoughts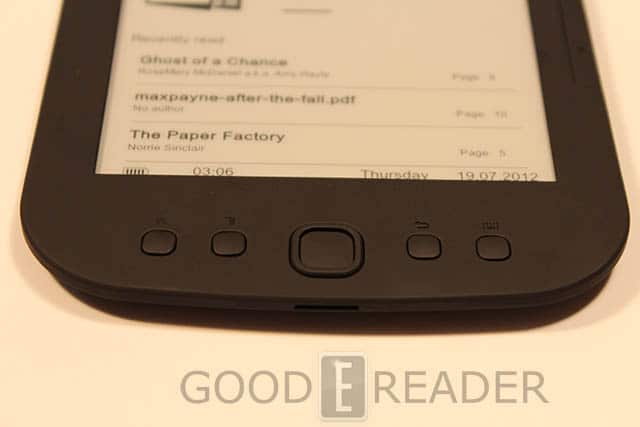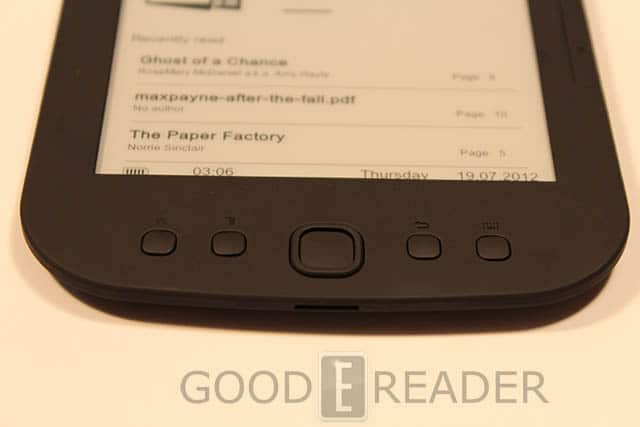 When Bebook first designed this e-reader they talked to many companies in Europe to find out customers' expectations. We talked to some of the management and they particularly cited Sony has being a key resource to find out what people wanted out of a device. They were told that less than 5% of Sony PRS-T1 users actually purchased ebooks from the Sony Store. This is why the company decided to skip WIFI altogether and allow customers the freedom to load in their own books. They also found out that users love the manual page turn keys, instead of relying on a touchscreen.
This e-reader was designed to be VERY user friendly. When we put it in the hands of someone with no e-reader experience at all, within five minutes they understood all the core functions. On their own, they found out how to open books, change the fonts, and turn the pages.
I would recommend this e-reader to new users and people who have zero experience with Kindles, Nooks, Kobos, or other devices. I would also recommend it to people who want an affordable backup reader to bring on vacation or out in public and not have to worry about damaging losing it.
Pros
Slick Design
Manual Page Turn Keys
Plenty of Font, Margins, and eBook Options
Very Good for PDF Newspapers
Long Battery Life
Easy to Use
Cons
Large PDF Files Take Ages to Load
Not Clear on What Image Files It Supports
Plastic Design Does Not Provide a Firm Grip, You Want a Case
No Built in Dictionaries

Rating 8/10

Michael Kozlowski is the Editor in Chief of Good e-Reader. He has been writing about audiobooks and e-readers for the past ten years. His articles have been picked up by major and local news sources and websites such as the CBC, CNET, Engadget, Huffington Post and the New York Times.