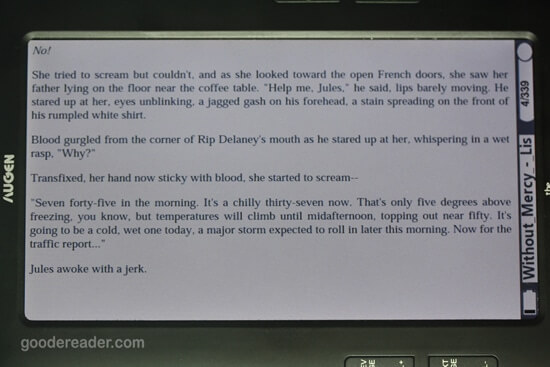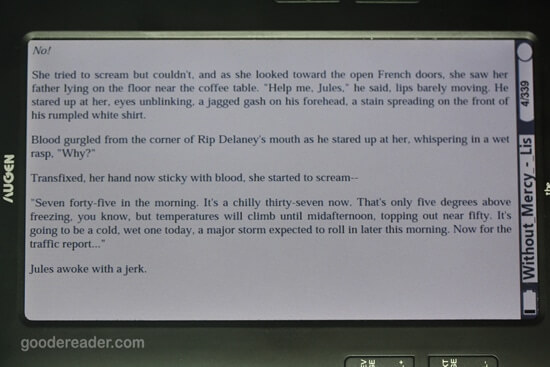 Augen has just released a new e-reader simply called 'the book.' It is an LCD based edition, so do not expect any fancy e-ink type display. Can Augen produce a better following up to their woeful Gentouch78 Tablet?
Hardware
The new Augen e-Reader has a 7 inch TFT LCD color touchscreen with resolution of 800×480 pixels. It features a Ingenic 4755, Arm9 400 MHZ processor, and the operating system is on a Linux platform.
For memory you are looking at only 2 GB, although you can further enhance it up to 32 GB via an SD card. The SD card does not have a flap or any kind of protection. So you might have to be careful if you are reading near water or on the beach.
This is more a multimedia tablet than e-reader and supports a myriad audio codecs such as MP3, WMA, FLAC, and AAC. If you feel like watching videos you can import in WMV and MP4 formats. Videos on the device do not look too bad, they play both in landscape and portrait mode. Pictures also don't look too shabby, but are only really viewable in landscape mode. It does JPEG rather well. There is a built-in mono speaker and an audio jack so you can listen right from the device or via headphones. There is a menu option for audiobooks and music, and you can actually listen to music outside of the music application. This means you can surf the web and listen to tunes at the same time, or vice versa with an audiobook. You can connect up to the internet via the built in WIFI and battery life is around six hours.
Software
The Augen e-reader comes with over 200 classic eBooks so you can get reading right away. It is run on the Linux platform, so don't expect any great Android applications for it.
Augen has partnered with a small website to deliver content for its books . It allows you to buy most new books by popular authors. The books are available via ePub and can be saved right to the device. Where the Augen e-Reader really shines is the supported ebook formats. You can easily load in TXT, HTML, ePub, PDF, CHM, RTF, FB2, and MOBI/PRC. It also reads books you might have purchased from other stores. The device is compatible with Adobe Digital Editions and the formats it reads are PDF and ePub. We found that the amount of books that the device comes bundled with makes running Adobe Digital Editions a very slow process. It often took me about ten minutes for everything to be synced as far as cover art and books go.
If taking notes is your thing, you can take advantage of the full QWERTY keyboard. There is a dedicated notes application at your disposal and the keyboard also has number keys on it. So you do not need to do any weird shifting or function keys to hit common place numbers.
Most of the lack of polish on the software side of things is allocated to the poor landscape and portrait mode support. Some apps support it, others do not. When you web browse for example, you are locked into portrait mode. Also when you browse the web, web pages do not load the mobile version and full versions are often not centered properly. This means to scroll from one side to another seriously takes about a minute. The little mouse icon you control with the joystick on the e-reader seriously moves PIXEL by PIXEL, in 2011 (oh lord).
Our thoughts
'The Book' by Augen feels really cheap with its plastic covering, the lack of an SD cover, and coupled with the mono speaker. Most of the functionality, like controlling volume and brightness, is all software based. It works poorly, too. The joystick is often the bane of my existence. Augen mentions clicking on the joystick that controls UP/DOWN/LEFT/RIGHT motions and clicking on it acts as an e-reader button. Clicking the Joystick for ENTER is awful and you have to really just use the ENTER key in order to dive into menus or launch any of the built in applications.
When I loaded ebooks on the device all of the books manually had giant fonts, all in bold! When I configured the font and size I wanted to use, it did not apply to the entire device, just that book. There are rarely any settings you can do that affect the entire e-reader, just specific content such as books.
As far as settings go, there is nothing you can do to really lock the orientation of the e-reader. Many of the apps only have one prospective landscape and portrait. When you view books, movies, or the internet in portrait the UI does not move with your prospective. For example, the UI on the bottom of the screen shows you the date, time and how far along you are in a book or video. When you are in landscape mode the UI does not conform to the new perspective, so you have to constantly tilt your head, lest you miss any important information.
Augen is going to be producing firmware updates, but you have to install them yourself via the SD card. Augen does not give you an SD card with purchase, so you better buy one. The fact that the over the air updates are non existent really sucks in 2011.
In the end, I could not in my heart endorse this. It costs only around $139, but in its class the Literati makes a better pure e-reader and is half the price. Your money is better spent on a Kindle WI FI or the Nook WIFI in terms of better quality and functionality.
3/10

[cincopa AIBAlh6q5GDY]

Michael Kozlowski is the Editor in Chief of Good e-Reader. He has been writing about audiobooks and e-readers for the past ten years. His articles have been picked up by major and local news sources and websites such as the CBC, CNET, Engadget, Huffington Post and the New York Times.