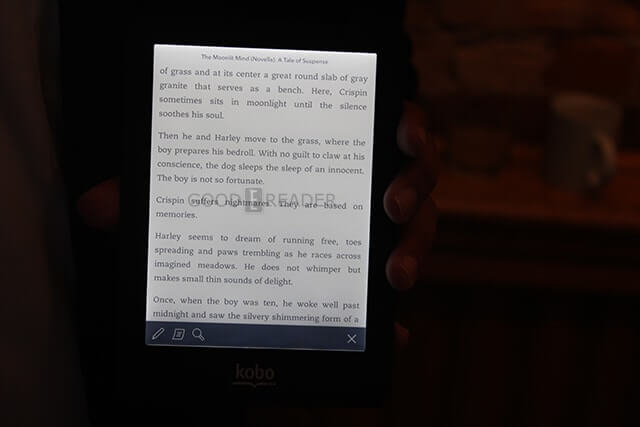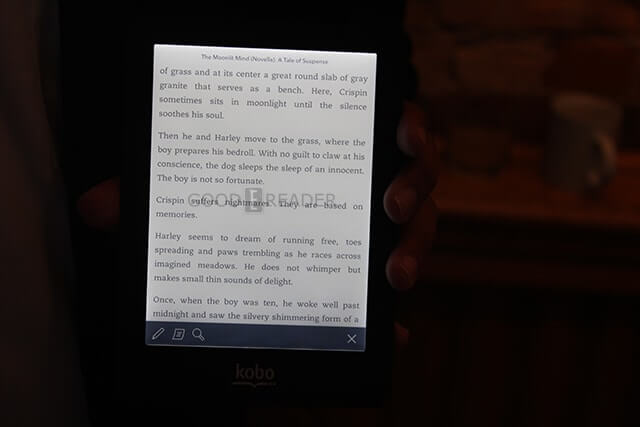 The Amazon Kindle Paperwhite and Barnes and Noble Simple Touch with Glowlight have some competition. Kobo, today at an event in downtown Toronto, announced its own e-reader with glow technology, called the Kobo Glo. This new e-reader continues the industry wide trend of brightening up the display screen to allow customers to read their ebooks in any environment.
Hardware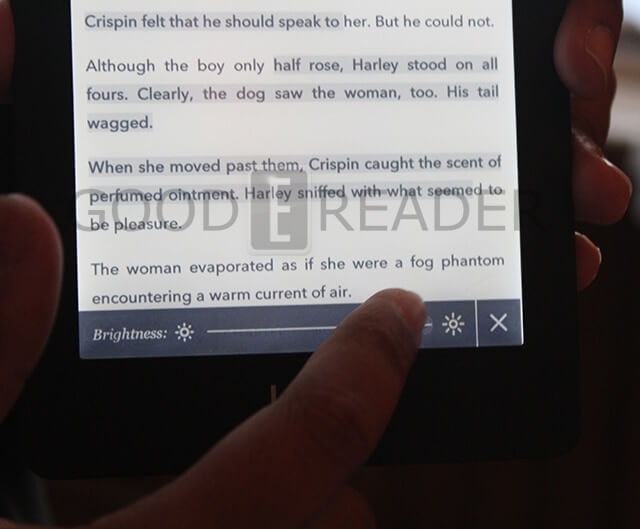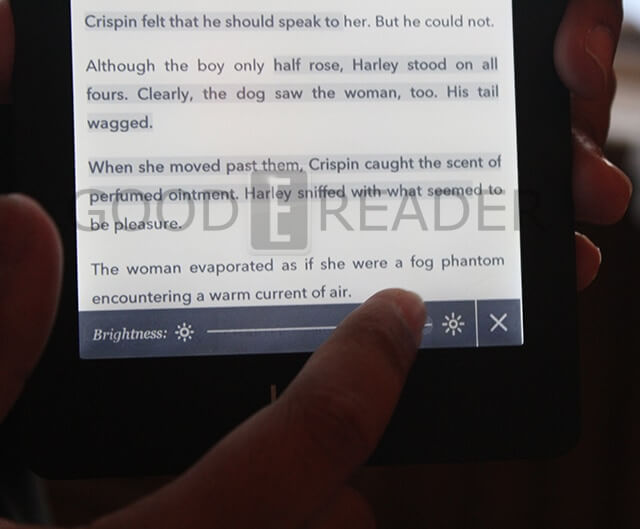 The Kobo Glo is a six inch e-reader with a new type of e-Ink display screen called XGA. This will give you an amazing resolution of 1024 x 768, which was only matched by the recently discontinued iRiver Story HD. The glowing function is built into the bezel, much akin to the Nook Simple Touch. They both use the same type of LED technology, but the Nook STR has the lights at the top of the screen, whereas the Kobo Glo has them on the bottom. I found during side by side comparison that the Kobo version actually performed better in total dark environments. To turn the glo function on, you have to hit a button on the top of the unit that is beside the power button. This will turn it on and then provide you with an option on the bottom menu to configure the brightness settings. There are around 16 different settings so you can control the luminosity and find the perfect lighting for your environment.
Underneath the hood of the Kobo Glo is a Freescale, Solo 6 1GHZ Processor. This adds a degree of power to make turning pages, accessing menus, or surfing the internet very easy. Few e-readers on the market have more than a 800 MHZ processor, so it feels a little bit more 2012 compared to the competition.
The back of the device allows you to swap out the distinctive Kobo quilted covers. In the past, if you want a white model with a blue quilted cover, you were stuck with it. This time, Kobo has unleashed a series of 5 new covers that are interchangeable and can be switched on the fly. Kobo told me that it will unveil new colors as time goes on, but I will put my faith in the aftermarket. Companies like Decalgirl will for sure be releasing their own unique versions with cool art and designs.
Kobo has done away with the home buttons on the device and instead opted to go the software route. On previous e-readers, you always had physical buttons that, depending on what model you had, did a myriad of things. Having no buttons cuts down on the real estate of the device and allows the screen to appear larger and the design cleaner.
The physical dimensions are 113.9 mm x 157.4 mm x 10 mm (4.5 in x 6.2 in x 0.39 in) and only weighs 185 grams. It was very light to hold for 10 full minutes of reading and exploring the device. Battery life is also very solid, but depends on what you are doing with the reader. You will get 55 hours of continuous use with the Glo function on, and over 1 month of casual reading with it off. If you just put it in a drawer and forget about it, you can get around two full months on standby mode.
Kobo really needed to issue an e-reader with the same type of technology found it its immediate competition. One of the advantages of this device is that it is far more available for international users than the Barnes and Noble or Kindle versions. Kobo really stressed at the event that it was focused on reading and hardware. All of the competition have their hands in many different cookie jars and they don't focus exclusively on the digital book experience. I found this device to be the perfect blend of hardware and software to give a very unique experience. The Glo feature should benefit anyone who reads late at night or in lowlight conditions.

Software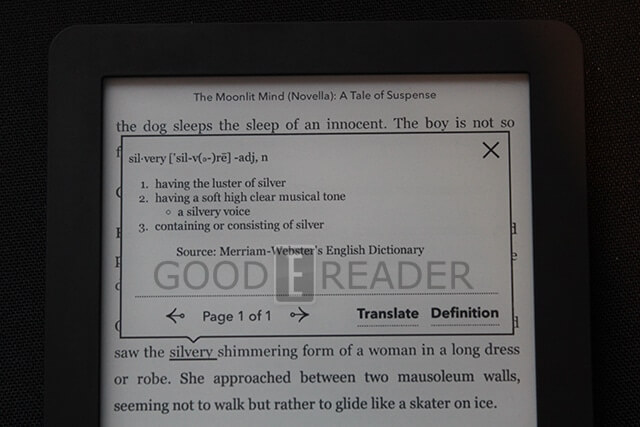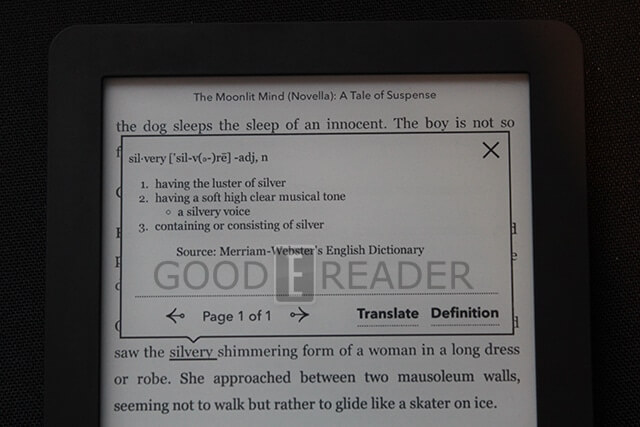 If you ever had a Kobo Touch e-Reader, you will instantly feel at home with the main UI elements and settings. Not much has changed from the previous generation reader, but it does have expanded features that the prior model did not.
Your new homescreen streamlines a bunch of processes for your Library, Wishlist, and Store. Under Library you will find your collections, shelves, and ebook management tools. There are also links to the Statistics and Rewards sections. Kobo has always put a strong social fabric into its devices that allow you to earn badges for reading at certain parts of the day or for reading a copious amount of books. The Statistics aspect tracks your reading patterns, page turn ratio, and how long it takes you to complete a book.
Your wishlist grants you the ability to flag books in the official Kobo store that you want to buy at a later time or convince someone to buy for you.
The Kobo Store gives you the ability to purchase over three million free and paid ebooks in its expansive ecosystem. If you buy this device internationally, you will tap into your own localized version of the store to buy books in your particular language.
Most of the core functionality that is new to this device is found under the reading section, which we will outline below. Really, on a software front, the device seems REALLY fast! The 1 GHZ processor makes everything just open and close at a rate I am not used to. We review almost every device that hits the market, and most have shortcomings with the hardware. It is very difficult for a company to blend solid hardware with an affordable price-tag to effectively sell well in today's market climate. The Kobo Glo provides a speedy experience in accessing all the common task you will do on a daily basis.
Reading Experience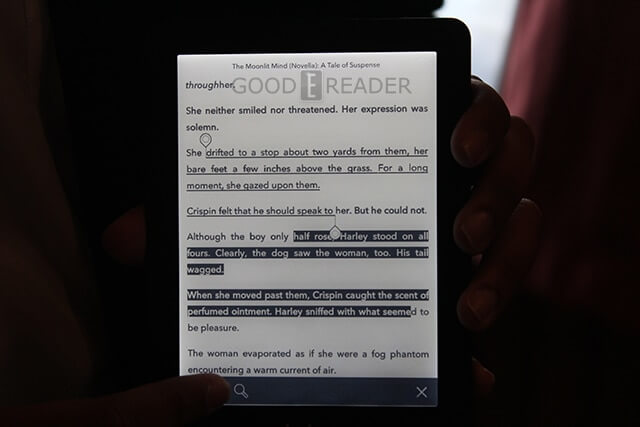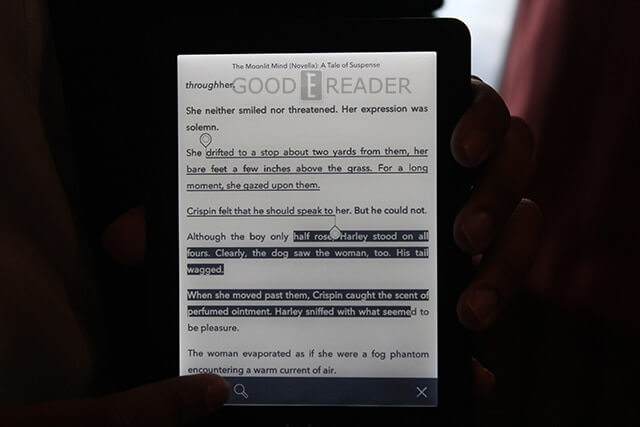 Kobo leads the pack in allowing readers to augment their ebook reading experience. You have the freedom to change the font type to around 12 different options, and there are 24 options to change the size. Everything is dynamically updated in real time, so you can find your own personal preferences immediately.
The main primary format you will be using on a daily basis is EPUB. Not only can you change the fonts, line-spacing, margins, and orientation, but also the richness of the font tone. Kobo has unveiled a new feature that will allow you a massive amount of configuration to change the weight and sharpness of the font. Kobo has added the ability to change the settings via a slider bar and gives you a before and after paragraph of text to show you how the changes compare.
Another cool feature is the ability to change the refresh rate when you are reading. By default, many e-readers do a full page refresh of text every three or six pages. Often you are stuck with these default options and there is no way to change it unless you hack your e-reader. Kobo gave you the option with this e-reader in particular to change the refresh rate from 1 – 6 pages, to suit your individual needs.
While you are reading, you can make highlights and annotations. Right now the notes will just be a part of the book you are reading. However, Amir, who is charge of the new e-reader line, said that exporting notes into singular files will be a new feature they will introduce soon.
If you find an unfamiliar word, you can tap on it and instantly bring up the dictionary geared towards your particular language. The entire definition is brought up fairly fast due to the processor.
Kobo and Facebook have been working together since the D8 conference a few years ago. There is the ability for you to share specific words or passages of a book you are reading on your Facebook page or timeline. Many readers never utilize this function because reading is a fairly solitary endeavor, but it is there if it tickles your fancy.
In the end, there are plenty of new reading features to appeal to people who have previous iterations of the Kobo WIFI or Kobo Touch. You have more control now over the refresh rate and unique control over how dark or light you want your fonts. This is useful if you have the Glo function constantly enabled, since really dark text tends to stand out more than lighter text.
Wrap Up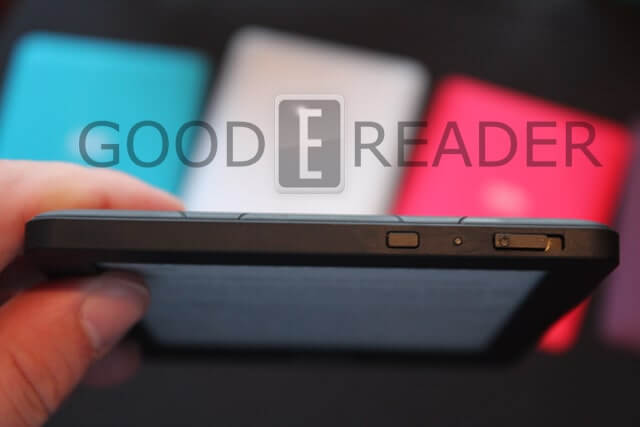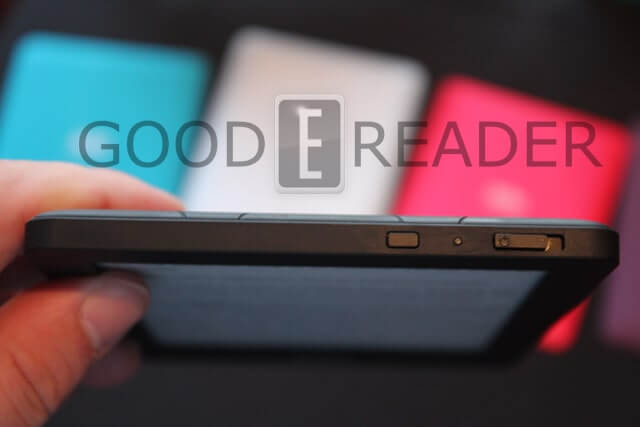 I would recommend this device to anyone who is satisfied with their previous e-readers from Kobo. I will be the first one to admit that the first two models were not that great and suffered from a wide array of bugs, crashes, and a sub-par reading experiences. The company has really grown up in the last few years and solicits core features and functionality with its many international vendors and via websites like Good e-Reader and Mobileread. Both its programming and PR team are always asking questions and remedying common problems. This doesn't exactly mean crowdsourcing, but it's cool that a company listens to its audience and makes a point to directly interact with the consumers. You certainly don't see that at all out of Amazon in particular, and to a lesser degree Pocketbook and others of that ilk.
I recommend the Kobo Glo as a "Must Buy" for the second half of 2012. It will come out at the beginning of October and will have a true international launch. It will retail for $129.99 in Canada and prices may vary due to international markets and currency.
[cincopa AQIAw8K23JlR]

Michael Kozlowski has been writing about audiobooks and e-readers for the past twelve years. His articles have been picked up by major and local news sources and websites such as the CBC, CNET, Engadget, Huffington Post and the New York Times. He Lives in Vancouver, British Columbia, Canada.