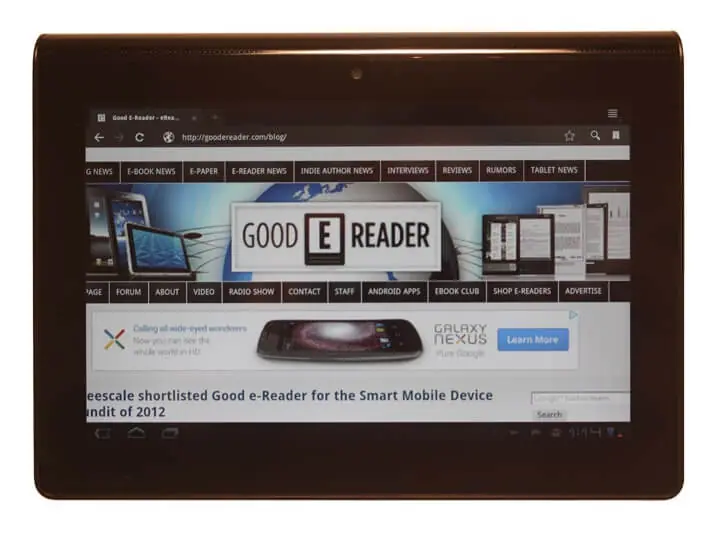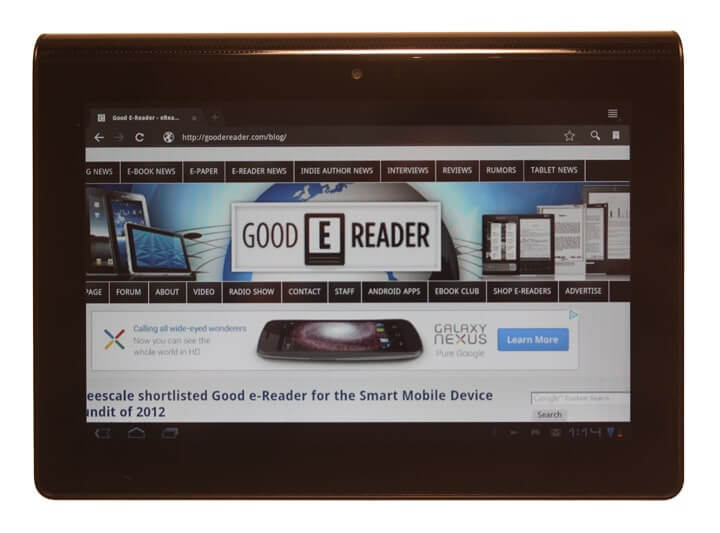 Sony released their first tablet computer a few months ago called the Sony Tablet S and since then has been one of the better portable media devices in the world. It's sleek innovative design is a stark contrast to the myriad of cookie cutter tablets out there that all seem to resemble the same design. The one factor that sets this unit apart from the competition is the sheer amount of customized apps that come bundled with the system.
Hardware

The Sony Tablet S features a 9.4 inch capacitive touchscreen display with a resolution of 1280 x 800 pixels. It uses technology called TruBlack display which provides more vibrant colors and richer tones of black. This helps particularly with video playback that does full 1080P but if you intend on copying Blu-ray movies you have to do it in the H.264 MPEG-4 format, otherwise it will stutter. Underneath the hood lurks a dual-core Nvidia Tegra 2 dual-core processor and 1 GB of RAM. There is two different models on the market a 16 GB and 32 GB variants depending on your needs for internal memory.
The tablet visually bears a similar resemblance to the Notion Ink Adam that was released last year. It has a curved design so when you have it sitting on a flat surface the screen faces you on a curving arc. On the top of the device is a single .03 MP webcam that won't win any awards on the resolution but is enough for basic video conferencing via SKYPE or other supported software. On the left-hand side is a 3.5 mm headphone jack and beside that dwells a MicroUSB and SD Card. The SD Card slot will allow you to store extra data on it but cannot physically transfer content from it to your unit. It has a 32 GB maximum limit on storage cards and will not read SDXC cards. I found myself merely keeping my movies and music on it because you can only read one file at a time with the native File Manager App that is bundled with it.
On the bottom of the Tablet S is the proprietary Sony Charging port and I like the design of it. Obviously the tablet comes shipped with a physical wall charger to power it up and out of the box it does not come charged. I like the way this adapter works because when you plug it in there are two plastic ports that lock it into place. This insures when you are actually using it the power adapter will not accidentally become dislodged. The right hand side features physical volume buttons and a power button. Both the left and right hand side have stereo speakers which is a boon and I loved the positioning of them.
So many tablets these days are shipped with speakers on the bottom of the device and presents many challenges when having it lay flat on its back. The Kobo Vox and Nook Tablet are two models in particular that suffer from this problem and gives you sub-par audio because it always comes across as muffled. The sound on the Tablet S is not that great to be honest, Netflix movies send to have very low volume emitting from the speakers even when the volume is cranked up. I suggest investing in a good pair of headphones if you intend on consuming media.
What I really like is the back of the device which has a cool black grip that makes holding onto it easier then most. It is much akin to the Kobo line of e-readers with the quilted back in this respect. There is also a 5 MP camera with no LED Flash to film videos or take pictures.
I really love the design of the Tablet S, it is a fresh and unique and I don't see Apple suing them for patent infringement. If you look at most of Samsung's tablets they all look the same and this is really what is facing the tablet industry in general. Most families of tablets like Skytex, Archos, Coby, Samsumg, LG and Motorola end up all looking the same design wise and the only differences are found underneath the hood or the occasional HDMI out. I review a ton of tablets that come out and the Sony Tablet S with its elegant form-factor looks like it costs more then it actually does.
Performance wise it does a really good job with its hardware! Videos and Audio normally are stutter free and Playstation Network games function very well considering this is not a dual core machine. You connect to all of these services via WIFI and currently there is no 3G model.
Software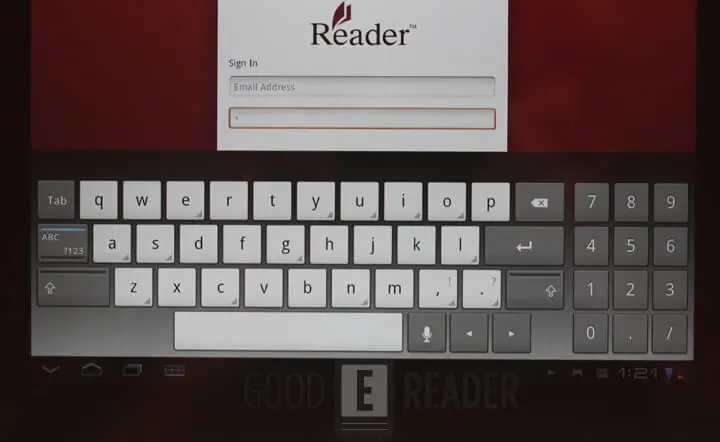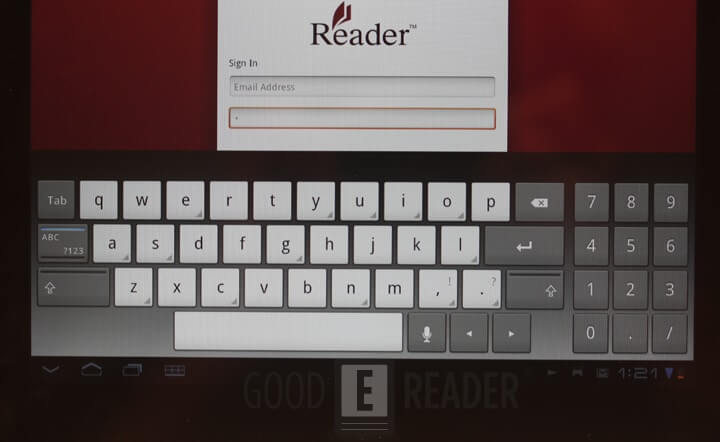 The Sony Tablet S is shipped with the latest version of Google Honeycomb and the company promises a Ice Cream Sandwich update in the next few months. Now lets be clear, this is not a stock Android experience like you will see on many other tablets, Sony went the extra mile to develop all sorts of unique apps and a cool animated GUI that makes the app menu look interesting.
Most tablets out of the box when they are running Android usually use most of the stock programs and make the customer have to patronize various Android Markets in order to get media, book, file manager and other essential applications to get running properly. Sony has all of these apps right out of the box and are all optimized to be touchscreen friendly.
There are a few applications that caught my attention right away like the Music App. It gives you the ability to have your albums display as cover art laying down on a pseudo 3D surface. You can hold down on any of them and drag them around. The actual controlling of music on your timeline is brimming with options which puts the stock media player to shame.
Some other customized applications of note is the Social Feed Reader which connects with your Facebook and Twitter accounts and puts them all in one place so you don't have to access each account individually. The video player also is well laid out and groups similar content together in a graphical directory structure similar to Windows 7.
Sony actually runs their own Android App Store that comes bundled with the Tablet S called Select App. This basically has most of your essential tablet friendly applications in all one place. Although this model does have official Google Android Market compatibility, it is still nice to browse apps that are judged to be fully compliant.
There are a few key features found on the Tablet S on a software level that really make it stand out from the rest of the Android Crowd. For one it has full DLNA capabilities and a few applications to take advantage of this. If you have a DLNA sound system or TV you can swipe upwards and transfer movies, tv shows, pictures and music to play on your television. Speaking of your TV it also functions as a universal remote control with the easiest setup ever. Really, with most physical universal remotes you have to know your exact model of TV, along with a bunch of serial numbers and remote codes. The Tablet S simply takes your TV brand and automatically syncs with it giving you full control over it within 10 seconds. If you use a receiver, cable box or any other 3rd party system to give yourself content, this also pairs with any of that. This new tablet certainly gives you tremendous practical uses other then just playing games or watching movies.
Gaming is what this device is all about with connection to the Play Station Network! Now this is not the full network you would connect via your PSP, Vita or PS3. Instead it has around 15 games that are 1st generation Playstation 1 titles. What I liked about the whole gaming process is every game uses the same GUI for your dual controllers and other buttons. If you look at iOS games there really is no standard in the way the touchscreen game experience plays out. This model on the other hand has the same controller scheme no matter what game you play. If you are not a fan of touchscreen controllers you can simply pair it with your PS3 controller and game externally. Personally, I hate touchscreen games and love connecting external gamepads or controllers to play them. Hunching over a small screen for a number of hours is not fun but sitting back and holding a controller in your hand is easy.
If you love to read, Sony has you covered with their Sony Reader App that ships with the Tablet S. You can buy and read books using their own app store but because its Android the sky is your limit for ebook reading apps like Kindle, Nook, Kobo, and many more from the Good e-Reader App Store. One of the advantages of owning an Android device is how easy it is to install 3rd party programs to deal with the stores you want and not be limited in buying or reading.
The 9.4 inch screen is perfect for comic books, manga, newspapers, magazines and complex PDF documents. For some reason a 7 inch screen never really cuts it for me and images always need to be pinched and zoomed in order to read each page. The bigger the screen the more images can be packed inside and reading image heavy content is very satisfying. I especially liked reading Comics with Droid Comic Viewer and Magazines via Zinio.
The entire software experience is unlike anything you will see on 95% of the tablets on the market. It comes shipped with Flash and every app you would need right out of the box. This is not your standard fare either, Sony invested a ton of time and money developing 50% of their own content you will find pre-loaded when you power it on for the first time. They even have their own video streaming service that allows you to watch, rent and buy TV Shows and Movies. Really, if you wanted to do exclusive business with Sony they have everything you need.
Our Thoughts
Finally a Tablet with a full QWERTY keyboard and a NUM Pad on the same screen! When we turned it on for the first time and immediately were greeted by a customized keyword when inputting our WIFI password was a thing of beauty and was indicative of things to come. A simple NUM PAD may not seem like a big deal but if you have a ton of passwords with numbers in them, you have to go through less wasted motions to type it in. This is really how the entire Sony Tablet experience plays out, attention to detail and doing subtle things differently.
If there was any true iPad competitor it would have to be the 10.1 inch Samsung Galaxy Tab and the Sony Tablet S. The advantage Sony has is their unique UI which does not deviate from the stock Android experience most people are used to but does add a bit of animations and flair. The true beauty for novice users is that every program you want is available on it right out of the box. I can't tell you how many low rent tablets I review and they have NOTHING on them, not even an e-reading app. They have a basic Web-kit browser and the default media player, which is hurting. It was really a great experience to crank this open and feel my love of tablets starting to surface again.
Really, if you want a great tablet for under $400 that will get the Ice Cream Sandwich treatment in a month and does everything you want, buy this.
The Pro's
DLNA
Universal Remote
Playstation Network
Firmware compatibility for PS3 Controllers
Google Android Market Access
Tons of customized applications
Video quality is amazing
Rich Colors and get Black Contrast
Snappy and Robust
The Con's
No Micro SD
Sound quality is poor, you need headphones
The default music player stutters if you have too many apps open
Playstation Store does not have many titles available
Universal Remote will prompt people to visit a wall of TV's and change all the channels
Rating: 9.5/10
[cincopa AsGAL0KoC82T]

Michael Kozlowski has been writing about audiobooks and e-readers for the past twelve years. His articles have been picked up by major and local news sources and websites such as the CBC, CNET, Engadget, Huffington Post and the New York Times. He Lives in Vancouver, British Columbia, Canada.