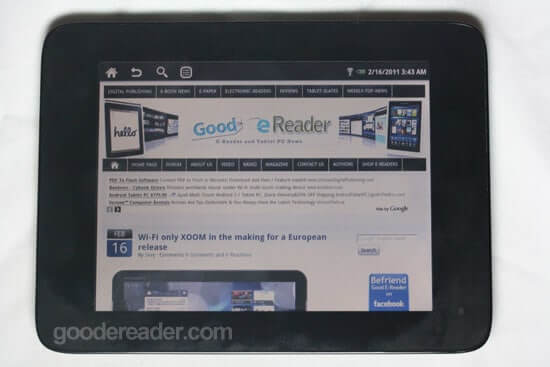 Welcome to another Good e-Reader Review! In this edition we take a comprehensive look at the new Velocity Micro Cruz eReader. Is this model good value for your money? Or another cheap Android Tablet thinly disguised as a e-reader?
Hardware
The Velocity Micro Cruz Reader has a 7 inch TFT resistive touch screen with a resolution of 800×600 pixels. It features an aspect ratio of 4:30 so do not expect to get great video that you might get with a 16:9 ratio.
The device is packed with 256 MB of internal RAM and is a slight drawback due to the reduced memory to run processes. This is very evident in the onscreen keyboard and many other functions. It also has 256 MB of internal memory to store music, books and applications. You can further enhance the memory via an SD card up to 4 GB.
The design of the Cruz is very solid and done in piano black and looks very sleek and sexy! It has very polished design elements such as the volume buttons, stereo speakers, power buttons and so on. We really like the fact that it does look smashing from a design point of view.
The Micro Cruz Reader has a built in accelerometer, which allows you to switch from landscape and portrait mode. One of the drawbacks with this, is that it only allows 90 degree rotation, and does not do a full 360 rotation.
Being an Android tablet it does have audio and video applications that come shipped with it and allow you to upload your own media via the Micro USB cable that comes with it. Audio formats are limited to MP3, WAV and AAC, while video formats are compatible with MPEG-4, H.263 and H.264.
You can also surf the internet on the Micro Cruz via the WIFI, we noticed it being tremendously unresponsive and slow loading up webpages.
This tablet is billed by Velocity to be an e-reader and has built in support for ePub, PDF, TXT and HTML.
Finally, the device is bundled with a stand and nylon case to carry it around and also comes with a wall charger.
Software and Content Distribution
The Micro Cruz is in essence a tablet computer, although the company is selling it as an e-reader. The bundled application to read books is the Android version of the Borders ebook store.
One of the highlights of the Micro Cruz is the 'Cruz Market' which is Velocity's version of the Android market. It does not have a ton of applications but you can get the Amazon Kindle Reader and the FBReader, to allow you sideload in books. The Cruz Market does have other applications that are the quintessential mainstay of our daily lives such as Facebook. Twitter is absent from the market, same with other eBook stores such as Kobo, Barnes and Noble, Sony and others. One of the benefits of the Cruz market is the ability to download other alternative Google Android markets such as the AndAppstore. This allows you to download other web browsers such as Dolphin and the premier ebook reader, Aldiko.
The Cruz reader is also bundled with the standard Google Android 2.0 essentials, such as calender, email, web browser, settings, alarm clock and clock. You can also add widgets and wallpaper to your background and customize your android experience. Absent is the ability to add live wallpapers that is a huge drawback to not run cool animations and so on.
One of the bugs we found with our review copy was the Youtube standalone application that is bundled with the Cruz Reader. It does not function and you have to instead download the Youtube Mobile application from the Cruz Market. The picture quality in Youtube Mobile videos is tremendously abysmal and is one of the worst tablets we have ever seen in terms of video quality on Youtube.
One of the things we tried doing when we first started looking at the Cruz Reader was loading in other eReading applications such as Kobo. In order to install other Android applications that are direct downloads via APK files you must have an SD card, as it will not allow you to download APK files directly to the device memory. It also is not bundled with an SD card, so you must purchase one. If you are thinking of using a MicroSD card in an SD card adapter don't bother, ours did not work.
Mainly people are buying this device is a low end e-reader and it is compatible with a fair number of formats and does have many different reading applications that you can download. Although, what about the internet? The Cruz reader does not support pinching and zooming like its bigger brother the Cruz Tablet. You have to double tap or use the magnifying glass in order to zoom. It also does not play embeded Youtube Videos or Flash content. It also does not have access to the official Google Android Market and there is no word if Velocity Micro will upgrade past Android 2.0.
Our take on the Velocity Micro Cruz Reader
The Velocity Micro Cruz Reader is billed as an e-reader, but should be an android tablet. It has a really slick design done in piano black and one thing that caught our attention right away was the fact it had no built in home/back/settings buttons. Instead these features are software based built into the GUI that Velocity has implemented. The absence of physical buttons aside from volume buttons allows for more screen real estate, but does have some draw backs. Some applications make the home/back/settings menu disappear and there is lots of frustration to try and find these to exit the application or access the settings. With physical buttons it is a fair bit easier to exit an application or do other things, the decision to go software based really has pros and cons.
The Micro Cruz Reader does not come with a Stylus which is very odd considering most other resistive touch screen e-readers are all bundled with them. Interacting with resistive screens require pressing down with your fingers very hard and are unresponsive. We recommend if you are buying this device to get a Stylus that is compatible with this type of screen.
Speaking of resistive screens, we found the screen makes colors look very washed out. In a following video we have done and will upload soon we have done a comparison video of the Micro Cruz Reader the 2nd gen Cruz Tablet. It is night and day the way colors look and this is one of the largest drawbacks.
The worst things we found in this e-reader/tablet was the washed out colors, the inability to do flash, not being able to watch embedded Youtube Videos and the unresponsiveness of the touch screen and keyboard.
The best things about this device was the design, speakers sounded great and reading books on it was very solid. The Cruz market is also a huge plus to give less tech saavy people a direct portal to download more applications.
In our opinion for $149 this tablet is fairly solid compared to the competition. I mean there is way worse Android tablets you could buy such as the Augen Gentouch78, Sharper Image Literati and Pandigital novel. Compared to those tablets, this one looks like a godsend! By no means is this tablet comparable to higher end tablets such as the Samsung Galaxy Tab or the Apple iPad, but for its price point its not too bad.
In the end, I would rate this device a 6/10 it does its job. The 4:3 screen is indicative to a solid reading experience, but do not expect good quality videos.
[cincopa AoMAOeaDrCrO]

Michael Kozlowski is the Editor in Chief of Good e-Reader. He has been writing about audiobooks and e-readers for the past ten years. His articles have been picked up by major and local news sources and websites such as the CNET, Engadget, Huffington Post and Verge.