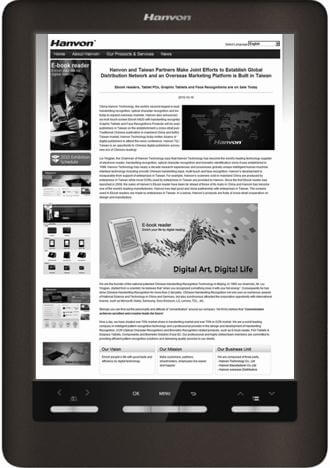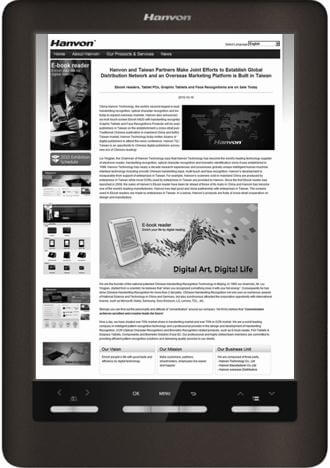 The purpose of electronics trade shows is to give manufacturers a chance to show off a little, to bring the best that they've got and sometimes, to bring the best that they don't have just yet. At the January 2011 CES expo in Las Vegas, Chinese e-reader and tablet developer Hanvon teasingly announced the upcoming release of their color e-ink reader; ditto their presence at BEA in late May, but those devices, originally slated to launch in China in March and release to North America later this year, are as of yet still unavailable to consumers eagerly awaiting the opportunity to use the technology that they got to experiment with briefly at those events.
"Hanvon is currently working on several new e-reader models, including the world's first monochromatic 200 dpi e-ink reader and the world's first color e-ink reader. The Hanvon E920 monochromatic 200 dpi e-reader will be released first in the domestic Chinese market towards the end of July. Chinese consumers can anticipate the Hanvon C9 color e-ink model shortly thereafter in the fall. Both models, showed at CES in January, are nearing completion and will be available soon," comments Billy Hanafee, Marketing Manager for Hanvon's International Business Department. And the anticipated E920 will certainly live up to the hype, as it supports seven different file types, utilizes the Opera web browser, supports Hanvon's handwriting capabilities, and features a micro SD card slot for more storage, all encased in a 9.7" screen and weighs in at just over 500 grams.
Hanvon has enjoyed a dynamic working relationship with Ectaco, manufacturer of the jetBook series of e-readers which were also showcased at this year's BookExpo. While Ectaco has worked to develop the firmware for the Hanvon devices, the two companies have collaborated on a number of educationally-designed e-readers for elementary through secondary educational settings. These devices, notably the jetBook Color and the jetBook K-12, are already in place in some markets and should be available for schools in the U.S., China, and Eastern Europe for the upcoming school year.
"The jetBook K-12 will have certain hardware and software features designed for students, whereas the C9 will be intended for consumer e-reader," adds Hanafee. By focusing on the specific needs of its users in all markets, Hanvon is able to design its devices around the features its readers will use most, unlike developers who market one-size-fits-all devices to consumers.
Mercy Pilkington is a Senior Editor for Good e-Reader. She is also the CEO and founder of a hybrid publishing and consulting company.