Plenty of excitement has driven the e-reader market in 2009. On a whole it was a successful year for e-readers as well as book lovers. Whether it was new technology, innovative features, or release of new variants in the e-reader segment, all of these contributed to the e-readers gaining enhanced visibility in the mass market. The consequences of such development in the e-book reader segment have led to increased popularity and competition along with prices that is showing a tendency of going southwards.
Well, the good thing is, the excitement is not over yet. In 2010, there are lots of technical improvisation and mass acceptance projected in the e-reader market. A quick review of the technological advancements supposed to take place would give you a good idea of what to expect in the e-reader arena in 2010.
Chips with speed
You can turn pages faster, quicker and comfortably manage the library and navigation, all due to chipsets that would be swift than before. A significant development by Marvell, the Armada 166 E, a new System-on-a-Chip will enable pages to turn three times faster compared to existing chipsets which the e-readers are utilizing. Due to its ability to integrate multiple features like 3G modem, Bluetooth, WiFi onto a single SoC, the production cost will be much lower leading to e-readers prices going downhill.
This new SoC is made in such a way that it allows you to use high resolution PDF documents faster, something that will lead to next generation e-readers managing PDF much better.
The utility of Armada 166 SoC is gaining popularity by the day and some e-readers like Plastic Logice Que or the enTourage Edge have already started using the SoC. Spring Design too has begun integrating this new SoC in their Alex e-reader and its quite likely that future versions of Kindle e-readers will also adopt the SoC soon. A partnership between Marvell and E-Ink, makers of e-reader display screen, has paved the way for integration Marvell's products.
Flexible Displays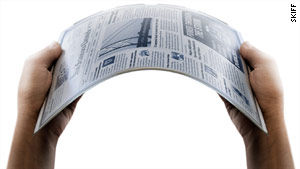 Thanks to flexible display technology, splinterproof plastic displays are on the way to replace glass screen displays which are prone to crack easily if handled a little out of the way. But then, this should not be mistaken for e-readers, which you can fold around your wrist though something of that sort may also turn up someday. Also increased durability is a very critical factor, which would make it more useful for school going audience and mass use of e-readers in schools.
Splinterproof display is there to be seen in e-readers like Plastic Logic's Que e-reader and also many manufacturers like e-Ink and Bridgestone are planning to develop flexible e-reader display technology.
Colors Display
Significant efforts are also being made in using color display technology for the new breed of e-readers, though such a technology is not yet production ready and is not likely to be so until mid or later half of 2010. In fact, it still is a matter of doubt whether color e-readers will be a market reality before the end of the year 2010.
And of all those who are working towards this goal, Qualcomm's Mirasol stands a better chance of making a color breakthrough by releasing its color e-readers by Christmas season in 2010. Qualcomm's color display technology was basically inspired by the iridescence of butterfly wings and exhibits exceptional video capabilities. At the same time, E-Ink, which currently manufactures most of the displays for the existing e-readers in the market, is also engaged in developing color displays, although its quite uncertain whether they would be able to release such a product before 2011.
Pixel Qi Display
Based on the LCD technology, Pixel Qi can alternatively switch between transmissive and transflective mode which means one has the option of going for either the regular LCD or e-ink display.
Manufacturing of devices using Pixel Qi display technology has already started during late 2009 and the market might witness the emergence of more e-readers based on this technology.
The advantage of Pixel Qi display is its ability to turn netbooks, laptops, tablet PCs into capable e-book readers but whether it will be used by regular e-readers is yet to be seen.
The main problem behind using LCD screen while you are reading for a longer period of time is its backlight facility, which leads to eyestrain and uneasiness. Needless to say, the problem can be addressed well by the use of Pixel Qi technology.
Undoubtedly, Pixel Qi is going to play a significant role in the e-reader segment and more of integrated and multifunctional devices with e-reading abilities is likely to be unveiled by 2010.
Me-too e-readers
Only those e-readers will succeed that will have something unique to offer to its users and differentiate itself from the competition as by 2011, a lot of e-readers are expected to be released with more or less same features and designs. Though buyers will have a tough time making the right choice but such competition is essential to bring forth innovation in devices and hopefully prices might go down further.
How to choose an e-reader as per your need when you are planning to buy an e-reader? You have to consider the following things carefully.
The objective of an e-reader is to read a book, which should be achieved if you are an avid reader and do not wish any distraction while reading especially for longer periods of time and without straining your eyes. A non-backlit display would work better and it is better to avoid multifunctional devices, as they are unlikely to function better for a specific task.
Needless to mention a good e-reader needs to be supplied by a good e-book store with access to all the public domain e-books and undoubtedly the current DRM'ed titles.
You will have the latest e-readers news as well as everything else pertaining to e-reader or Tablet/Slate PCs in our e-reader blog.
Our Good E-Reader Magazine too deals with these gadgets extensively. So if you'd like to follow the latest new and events in this segment, subscribe to our magazine. You'll love it for sure.
With a keen interest in tech, I make it a point to keep myself updated on the latest developments in the world of technology and gadgets. That includes smartphones or tablet devices but stretches to even AI and self-driven automobiles as well, the latter being my latest fad. Besides writing, I like watching videos, reading, listening to music, or experimenting with different recipes. Motion picture is another aspect that interests me a lot and maybe I'll make a film sometime in the future.