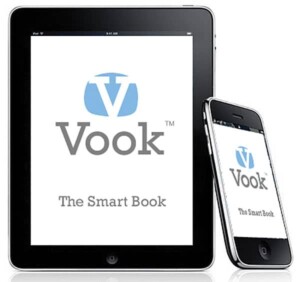 At last year's Digital Book World conference, GoodeReader interviewed Matthew Cavnar, VP of Marketing, for a little startup ebook platform called Vook. At that time, Vook sought to help authors create, publish, and sell their ebooks, just like a lot of other platforms. Unlike those other platforms, though, Vook went from introducing itself to passing conference attendees to launching the first 25 titles for the New York Times, all in the space of less than one year. Cavnar spoke to GoodeReader again this week about the difference that has helped grow the platform into a powerhouse in major name publishing.
"We have an exceptional technology program that helps make an ebook look right, and that piece of technology helps customers see that we know what we're talking about. Also, looking to a broader audience, we've tried a variety of different approaches to find the best fit for content holders."
That fit, according to Cavnar, is that Vook affords content holders something that other platforms may not, which is mainly the dedicated manpower to create dynamic ebooks out of existing content. Vook became a turnkey solution for digital publishing that allowed users–from major name companies down to self-published authors–create and market ebooks without having to have the technological know-how to create a new digital product; this translates into a greater savings across the board, but especially for companies who are not interested in investing in new manpower just to create ebooks.
"What we fundamentally have is this great technology. What we saw was people like the Times or Newsweek had great writers and a great brand, but a lot of their writers were going off and writing books in other places because they didn't have the opportunity to create ebooks. We had the technology and the editorial expertise in our Vookmakers who use our platform and know how to style an ebook. They know how to curate content out of existing archives, but they also know how to take new content and edit it properly. A company that is already extremely busy can turn to our platform and that makes a lot of sense to them."
Content holders can essentially turn over their content and trust that it will be created by a team of experts, but the same holds true for an individual self-published author. Regardless of the size of the customer, Vook affords content creators the option to work with live support and with updates and approval options throughout the process. There is a Vook professional available to the author, regardless of the size of the work. Cavnar did state that Vook is currently working on finding partners for offering the option to create print editions of these books.
"The NYT ebooks were on pre-release and they went live this morning. It's definitely something that I've been a long time believer in. The technology and design haven't been there until now, and I couldn't imagine a better way to work with a brand."
Mercy Pilkington is a Senior Editor for Good e-Reader. She is also the CEO and founder of a hybrid publishing and consulting company.