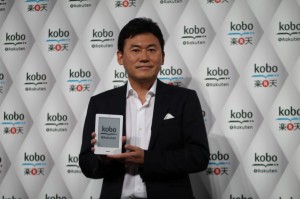 Japan is looking ahead to the launch of four separate e-reader devices in the coming months, notably one from Amazon and one from Kobo. The Amazon.jp site snuck in a Kindle page only a few days ago, and Kobo announced that its device and some 30,000 Japanese titles will be available this Thursday. Additionally, Toppan and Sony are both working on soon-to-be-released products or upgrades to existing products in order to draw customers who may be clamoring for these much-anticipated e-readers.
Japan is not an uncharted frontier when it comes to digital reading. Sony unveiled an e-reader in that market some time ago, but sold only 500,000 of the units. So why has this technology nirvana been slow to adopt digital reading, and what's going to be different this time around? Access.
A lack of access to Japanese language titles has made consumers wary of racing out to purchase dedicated e-reader. Despite the unveil of ePub3 at last year's IDPF conference on day prior to BookExpo, a new standard that was supposed to open the Far Eastern digital reading markets by making the vertical and right-to-left reading possible, the titles just aren't there yet.
According to an article for The Bookseller, digital reading expert Hiroki Kamata says that's about to change: "Tokyo-based Yano Research Institute said the Japanese e-book market is entering a phase of major change. According to Yano, the Japanese e-book market recorded sales of ¥72.3bn in 2011—which represented just 3% of the entire Japanese book trade revenues. Yet Yano says e-books sales are set to more than double by 2015."
In addition to the 30,000 titles coming from the Rakuten-owned Kobo Touch, Toppan is supposed to incorporate 80,000 Japanese and English titles in its catalog, alongside the 60,000 titles rumored to be in Sony's Japanese market catalog. While there will obviously be some duplication among those titles, especially older favorites and bestsellers, this will mean a wealth of content for Japanese reading consumers that simply wasn't in place in the past.

Mercy Pilkington is a Senior Editor for Good e-Reader. She is also the CEO and founder of a hybrid publishing and consulting company.