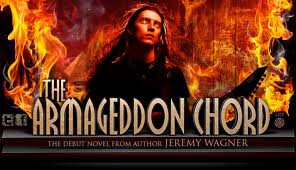 Jeremy Wagner, a heavy metal guitarist and songwriter with groups such as Broken Hope and Lupara, is no stranger to seeing his lyrics published with over seventy recorded original songs. When he began delving into fiction writing, his experience in the music industry steeled him for the process of venturing into another realm of publication.
"As a musician, putting in the legwork to promote myself was just something I'm used to," says Wagner of the marketing of his newest book, The Armageddon Chord (kRP Publishing, August 2011, paperback and ebook). "At the same time, I'm fortunate to have three PR firms who are helping to promote the book, one of them just through online sites and another strictly through music industry material. I'm still 1000% involved in pushing myself as an author through social networking but the company I chose to publish my book has been a fantastic source of exposure."
It may have been Wagner's expertise with an industry that hinges on the likes and dislikes of the listeners, especially in a saturated market that is always reaching to bring new diverse content to an established fan base, that taught him so much about the need to reach his readers on a variety of levels. Wagner's own website is a catalog of his writing style, including sample flash fiction stories that are open to readers, as well as a purchasable works from short story anthologies and longer titles.
His forthcoming novel weaves Wagner's knowledge and experience in the music industry throughout the story. "The Armageddon Chord is about an ancient evil song written in hieroglyphics buried beneath tons of sand in the Egyptian desert. The researchers who dig this up discover that if it's performed for the world will unleash the apocalypse. The protagonist, known as God of Guitar by his millions of fans, is duped into transcribing the song. He finds himself trapped between good and evil and the reader is taken on a journey through an unholy time in Egyptian history."
"I've met a few published authors who feel like they're entitled or who claim that they don't have the energy to market themselves or their books. You have to promote yourself. I do everything in my power to take advantage of opportunities from a grass roots perspective. I don't have a self-imposed ceiling, I believe anything's possible so I look for any opportunity to spread the word. It takes a lot of energy, but that's part of the passion of being a writer. Writers would do anything for their babies, or in this case their books."