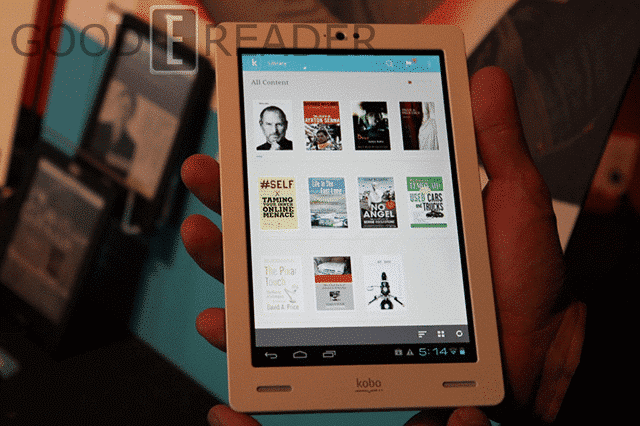 The Kobo Arc is the last of the company's products to be released this November. We initially saw this dandy little device at the company's launch event in Toronto, when everyone else was at the Amazon party in California. Today, the Kobo Arc has finally hit the FCC and should receive certification within the next week. This will ensure the device is available to be purchased towards the end of November.
The Kobo Arc features a seven inch HD display with a resolution of 1280×800 pixels and 215 PPI. The screen features IPS screen technology, which is an industry-leading display optimized for 178 degree viewing angles. The screen is made of ultra durable glass, resistant to damage, scratches, bumps, and drops. Underneath the hood is a Texas Instruments OMAP 4470 1.5 GHZ dual core processor and 1 GB of RAM. There are two different storage options at 8 GB and 16 GB, depending on your needs.
The front facing camera gives you 720 P video recording capabilities, which is useful for video conferencing or instant messaging. Also, the front of the unit features two front facing stereo speakers that use a new SIS technology. This gives you the ability to dramatically enhance the audio capabilities of the tablet. By default, it is turned off and while in the conference I could barely hear any of the audio playing at full blast. When the enhancements were turned on, I heard everything loud and crystal clear. I am totally sold on the dual front facing speakers; many of the leading devices from Barnes and Noble, Sony, and Amazon do not have front facing speakers. Their speakers are either at the top or at the bottom of the device. The speaker quality is one of the most endearing features of the Kobo Arc on a hardware level.
On the sides of the device sits your 3.5 mm headphone jack and volume control options. On the top is your power button, which also puts it into standby mode. One of the cool elements of this device is the ability to swap out the different color panels. Kobo has always released e-readers and tablets with a quilted back and when you purchased one, you were stuck with that particular color. With the ARC you have the ability to buy different colors that allow you to swap out the quilted back. Kobo has said that at launch there will be only five different colors available, but the company intends on launching more.
One of the most exciting elements about the Arc is that it will have full access to Google Play. This will ensure that over 150,000 apps will be available to download. You can also get ebooks! Kobo will offer a 16GB model for $200, a 32GB model for $250, and a 64GB model for $300. Can't wait for the Arc? Drool over our video, where we go hands-on.