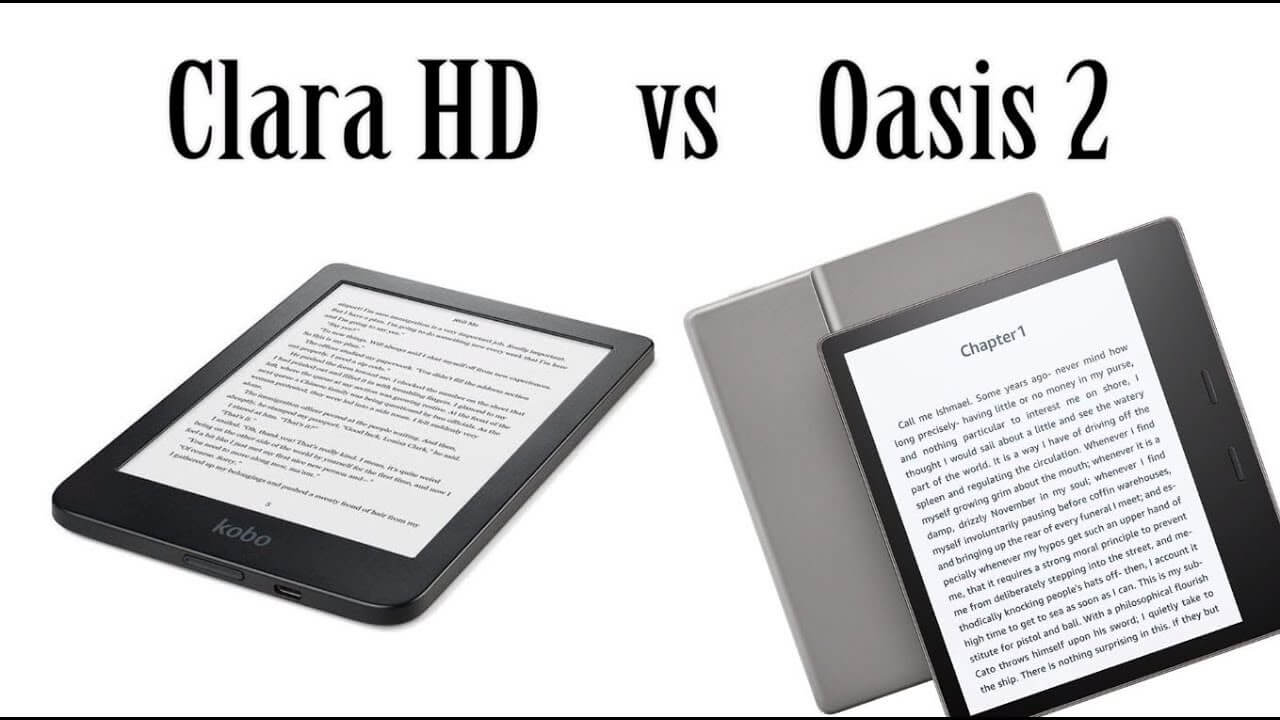 The Kobo Clara HD and Amazon Kindle Oasis 2 represent the latest generation e-readers. The Clara HD came out a few weeks ago and the Oasis 2 debuted late last year. The one thing the new Kobo has going for it is the Comfortlight PRO technology, which adds color temperature control. Whereas the Oasis has a larger screen, can play audiobooks and is waterproof.
The Clara HD features an E-Ink Carta HD display with a 300 PPI display. The screen is not flush with the bezel, but there is a small dip. There is a USB port and power button on the bottom and the rest of the sides have nothing on them. The back of the Clara has a neat perforated design that makes it easy to hold and a high degree of grip.
Underneath the hood is a 1GHZ Freescale Solo Lite processor, 512MB of RAM and 8GB of internal storage. Kobo has suspended expandable storage a few years and there is no Micro SD on the Clara HD. In order to conserve memory you have a number of options in the settings menu to automatically delete books from the device when you are finished reading them and you can do the same thing with Pocket articles. Speaking of Pocket the Kobo experimental browser also has Pocket integration, so you can save Pocket articles directly on the e-reader, instead of exclusively relying on the plugins for Chrome or Firefox.
The Clara HD has a front-lit display that might be one of the best ones Kobo has ever released. It has even light distribution thanks to the 8 white LED's and the Comfortlight PRO system has 7 orange LED's. If you turn both the front-lit display and the Comfortlight on, all of the LEDS work in concert and it provides a really bright and vibrant reading experience. The comfortlight has an automatic setting that does not use an ambient light sensor, instead of relies on the time of day and your time zone to automatically configure itself. Auto brightness is optional and can be completely turned off, you don't need to use it if you don't want to.
The new Kindle Oasis features a 7 inch capacitive touchscreen display with resolution of 1680 x 1264 and 300 PPI. It includes includes 12 LEDs for uniform lighting across the screen and allows you to read in the dark. The Kindle Voyage was the first Kindle with an ambient light sensors that adjusts the brightness as you move from room to room, or from outdoors to indoors and the all new Oasis has the same functionality. I found that if you are in a room that is almost completely dark, the light sensor does not work and turns the screen completely off.
I noticed that Amazon is using a different front-lit display system on the new Oasis. The first generation Oasis, Voyage and Paperwhite 3 are all using the same lighting system. The new Oasis is using a different LED lights. This results in a brighter, whiter screen that has crisp text. When we compared the Oasis side by against against older e-readers you can really see the difference.
The Kindle Oasis has a IPX8 rating which means it can stay completely submerged in two meters of freshwater for up to sixty minutes. This means that if you use your Kindle in the bathtub and use bath bombs or are reading it at the beach and it gets salt water on it, there are a few things you need to know.
If your Kindle is splashed with water, wipe it off with a soft cloth and keep on reading. If your Kindle is immersed in water, remove its cover, make sure no cables are plugged into the device, and do not attempt to charge your Kindle until it is completely dry. If your Kindle is immersed in salt water, chlorinated water, soapy water, or liquids other than fresh water, make sure you rinse that liquid out of the device with fresh water such as cold tap water.
The Kindle Oasis utilizes a brand new dual-core 1GHz processor with 512MB of RAM and this results in an e-reader that is tremendously robust. Navigating the menus, library or accessing the store is lightning quick. It is very likely that Amazon has made some software enhancements in conjunction with hardware upgrades. There are only two storage options available, 8 GB which will store around 15 audiobooks and a mix of e-books and a 32GB version. I would say if you are a casual listener you can get by with the cheaper version, but hardcore readers and listeners might want to shell out the extra cash and buy the model with more memory.
The vast majority of Kindle e-readers are made with hard plastic, the brand new Oasis is using an aluminium backing. This was a good design choice because aluminum is not as susceptible to fingerprints. On the downside this makes it heavier. The new Oasis clocks in at 194 grams, whereas the last model was an astoundingly light 131 grams.
Which one should you buy?
If you are the type of person who wants to buy the latest bestseller or tend to buy books from major publishers or their subsidiaries, the Kindle and Kobo bookstore are fairly similar. Amazon has a deeper selection of indie author titles, primarily due to their Kindle Direct Publishing platform. Amazon also has GoodReads functionality, which allows you to talk to fellow bookworms and discover new authors and titles.
The Kobo has more advanced features to craft your own reading experience. They have slider bars to control the font size, weight, type, line spacing margins and a bunch of others. Amazon has a few preset options. Both e-readers support sideloaded fonts.
When it comes right down to it, the new Oasis costs $249 and the Clara HD is a respectable $129. This comparison video should give you a sense on the hardware design and all of the key features.
Michael Kozlowski is the Editor in Chief of Good e-Reader. He has been writing about audiobooks and e-readers for the past ten years. His articles have been picked up by major and local news sources and websites such as the CBC, CNET, Engadget, Huffington Post and the New York Times.