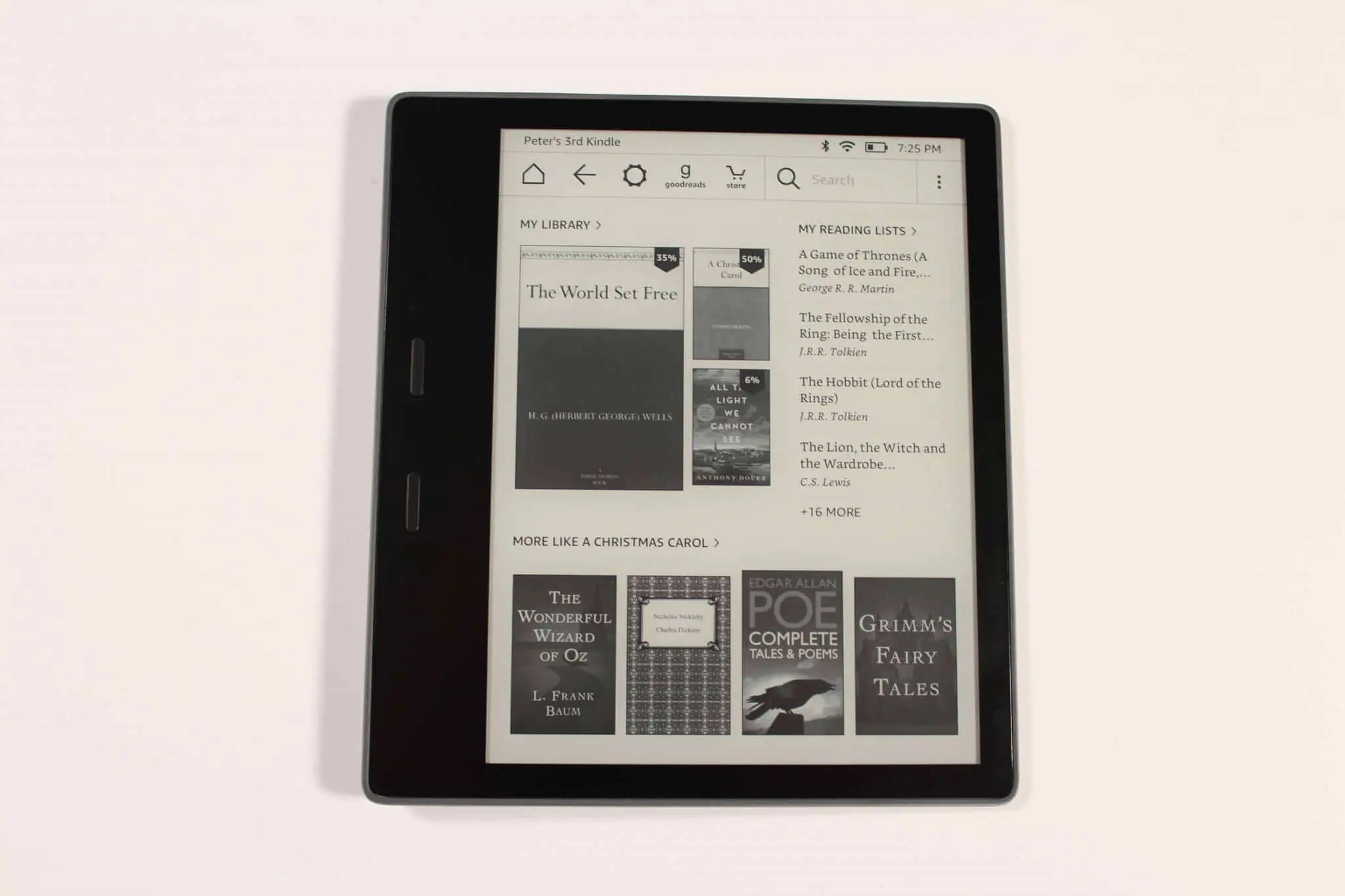 The second generation Amazon Kindle Oasis is now available and this is the first e-reader larger than six inches since the Amazon Kindle DX, which was released in 2009. This device is also waterproof, dustproof and has Bluetooth to play audiobooks purchased from Audible. I believe that this is the best e-reader Amazon has ever made.
Hardware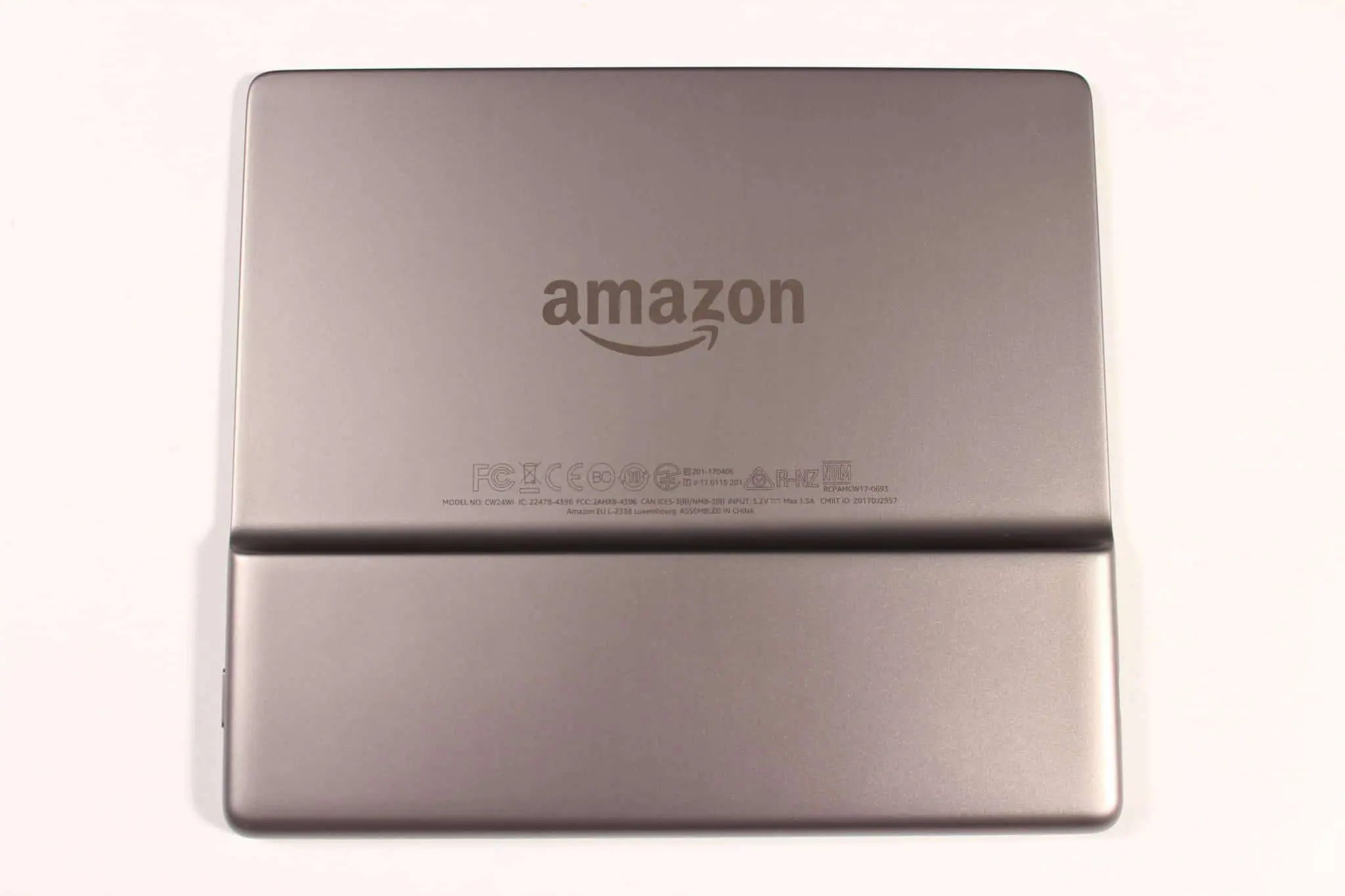 The new Kindle Oasis features a 7 inch capacitive touchscreen display with resolution of 1680 x 1264 and 300 PPI. It includes includes 12 LEDs for uniform lighting across the screen and allows you to read in the dark. The Kindle Voyage was the first Kindle with an ambient light sensors that adjusts the brightness as you move from room to room, or from outdoors to indoors and the all new Oasis has the same functionality. I found that if you are in a room that is almost completely dark, the light sensor does not work and turns the screen completely off.
I noticed that Amazon is using a different front-lit display system on the new Oasis. The first generation Oasis, Voyage and Paperwhite 3 are all using the same lighting system. The new Oasis is using a different LED lights. This results in a brighter, whiter screen that has crisp text. When we compared the Oasis side by against against older e-readers you can really see the difference.
The Kindle Oasis has a IPX8 rating which means it can stay completely submerged in two meters of freshwater for up to sixty minutes.  This means that if you use your Kindle in the bathtub and use bath bombs or are reading it at the beach and it gets salt water on it, there are a few things you need to know.
If your Kindle is splashed with water, wipe it off with a soft cloth and keep on reading. If your Kindle is immersed in water, remove its cover, make sure no cables are plugged into the device, and do not attempt to charge your Kindle until it is completely dry. If your Kindle is immersed in salt water, chlorinated water, soapy water, or liquids other than fresh water, make sure you rinse that liquid out of the device with fresh water such as cold tap water.
The Kindle Oasis utilizes a brand new dual-core 1GHz processor with 512MB of RAM and this results in an e-reader that is tremendously robust. Navigating the menus, library or accessing the store is lightning quick. It is very likely that Amazon has made some software enhancements in conjunction with hardware upgrades.  There are only two storage options available, 8 GB which will store around 15 audiobooks and a mix of e-books and a 32GB version. I would say if you are a casual listener you can get by with the cheaper version, but hardcore readers and listeners might want to shell out the extra cash and buy the model with more memory.
The vast majority of Kindle e-readers are made with hard plastic, the brand new Oasis is using an aluminium backing.  This was a good design choice because aluminum is not as susceptible to fingerprints.  On the downside this makes it heavier. The new Oasis clocks in at 194 grams, whereas the last model was an astoundingly light 131 grams. It is powered by a1,000 mAh battery, which lasts just a few weeks on a single charge.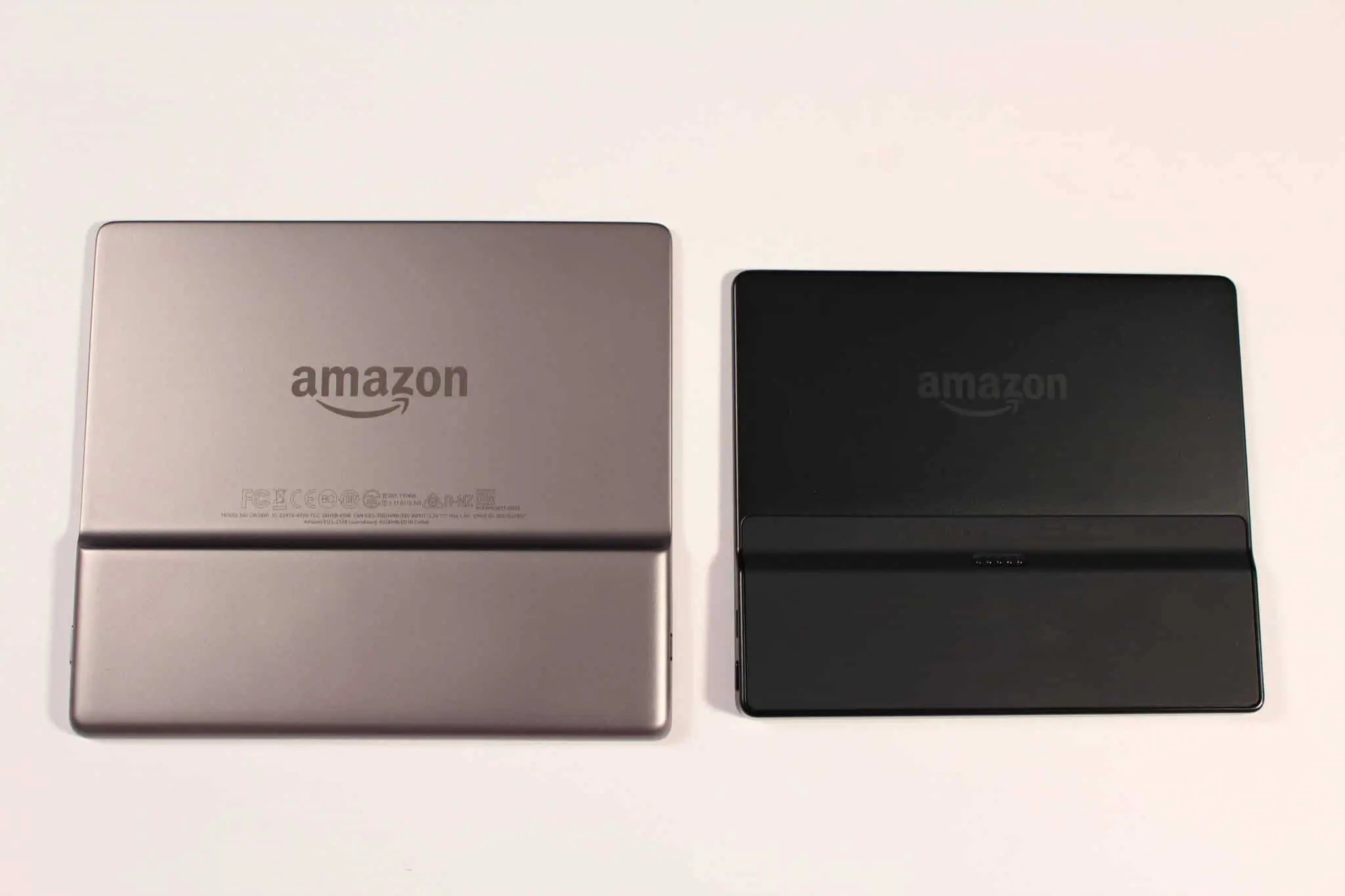 The first generation Oasis came with a case that had an external battery, which prolonged the life of the device. It had five pins on the back that dug into your fingers or hand if you were reading without the case. The new model does not have a built in case, but there a number of accessories you can purchase. The best ones are the official ones issued by Amazon that transforms into a stand for hands-free reading. The cover opens like a book, automatically waking the device when opened and putting it to sleep when closed. Choose from two materials in a variety of colors: water-safe fabric covers, all $44.99, come in Indigo, Sandstone, or Charcoal; and premium leather covers, all $59.99, come in Midnight, Saddle Tan, or Merlot.
Finally the big selling point on the new Oasis is the ability to purchase and listen to audiobooks from the built in Audible store. You need a pair of Bluetooth headphones or a wireless speaker. The Oasis cannot be paired with an Android phone or an iPhone, it simply does not recognize them as viable devices to be connected.
Software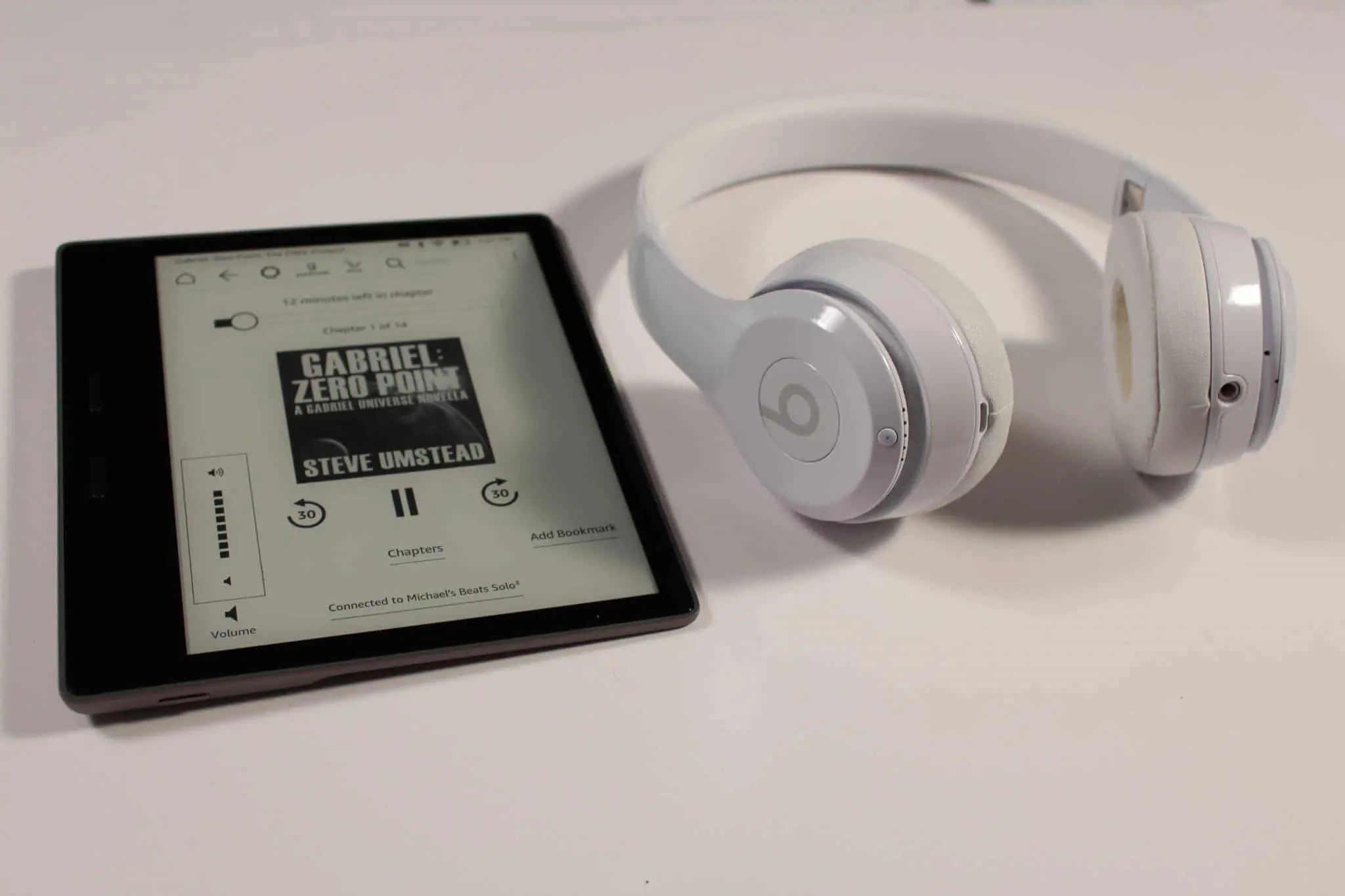 The New Oasis is using different firmware than any other Kindle e-Reader and the differences are notable everywhere. There is a new accessibility menu that employs Kindle Voiceview which will narrate all of the menus and read aloud e-books using text to speech to a pair of Bluetooth headphones or wireless speakers. You do not need to purchase the Kindle Audio Dongle that you need for the Paperwhite or the Voyage. Another accessibility feature is being able to turn the background black and the text white and it not just does it on the e-book reading system, but every single background on the entire device. You can use GoodReads, the Kindle Store, Audible Shop or browse your library and  the background will stay consistently black.
The library menu has a few new features that no other Kindle has. You can sort by audio books and comics. Amazon also considers graphic novels and manga as comic books, so all of that content that can be sorted independently.  This is useful if you have a large selection of content in your library. You can also sort by ebooks, documents, author, title and date, which is standard fare.
Amazon has has introduced a new option to change the size of the text and UI elements. You can have two options; standard and large. The default is standard and large will basically increase the size of the icons on the main navigation bar and the homescreen. When you browse the library and settings menu the font size has also been increased.
Audiobooks are a billion dollar industry and Audible is the largest online retailer. The new Kindle Oasis has audiobook functionality and you can buy them a new audiobook section from the Amazon bookstore.  Everything is split up into genre sections and there are free samples of every title available.  If you are an Audible subscriber, anything that you downloaded with your credits are automatically synced into your Kindle's library. I found that if you have unused credits, you cannot redeem them right now, maybe Amazon will fix this in a future firmware update.
The built in audiobook player is tremendously robust. You can skip forward or ahead fifteen seconds or change the pitch level.  While listening to an audiobook, the Oasis displays how much time is left in a chapter and has software driven volume button. There is a bluetooth notification on the bottom of the screen that tells you what device you have paired the Oasis with. If you have not connected a pair of headphones with it yet, it will walk you through the setup process.
E-Reading Experience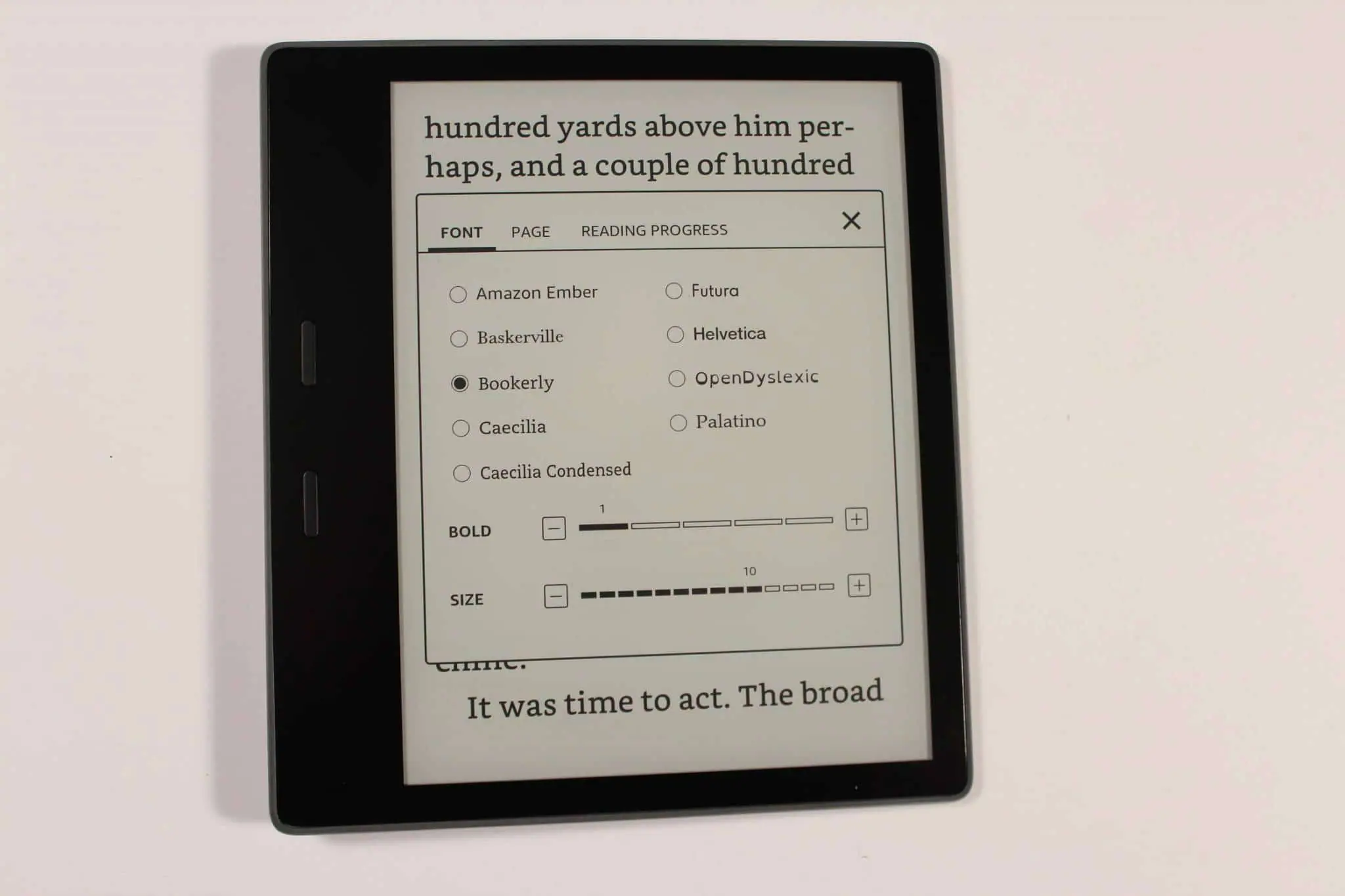 Whenever Amazon releases a new e-reader it often has features not found in any other device. This was designed to encourage people to upgrade if you want the latest and greatest and the new Oasis is no exception.
Amazon developed a font called Ember and Ember Bold earlier in the year. It was designed to give people with vision disorders a really bold font to make it easier to read. The new Oasis has a bold slider bar that can make any font bolder. You can do this with Caecilia, Bookerly, Ember, or any of the other default fonts. The slider bar has numerous options to increase the boldness. The company has also adopted the same slider bar to increasing the size of the fonts.
The second gen Oasis has the quickest page turn speed out of any Kindle I have ever reviewed. There is hardly any full page refresh issues when you are reading at a normal pace. You can use the manual page turn keys instead of swiping or tapping on the touchscreen. The page turn buttons can be augmented in the settings menu to change what key turns the page forward or backwards. There is no heptic feedback on this model like there is on the Kindle Voyage.
You can take notes, make highlights and annotations. You can lookup words in the built in dictionary and access them in Wikipedia. The Kindle also uses Bing Translations on all of their e-readers, so you can translate a specific word or a body of text from one language to another. If you highlight a block of text or a single word, instead of looking them up you can share them via Facebook, Twitter, GoodReads or Email.
The Kindle Oasis has a system called X-Ray. If you have never used it before, it basically breaks down people, places and things. It will tell you all of the major and minor characters in the book and let you know on what page they were referenced and give a quick character biography. The Oasis has a new option in X-Ray called "Images" which will show you all of the images in a book you are reading. Most books just have cover art, but there are many genres such as autobiographies that have dozens.
One of the features I dig about the e-reading experience is the ability to shut off things like time remaining in a chapter or what page you are on. Eliminating the status bar, or just giving the option to shut it off completely is truly excellent.
I am not going to get into every function of the Oasis, such as public notes, wordwise or vocabulary builder, but these options have their uses.
Wrap Up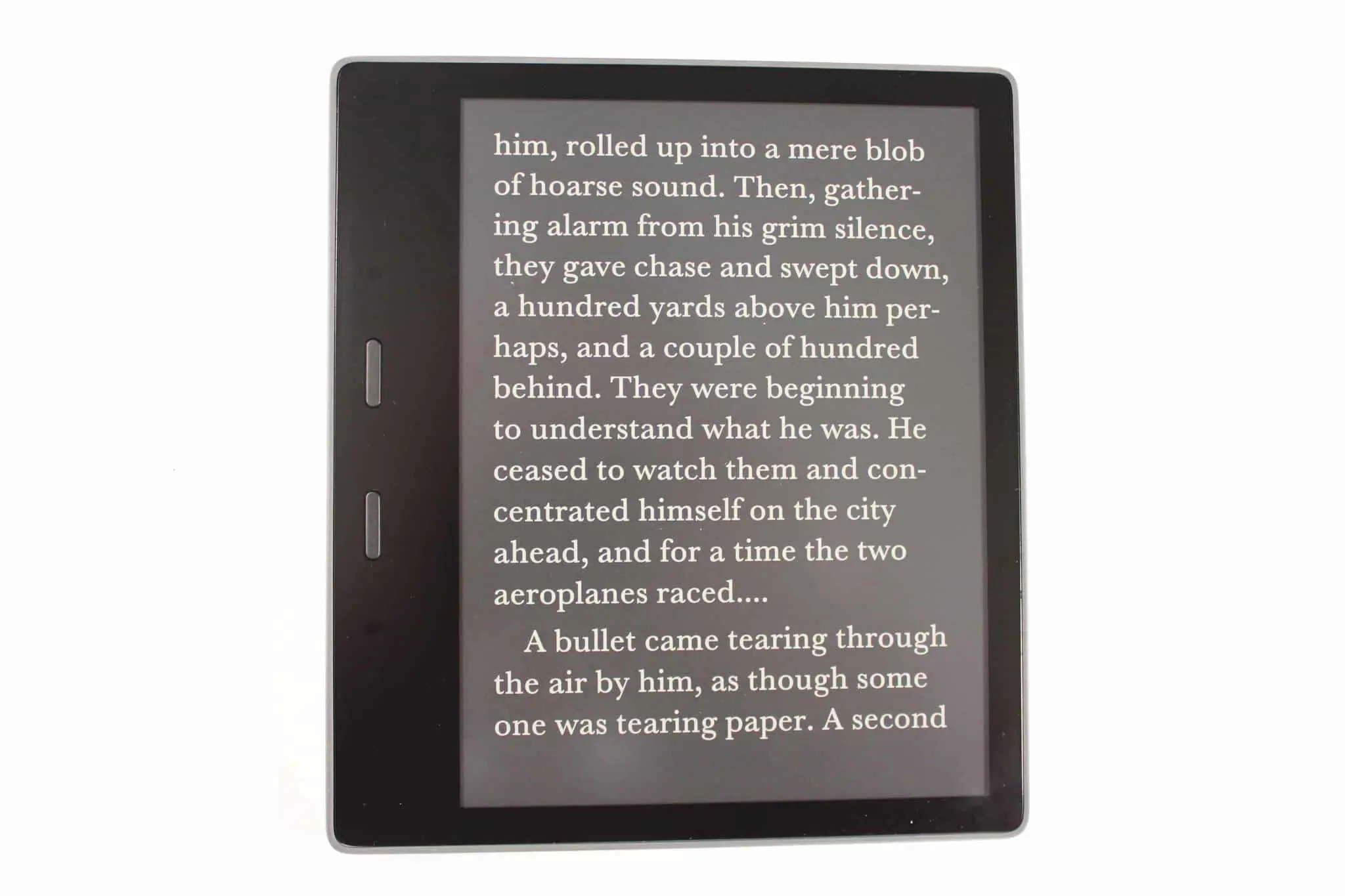 I believe that this is the best Kindle ever made, it can do it all. The only downside is the price.  It costs $249.99 for the 8GB model and $279.99 for the 32GB model.  Meanwhile in Canada the entry level 8GB model with WIFI cost a staggering $389 and it costs over $500 for the 32GB 3G model.
There are many online publications such as the Wall Street Journal, New York Times, ENGADGET and the Verge who have done reviews on the Kindle Oasis and they have all missed the mark. You can really tell that most of the people have little to no experience with dedicated e-paper devices and they question whether or not the Oasis is worth it, when the Paperwhite is cheaper.
Good e-Reader is a dedicated website that only reviews e-readers, so we look at the differences between the new Oasis and the first generation Oasis and also the Paperwhite and Voyage. We conduct extensive side by side comparisons, going over all of the features of each device and our recommendations. I believe that this is the best Kindle ever made.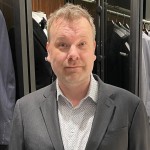 Michael Kozlowski has written about audiobooks and e-readers for the past twelve years. Newspapers and websites such as the CBC, CNET, Engadget, Huffington Post and the New York Times have picked up his articles. He Lives in Vancouver, British Columbia, Canada.