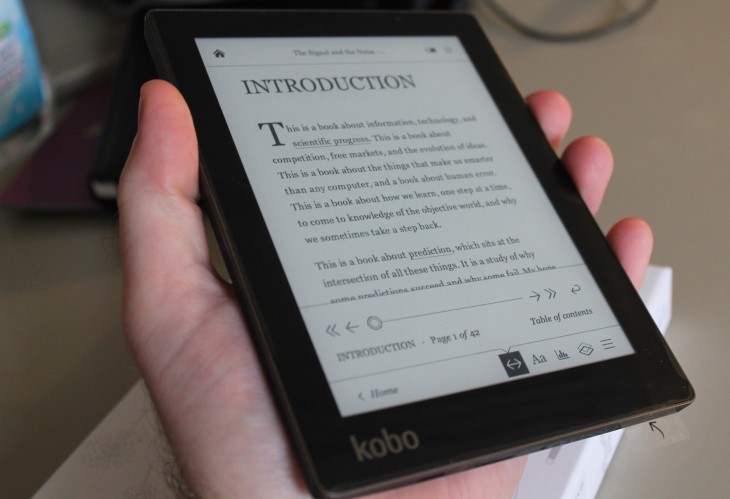 Kobo is one of the largest companies in the world that are invested in the e-book space. Every year they produce data which analyzes the the reading habits of Canadians. One of the key takeaways from this years report is that the true north strong and free read more than almost every other market in the world.
With over 13 billion pages turned globally in 2015, eBooks remain a passion for many reading enthusiasts. According to the second annual Kobo Book Report, the eight markets surveyed turned an average of 31 pages per day.
Canadians, however, consumed more content than every other region, demonstrating their love of eReading with an average of 38 page turns per day. Last year marked the inaugural launch of the company's trend-focused report, which illuminates the digital reading habits of its users in Canada, US, UK, Netherlands, France, Italy, Australia and New Zealand.
Kobo's world-class platform, which includes a bookstore of more than 4.7 million titles, offers eBooks and magazines for fans of every genre.
"Reading is a common bond amongst people of all ages, regardless of language or location, but it's always interesting to see where the similarities and differences lie across the globe," said Michael Tamblyn, president, Rakuten Kobo Inc. "Our reading habits say a lot about our nature. We use books to give us an escape, to live an otherwise impossible life, or to validate the notion that good wins over evil. Books that satisfy those desires are going to be top sellers, no matter where the reader calls home."
Once again Canadians have shown a preference for romance, fantasy and mystery novels, which are also popular among Kobo users around the world.
Sunday proved to be the day readers spent the most time curled up with their eBooks in all regions except New Zealand, which preferred to do the bulk of its reading on Saturdays.
Finally, summertime was largely the most common season for readers to finish their favorite eBooks globally, and August 30 and 31 were the two days with the most book completions across all markets.
Kobo offers an award-winning collection of eReaders for every user preference, and the company's Canadian customers spend most of their time (63 per cent) reading on the brand's devices. However, a significant amount of time is spent (37 per cent) on the free Kobo app, which syncs to permit reading across multiple platforms, with Android being the most popular (22 per cent).
"Our research reveals that people genuinely love reading on dedicated devices – they offer unlimited content that can be enjoyed without digital distractions, while their design is capable of mimicking the print experience; this is what continues to attract the daily reader," continued Tamblyn. "However, there are lots of multitaskers who prefer to turn their existing smartphones and tablets into a portable library and our eReading app is perfect for that. In every case, our role is to enhance the reading experience, and to ensure that new releases and classic favorite are just a few clicks away."
What are Canadians reading in 2015?
For the second year in a row, bestsellers that are made into Hollywood hits tend to pique readers' interests. The Girl on the Train was Canada's bestseller as readers anticipate the novel's big-screen debut next October.
Erotica also remains firmly on Canada's bestseller list with Grey, the fourth installment in the Fifty Shades of Grey series, which has readers heating up for the second film launching in 2017. Also, City of the Lost: Part One, written by Canadian Kelley Armstrong, is the first installment of a six-part series and Kobo's bestselling serial of all time.
The Girl on the Train – Paula Hawkins
Grey – E L James
All the Light We Cannot See – Anthony Doerr
City of the Lost: Part One – Kelley Armstrong
See Me –Nicholas Sparks