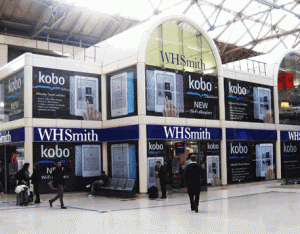 Kobo signed a deal with WH Smith in the UK to stock all of their 750 stores with various Kobo e-Readers. Last month the staff was trained and they began selling the devices to critical acclaim. Today Kobo announced that their first Android Tablet, the Vox, is now also going to be offered in the UK and Ireland.
At just £169.99, the Kobo Vox is set in a jet black casing, with the iconic Kobo quilted back for easy grip and comfortable reading. It has a 7-inch anti-glare screen, making it easy to read in all lights—including outdoor reading. Its vivid colour screen, video, and audio technology not only enhance eBook images and illustrations, but make it perfect for listening to music, playing games, and watching videos.
As the only official eReading partner to Facebook, Kobo has also equipped the Vox with a host of social media tools. Kobo Pulse connects users reading the same book. Book reviews, comments, and conversations can be shared in real-time with others on Facebook, Twitter, or within the book itself.
The Kobo ecosystem will give you a chance to tap into 2.5 million books with no geographical restrictions. There are tons of best sellers and free classic books to get reading right away.  Rachel Russell, Business Unit Director in Books at WHSmith said: "We're really pleased with the way customers have responded to the Kobo eReaders and accessories in our stores and we're delighted to be the first UK retailer to offer customers a product as innovative as the new Kobo Vox."