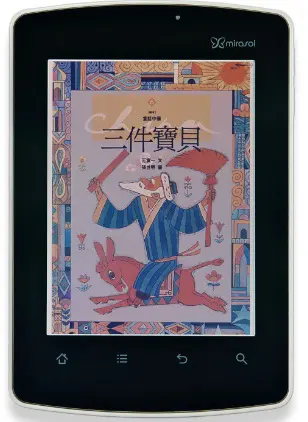 We only just reviewed the Kyobo Mirasol e-reader, a South Korean exclusive, last week and it looks like Mirasol has another device up their sleeves, the Koobe Jin Yong Reader.
First of all, this latest e-reader is the spitting image of the Kyobo one recently released in terms of hardware. It uses a Qualcomm's 1.0 GHz Snapdragon S2 class processor and features a 5.7" XGA format with a resolution of 1024 x 768 pixels. The main differences is the User Interface it uses, which is a heavily customized version of Android 2.3. It is also bundled with 15 ebooks by the popular Chinese writer Jin Yong.
The Jin Yong Reader joins the C18 from China's Hanvon, the Bambook Sunflower from China's Shanda Networking Co. and the Kyobo eReader from South Korea's Kyobo Book Centre. All of these use the new Mirasol technology that took over 2 years of constant development. Surprisingly, the displays are very sound and emulate the virtues of Pixel Qi in the respect that they perform very well outdoors. One of the drawbacks is all of these devices never see the light of day in North America and instead are Asian exclusives.
There is no information on release dates or the price, but I see it being competitive with the other Mirasol devices on the market, at $300 US.
[showhide type='pressrelease']SAN DIEGO and TAIPEI, Taiwan – January 30, 2012 – Qualcomm MEMS Technologies Inc., a wholly owned subsidiary of Qualcomm Incorporated (NASDAQ: QCOM), and Koobe, Inc., a leading provider of e-reader solutions to the Taiwan market, today announced the next-generation Jin Yong Reader featuring mirasol® display technology at the Taipei International Book Fair, site of the original black and white Jin Yong Reader's first unveiling two years ago. Building on the success of the initial device, the next-generation Jin Yong Reader's use of mirasol display technology will deliver an improved customer reading experience, interactive touch screen capabilities, visibility even in bright sunlight and weeks of reading under typical usage.*
"With Taiwan as home to Qualcomm MEMS Technologies' growing manufacturing base, it is significant for its consumers to experience the unmatched performance benefits of mirasol displays," said Clarence Chui, senior vice president and general manager of Qualcomm MEMS Technologies, Inc. "Koobe's next-generation Jin Yong Reader further demonstrates a growing global preference for e-readers that can display a variety of color and interactive content even in bright sunlight."
The next-generation Jin Yong Reader, named after China's best-selling living author, comes preloaded with Jin Yong's acclaimed 15 novel set (compiled in 36 volumes) and includes access to Koobe's content libraries, which features thousands of novels, comics, interactive e-books, animated picture books and magazines.
"Users of the Jin Yong Reader have come to expect a compelling reading experience in terms of both content and functionality," said Simon Hsu, general manager of Koobe, Inc. "By incorporating mirasol displays into this advanced version, we will offer our customers a new and compelling experience by adding color and interactive content without sacrificing outdoor visibility and battery life."
The Jin Yong Reader features a 5.7″ XGA format (1024 x 768 pixels) mirasol display (screen resolution of 223 ppi) and Qualcomm's 1.0 GHz Snapdragon™ S2 processor. Koobe's custom application interface sits atop an Android 2.3 base.
* Battery life varies depending on usage and ambient light. Battery life based upon 30 minutes of daily reading time with Wi-Fi off and average integrated reading light brightness of 22 percent.
About Koobe
Founded in 2005 and based in Taiwan, Koobe is one of the leading e-reader solution providers serving the Greater China market. The company provides a complete e-reading and digital publishing solution for publishers, online bookstores, 3C branding companies and operators. The company identifies and distributes digital content from newspapers, magazines and books; and specializes in e-publishing software technology and hardware design for e-readers and other multipurpose devices. For more information, please visit http://www.koobe.com.tw/.
About Qualcomm MEMS Technologies Inc.
Qualcomm MEMS Technologies Inc. has drawn on the same color-producing process that makes a butterfly's wings shimmer to develop the revolutionary mirasol display technology. The mirasol display is the industry's first to use interferometric modulation (IMOD); a micro-electro-mechanical systems-based technology capable of creating color from ambient reflected light. Qualcomm's mirasol displays are bi-stable, energy efficient, offer refresh rates to support interactive content and are highly reflective, allowing for superb viewing quality in a wide range of environmental conditions, including bright sunlight. With applications in a variety of mobile devices, mirasol displays support Qualcomm's overall strategy of mobile innovation by enabling a compelling viewing experience with significantly less power. For more information, visit the mirasol displays website, our Blog or follow us on Facebook and Twitter.
Qualcomm Incorporated (NASDAQ: QCOM) is the world leader in 3G and next-generation mobile technologies. For more than 25 years, Qualcomm ideas and inventions have driven the evolution of digital communications, linking people everywhere more closely to information, entertainment and each other. For more information, visit Qualcomm's website, OnQ blog, Twitter and Facebook pages.[/showhide]

Michael Kozlowski has been writing about audiobooks and e-readers for the past twelve years. His articles have been picked up by major and local news sources and websites such as the CBC, CNET, Engadget, Huffington Post and the New York Times. He Lives in Vancouver, British Columbia, Canada.