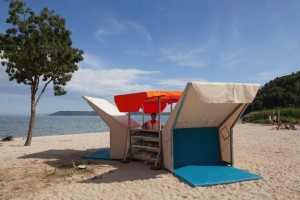 With libraries like this, there's no need to risk your e-reader.
Last week, Good e-Reader posted an article about one of the most innovative redesigns in the US, the award-winning rebuilding of the McAllen, Texas, public library out of an old, abandoned Walmart store. Today, new cropped up online of what might be one of the smallest physical lending libraries on the planet, but its innovation status is no less profound.
The completely portable Beach Library, made from a foldable cart and shade-producing tarp overhang, currently sits overlooking the waves at the La Romaniquette in Istres, France. Housing about 350 books, including a theme of some of designer Matali Crasset's favorite titles, the pop-up library offers…well…beach reads. The shade provided by the cloth and steel frame is a welcome enticement to vacations and sunbathers to browse the limited selection of reads.

Crasset's inspiration came partly from a local government initiative aimed at increasing literacy, and what better way to encourage reading than with free lending and three shaded reading areas, right on the sand?
This latest addition to the found-reading movement has taken up where another crowd favorite, the phone booth library, has left off. Phone booths in both the US and UK have been converted to mini-libraries, encouraging passersby to browse the limited titles, take a book, and even make a donation of other books. All of the awe-inspiring features of a surprise library have been established to make an impact on readers and non-readers alike.
Mercy Pilkington is a Senior Editor for Good e-Reader. She is also the CEO and founder of a hybrid publishing and consulting company.