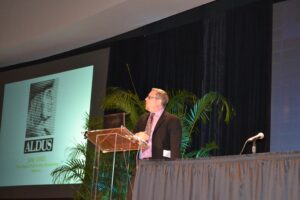 "In 1950, publishing consisted of white men in tweed coats publishing each other. It looked a lot like Mad Men, but they dress better."
Richard Nash, VP of Small Demons, began his brief tour through the history of publishing by showing that a massive rate of growth took place in the twentieth century publishing world, but that the rate of growth began to slow. But the digital publishing revolution has meant that the doors were opened to a Marxist moment, when "the means of production were put into the hands of the average person. Independent publishing exploded."
Nash explained the misconceptions about comparing the music industry to the publishing industry, explaining that Aldus Pagemaker and a Kinkos store made indie publishing possible twenty years before the widespread adoption of MP3s and the iPod. Additionally, the music industry now enjoys streaming and single-song downloads, allowing the labels to make about seventy cents per song, while publishers are making ten times that amount on a typical ebook download.
The failure in the industry right now, according to Nash, is that the industry is trying to educate the consumers to find their products appealing and more valuable. He points out that the major corporate successes, like Steve Jobs and Ralph Lauren, never attempted to educate the consumer on the product in order to make them pay what the industry thinks it's worth. One step would be to stop "bundling" and to stop being a provider of products, rather than a provider of services.
"I would like to propose that we unbundle and start selling the world our servies," said Nash. He pointed out that Bloomsbury and Faber in the UK have already started providing services from the authors, such as offering online classes through Faber Academy in which their authors teach writing courses. "BookCountry by Penguin was essentially a gateway drug to selling self-publishing services. What they got pushed back on was the percentages."
Nash went on to offer up a lot of successful web-based companies that are offering services rather than a product, like Moodle and Perseus. "The shift to services is something has already begun, and it has begun experimentally. The time for little experiments is over. It is time to think much more largely about the experiments that have been conducted over the last five years and start thinking about structure."
"We're not afraid of technology. What we have failed to do is reconceptualize the business model, not failed to adopt the technology. We are servants in the writing and reading community."

Mercy Pilkington is a Senior Editor for Good e-Reader. She is also the CEO and founder of a hybrid publishing and consulting company.