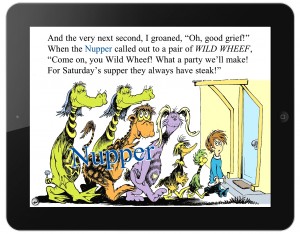 Dr. Seuss is perhaps one of the best known "subversive" writers, instilling his own marvelous brand of educational propaganda into children's literature. Until Seuss came along, most children's books were meant only to instruct and inform, not to entertain. Stories of uniform, good little boys and girls were the hallmarks of juvenile reading. When Seuss introduced his own off-beat characterizations and story lines, he instilled a love of reading in young people and opened the doors for other authors to create lively stories and develop entire fictitious worlds.
Now, Random House will be releasing a hardcover edition of seven "lost" Seuss titles, that is, stories he wrote for publication in Redbook magazine in the early 1950s, well before the publication of some of his widely known and favorite titles. Oceanhouse Media, creators of the omBook children's interactive book apps, will be releasing the digital app versions of the Seuss titles on the same day as the Random House release. The book, The Bippolo Seed and Other Lost Stories, will be a welcome addition to Oceanouse's full complement of Dr. Seuss interactive titles.
"These stories were written at a time when Dr. Seuss was really hitting his stride as a writer and illustrator," said Susan Brandt, President of Dr. Seuss Enterprises, in a press release issued by the publisher. "It's almost like getting a peek into his creative genius before he published such classic works as The Cat in Hat and Green Eggs and Ham."
The seven stories included in the omBook will be compatible with Android and Apple devices and will mark a profound acceptance of digital reading in that the release will happen on the same day as the hardcover release. As more readers embrace electronic reading, publishers are more likely to incorporate a print-and-digital release of titles to reach as many consumer preferences as possible. And this isn't an offhanded attempt to bring put a digital title on the market; the development of the app book meant a collaboration with the entire Oceanhouse team and the voice talents of many different actors for the embedded read-aloud feature.
"We're extremely honored to be given this opportunity to create an app for a new Dr. Seuss book," said Michel Kripalani, President of Oceanhouse Media, in the same release. "Our team continually asks, 'What would Ted Geisel (Dr. Seuss) want to see in a children's book app if he were here today?' This helps us in our development process and encourages us to stay true to his original intentions."
Mercy Pilkington is a Senior Editor for Good e-Reader. She is also the CEO and founder of a hybrid publishing and consulting company.