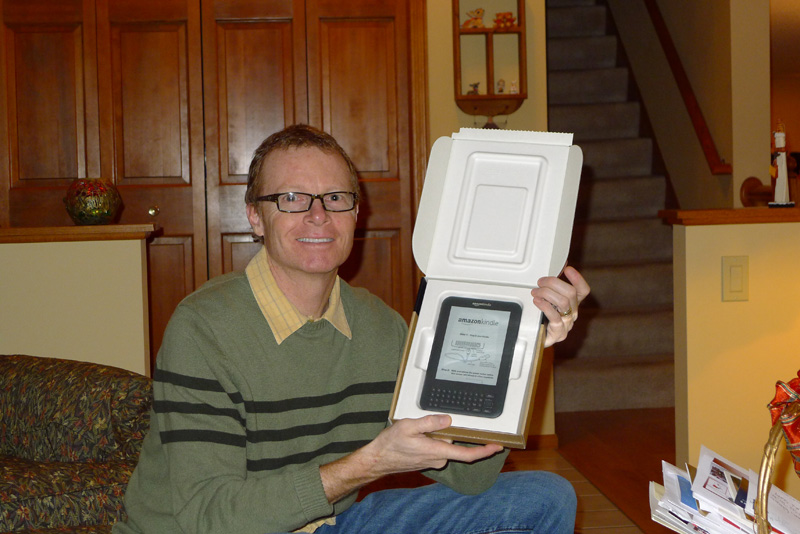 The e-Reader continues to enjoy modest growth and peoples love affair with reading on the go, continues. Anyone who has ever ravenously devoured a trilogy of books, one after the other can attest, e-readers are far easier on the eyes than a tablet. When it comes to e-readers, people have fonder memories of their experiences, than any other device.
e-Reader sales peaked in 2011 when Sony, Nook, Kobo and Amazon were heavily competing against each other in a very hot sector. At the end of 2011 28 million e-readers were sold and sales have been sliding ever since. Only 15 million devices were sold in 2013 and 19.9 million units in 2012. Research firms are optimistic about 2014 sales, due to a bunch of new markets opening. Honestly though, e-Readers are very mature now, with only a handful of top players that make money doing it.
When it comes right down to it, e-readers are one of the few tech devices on the market that are future-proof. Many people have a Kindle 2 or Kindle 3 and are quite happy with their purchases. I personally know about a hundred people that are enamored with their PRS 650, which is about four years old now. New e-Reader models often have barely noticeable differences between the previous generation and the current one. We often see faster page turns, a faster processor and more RAM. Aside from the front-lit technology that came out a few years ago, there is seldom a compelling reason to buy another e-reader.
We asked the question what your favorite e-reader memory was, on a recent Facebook entry. Here is what we got; Julie Semple Stam mentioned "It was when I knew for sure that I preferred e-books over paper ones. I was stuck reading a paper book and touched a word and couldn't figure out why the definition didn't pop up. I started laughing and had to explain to the others in our lunchroom what I had just done."
Ruth Soukup said "When the Kindle first came out several years ago, I turned up my nose. After all, I was a purist. I love real books, I insisted. I want to feel them in my hands while I'm reading and see them on my shelf when I'm done. I liked the visual reminder of what I've read, liked the experience of reading a BOOK, not some silly electronic gizmo.
But then, about three years ago, I was doing some research on a particular topic and the only books I could find on the subject were Kindle books. After hemming and hawing for a while, then searching around some more and still finding nothing, I finally broke down and ordered the cheapest Kindle option I could get (only $69!)
To say it changed my life is not an exaggeration.
To my utter surprise, I absolutely loved reading books on my Kindle. In the years since, I have ordered two more Kindles for my own family, and have given them as graduation gifts to three of my college-bound nieces and nephews. I went from wondering how anyone could give up real books to wondering how I ever lived without one. After giving it some serious thought, I realized there are seven main reasons I now love reading my Kindle even more than regular books"
Michele Friedman provided an amusing antidote "Rolling over on my first Kindle in the middle of the night and breaking it which forced me to immediately get out of bed at 3 am and call Amazon to see how I could either fix it or get another one ASAP. They sold me a new one at a huge discount and had it to me within a day or two and sent me prepaid labels to send my old one back to them. I can't live without my Kindle."
Sanket Dhingra weighed in "Haven't got to do this myself even though I have a Kindle, but experienced someone else doing it. This dates back 2 years when Kindle wasn't even being sold in India at brick and mortar stores. A guy actually brought one to Delhi Metro tube and many asked him what sort of tablet is that. He was amazed when I told him I like Kindle too and am planning to get one. He was relieved to finally find someone he didn't have to explain."
Friend of Good e-Reader, Ryno Bones had a bit different of an experience " One of my friends gave me a Kindle 2 about four years ago. Had a couple of mediocre books on it so I immediately connected it to Amazon to spend a few bucks on books I knew I couldn't live without. Nothing happened. Kept getting errors. Finally called Amazon's tech support about it. Turned out the dang thing was stolen. To save face I bought a Kindle 3."

Michael Kozlowski is the Editor in Chief of Good e-Reader. He has been writing about audiobooks and e-readers for the past ten years. His articles have been picked up by major and local news sources and websites such as the CBC, CNET, Engadget, Huffington Post and the New York Times.