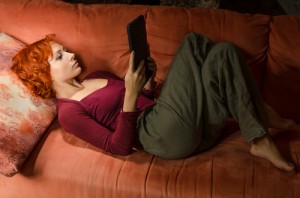 With so many digital reading platforms on the market, readers can become overwhelmed when trying to make an informed choice about which device to go with for ebook consumption. Luckily, a number of the devices have incorporated the apps for various ebook distribution sites, allowing consumers with the know-how to purchase their ebooks from different sources. This method allows readers to not only find titles that might not be available across every platform, but also to work to get the best price possible.
Rachel Willmer, the founder of Luzme who recently spoke at the FutureBook Conference, spoke to GoodeReader this week about the creation of what is essentially a highly-accessible search engine for retailing ebooks directly to consumers.
"Luzme is a website I started about four years ago as a side project to keep my developer skills up to date. I had bought an ebook reader and I immediately hit the problem: 'I have the reader, where do I find the books?' Different sorts of readers would require different formats for the books and different stores would sell to you or would not. I wrote some code to solve that problem for myself."
Then people started using Willmer's site, which started to gain traction about 18 months ago when the market stopped being predominantly technologically savvy individuals and opened up to more general audiences of e-reader owners.
"At the moment I'm covering all of the major English-speaking countries. One of the things I'm hoping to do is differentiate myself from other ebook search sites that focus on just the US."
One of Willmer's main attractions for ebooks is the ability to buy books in any language, regardless of the consumer's physical address. She feels that there are more than enough foreign language titles for readers, but also recognizes that for some readers that means discovering English-language titles, which can be an actual problem for consumers. Willmer spoke at FutureBook on the artificial impositions to book buying.
"I've been making the comment for four years and I'm going to making it until they fix it: they have to fix territorial restrictions when they're selling ebooks. It is absolutely crazy that the old-style publishers continue to say, 'We're going to carve up the world and I won't sell you a book, even if you want to buy it from me.' What they'll find, I think, is that their market share will be eaten alive by the self-publishers."
The Luzme site itself offers ebook fans the ability to not only locate ebooks quickly across several platforms, showing consumers where particular titles are available and from which platform, but also allows consumers to be alerted when a title goes on sale or where it can be found at the best price; users can even incorporate their Watch Lists from their widely used ebook retailers to be alerted when a book on that list becomes available at a lower price. Readers who actually purchase the title by clicking through Luzme reward the book search engine through Luzme's status as an affiliate. Aside from the donation of the hosting of the site by the webhost in order to further the search feature, Luzme is a labor of love for Willmer, a necessary tool to enable readers in discoverability.
Mercy Pilkington is a Senior Editor for Good e-Reader. She is also the CEO and founder of a hybrid publishing and consulting company.